Almost every television set on the market today has smart features in the digital world. Natural scrolling on a trackpad and physical keys for each alphabet letter will help access lists on smart TV keyboards.
The Logitech K600 TV Keyboard is a convenient, familiar, and easy-to-use keyboard that optimises the user's navigation experience. We've compiled a list of the best smart TV keyboards on the market to assist you in selecting the best one for your viewing needs.
See also our recommendations on the best soundbars for your TV, the best portable mini projector, the best Dolby Atmos soundbars.
The Top Smart TV Keyboards for Ultimate Viewing Pleasure
1. Best Overall: Logitech K600 TV


The K600 TV keyboard from Logitech takes the familiar electronic keyboard to the large screen. This is the perfect keyboard for those looking for the finest typing experience, with standard-size buttons, a generously spaced trackpad, and familiar function keys at the end. Logitech incorporated a handy directional pad and mouse keys to the basic keyboard configuration, allowing two-handed operation with only your thumbs. The flat keyboard on the K600 is ideal for typing when it is sitting on your lap.
Rounding out the feature set is an impressive operating range of 49 feet and a 12-month battery life using just 2 AAA batteries. Best of all, the K600TV can also double as a keyboard for iOS, Android, Windows, and Mac.
Pros
Dedicated media keys
Laptop like trackpad
12-month battery life
Cons
Large Size
Not backlit
Limited Compatibility
2. Rii 2.4GHz Mini Wireless Keyboard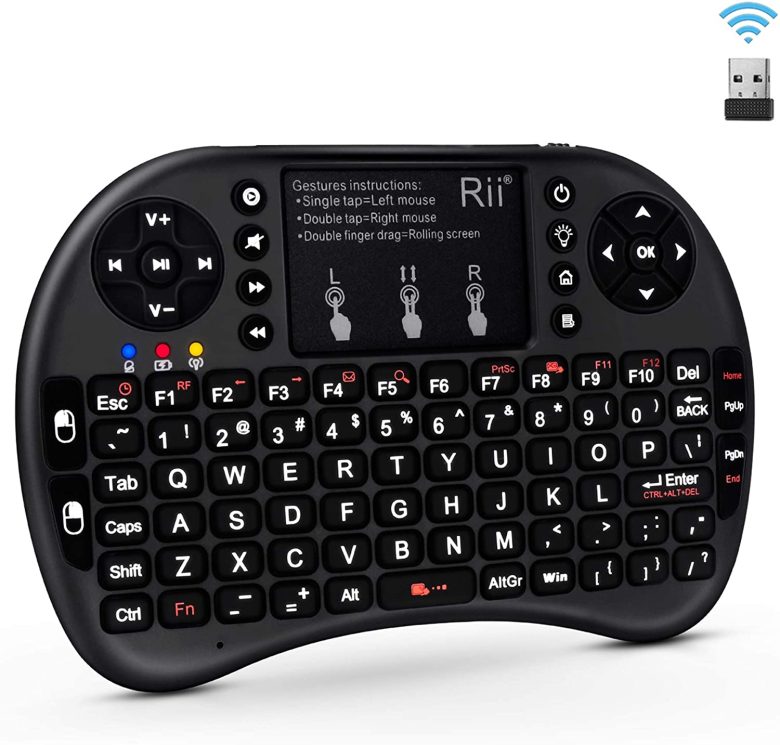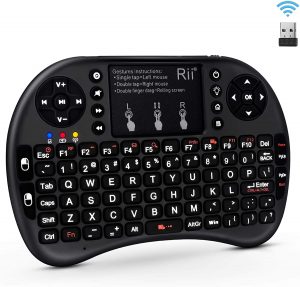 With a cute form factor that fits in the palm of your hand, this keyboard is definitely a useful little device, wireless communication transmitting a signal to a wide range of devices, including smart TVs, video game consoles, smartphones, and tablets. This is an excellent keyboard for those who value portability over all things since it can easily be packed into a backpack and used anywhere other than your living room.
The Rii 2.4GHz Mini Wireless Keyboard is compatible with a wide range of operating systems, including Android, Mac OS, Windows, Raspberry Pi, XBOX, and PlayStation. It's compatible with a wide range of devices, including PCs, tablets, Raspberry Pi 2-3, Mac OS, PS3 and PS4, Xbox 360 and Xbox One, and the Google Android TV box. The keyboard is tiny, about the size of a remote control, and it comes in a range of stylish colors to match the look of your living room. It also has a good backlight, which makes using it at night a breeze. It can also be charged via USB, which adds to its comfort.
It has 3 components in one device: a mini wireless QWERTY keyboard, a TouchPad combo, and LED backlit keys with a USB interface adapter. Multi-finger features are available on the touchPad combo: one-finger click for the left cursor, two-finger click for the right mouse, and double-finger drag for the rolling screen.
Pros
Works with a large variety of televisions and gadgets Backlight is the perfect brightness Handheld form factor is neat with many color options
Cons
Control gestures take a bit to get used to Signal range isn't the best Instructions are poorly written
3. Fosmon Portable Lightweight Mini Keyboard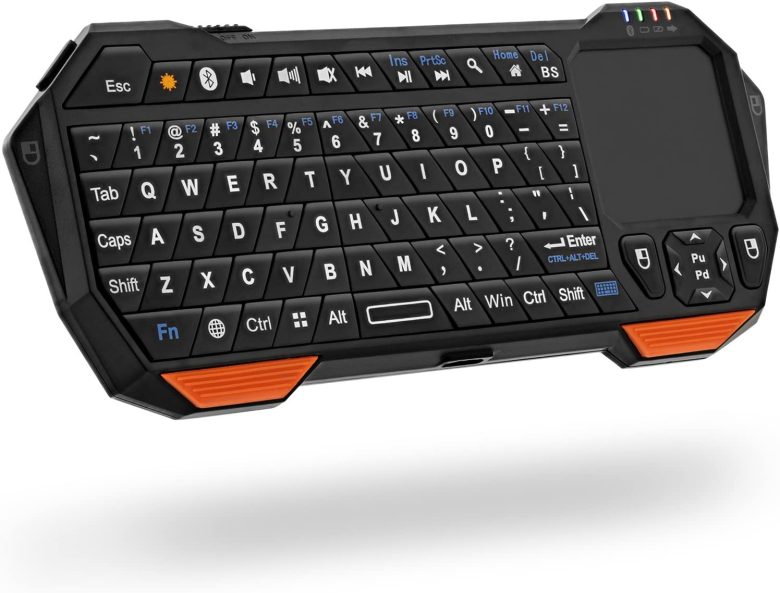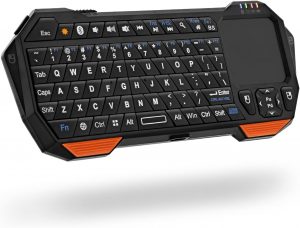 The Fosmon Portable Lightweight Mini is a small keyboard that comes with built-in Bluetooth 3.0 connectivity, enabling you to power any smart TV, streaming mobile screen, tablet, or phone that supports the technology. It also has a backlight and can be charged via USB, making it a must-have for any modern living room. The device is compact and thin, weighing just 8 ounces and having a wireless range of approximately 33 feet.
Although the touchpad was sensitive and did the job, we found that the slim form factor (no full keyboard) was too small for larger hands, particularly when executing complex gestures. When attempting to control a PlayStation 4, we found that the keyboard worked well but the touchpad did not. You can see for yourself by comparing the features to the best keyboard.
Pros
Very speedy connection with no lag Can be charged via USB
Cons
May be too small for large hands Trackpad does not work with PlayStations Not compatible with Windows computers
4. Mini Keyboard,Rii X8 Portable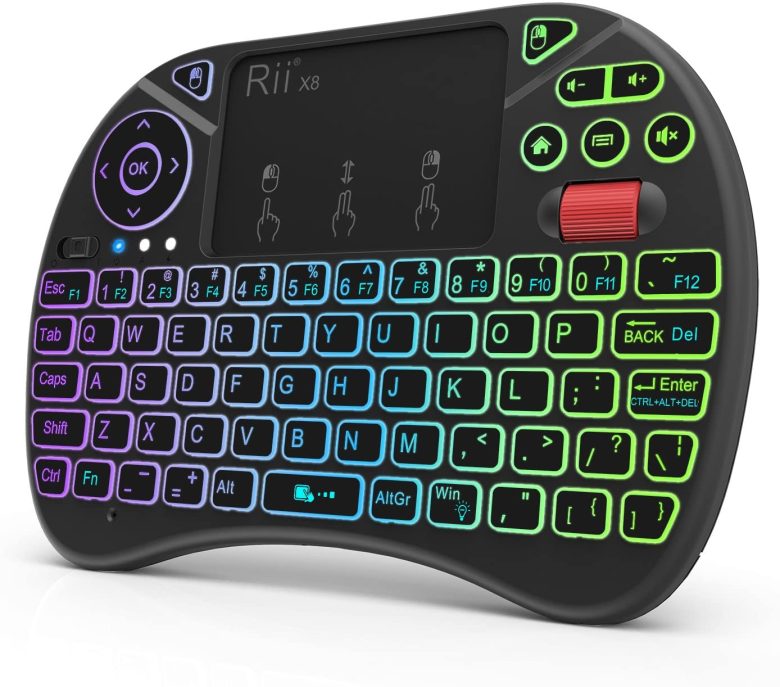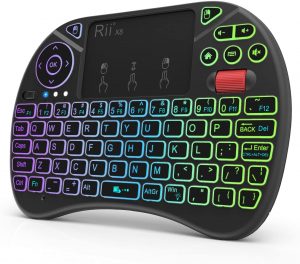 Mini Keyboard,Rii X8 Portable is a real plug-and-play computer that works with a wide range of devices, including smart TVs, laptops, game consoles, and projectors, as soon as the USB receiver is plugged in. Thanks to the 4.4″ touchpad and anti-slip backface, the keyboard has an ultra-compact size while also being ideal for people with larger hands.
The backlit keyboard has a variety of color and brightness choices, but the function keys do not light up, which may be a problem if you use these keys to map complex interactions. We liked that the battery could be charged via USB, but we found that it did not get a lot of juice from a charge, just around 3-5 hours if you use the backlight, but it does have an auto sleep feature that helps save battery power. It's fantastic for viewing the best streaming movies on your screen.
Pros
Very lightweight; just 4 oz. Backlight has multiple brightness options Touchpad is huge, despite the small keyboard size
Cons
The home button doesn't work with some Android TV boxes Battery life is short, 3-5 hours with the backlight on Backlight is nice, but function keys are not lit
5. PONYBRO Backlit Mini Wireless Keyboard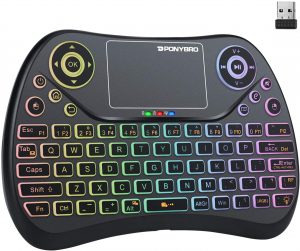 PONYBRO Backlit Mini Wireless Keyboard has almost all of the features you'd like in a product like this, including an incredible full wireless range, connectivity with smart TVs and gadgets, a big touchpad with responsive motion control, and a rechargeable battery that last about a week on a single charge. It also has a backlight that comes in seven different colours. This keyboard is a perfect deal because it has all of these features at a lower-than-average price point.
The keyboard has a sleep feature that helps to save battery life, but we found that it went to sleep much too easily for our taste, in less than a minute. Even though the keyboard supports Amazon's Fire Stick, several of the easy access keys do not fit for it.
Pros
Backlight has multiple brightness options Battery holds a charge for a week Large variety of quick access keys
Cons
The keyboard goes to sleep too quickly No Bluetooth Some of the functions do not work with Fire TV Stick
6. AMBOLOVE Mini Wireless Keyboard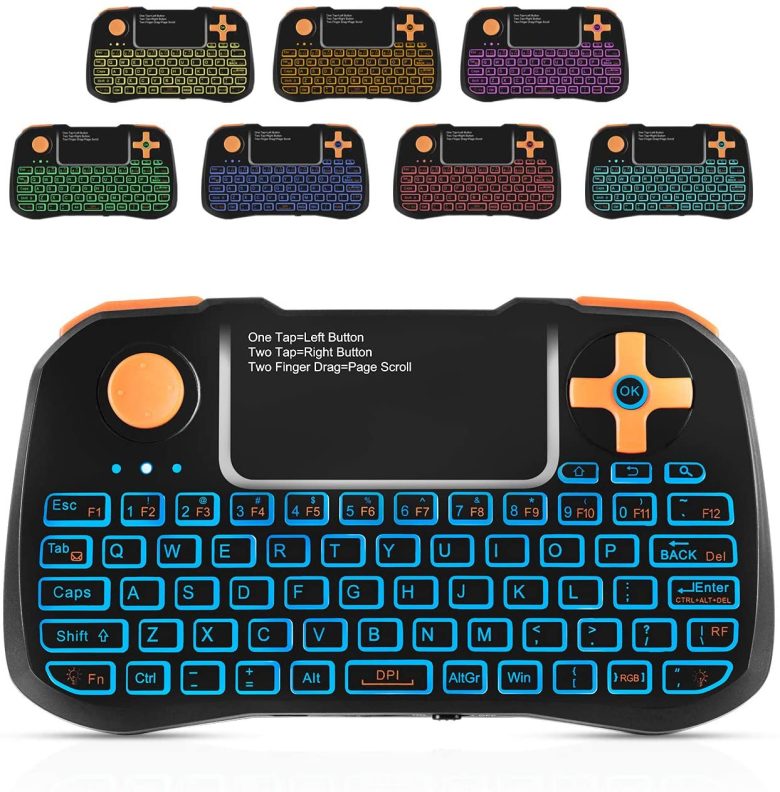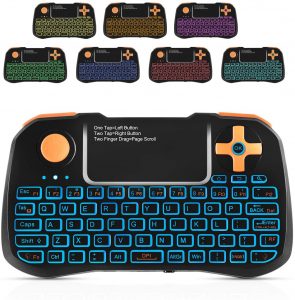 The AMBOLOVE Mini Wireless Keyboard is a low-cost device that maintains much of the functionality of its higher-priced cousins, such as the ability to connect to any TV or computer with a USB port, a multi-colored and fully customizable backlight, a pair of analog media wheels, and a rechargeable battery that lasts around a week even with consistent use. While it isn't the lightest item on the list, the handheld style made it a joy to use. There's even a full QWERTY keyboard.
Although the media wheels are perfect for pausing and rewinding on the move, the touchpad is on the small side, measuring just over an inch, requiring larger hands to contort into odd shapes to produce the appropriate movements for advanced control options.
Pros
Media controls make it very easy to use Keyboard is low priced Backlight is fully adjustable and can go bright
Cons
Touchpad is small, just over an inch No Bluetooth Does not function with Amazon Fire Stick
Things to Consider Before Buying a Smart TV Keyboard
1. Maximum Wireless Distance
Since living rooms come in all shapes and sizes, you'll want to make sure that any keyboard you buy can work in any corner of the room you'll be using it in. We made sure that any keyboard we suggested had a wireless range of at least 20 feet, with many reaching 40 feet. Many of the products on the preceding list connect wirelessly using the industry standard 2.4 GHz radio frequency, and signal interference should be limited, if at all.
2. Keyboard Size and Weight
Although many Smart TV keyboards have a simple interface, they can be too small for those with normal or large hands. Since you'll be using the keyboard to access menus and enter search keywords, you'll want something that allows you to type quickly.
The majority of the items mentioned above are ideal for all adults, with the exception of keyboards that provide full portability. When it comes to weight, the lighter the better, particularly if you'll be using the keyboard for long periods of time. Many of the items on the preceding list are lighter than regular keyboards.
3. Functionality With a Wide Variety of TVs and Gadgets
We wanted to keep it simple, so we chose keyboards that would fit with the vast majority of modern television sets and related devices, such as streaming media players. The majority of these keyboards operate with a USB receiver that can be plugged into any device.
Some streaming services, such as those made by Amazon, are incompatible with some media keyboards. You might have difficulty with any of the shortcut keys, despite the fact that they are still functional. None of the items mentioned above include any drivers or other software to run, providing plug-and-play functionality right out of the box.
Why Should You Buy a Smart TV Keyboard?
Smart TV keyboards are capable of much more than just typing in search queries. Your viewing preferences can be brought up to date with quick access to advanced features, natural browsing across lists or Apps, and more.
The Logitech K600 TV keyboard is the one to use if you're looking for the perfect texting and navigation experience. This traditional-styled keyboard has a familiar shape and scale but with additional features including an easy-to-use directional pad and dedicated media keys that are perfect for the living room. This keyboard is worth the price of entry because of its best-in-class range and 12-month battery life.
Best Android TV Box to Buy in 2023- Reviews
Best Amazon Fire Stick with all-New Alexa Voice Remote
FAQ
Do smart TV keyboards need to have Bluetooth?
No, smart TV keyboards do not necessarily need to have Bluetooth. There are various types of smart TV keyboards available in the market that use different connectivity options such as USB, RF (Radio Frequency), and IR (Infrared) for communication with the TV.
Bluetooth-enabled keyboards are also available, and they offer the convenience of wireless connectivity without the need for a separate dongle or receiver.
However, the choice of connectivity largely depends on the user's preference and the TV's compatibility. It is essential to check the TV's connectivity options before purchasing a smart TV keyboard to ensure that it is compatible with the TV.
Is it easy to type on a smart TV keyboard?
Yes, you can operate your smart TV using a wireless keyboard. As long as the keyboard is compatible with your TV's operating system and connects via Bluetooth or USB, you can use it to type in search terms, passwords, and other inputs.
A wireless keyboard can make it easier and faster to navigate your TV's interface and access content. However, be sure to check the keyboard's compatibility with your TV before purchasing.
How do I connect my wireless keyboard to my smart TV?
Connecting a wireless keyboard to a smart TV can vary depending on the type of TV and keyboard. Here are some general steps that may be helpful:
Turn on your smart TV and wireless keyboard.
On your smart TV, go to the settings menu and look for an option to connect Bluetooth devices.
Put your keyboard into pairing mode. This may involve holding down a specific key or button for a few seconds until a light flashes.
On your TV, select the option to scan for nearby Bluetooth devices. Your keyboard should appear on the list of available devices.
Select your keyboard from the list and follow any additional on-screen prompts to complete the pairing process.
Conclusion
Our suggestions above are what we found the Best Smart TV Keyboards available in the market. These are the Best Smart TV Keyboards to buy in every price range for you. We have analyzed the features and functions of each product and reviewed our best for the buyers.