Mounting a TV on the wall is a very popular option that many people go for, but once it is done, it sometimes leaves us with too much open space around it. This is not a huge problem since it allows you to be creative and decorate all that unused space to your liking, so today, we will talk about what to put under mounted TV.
There are multiple ways you can make the space underneath your TV look good and visually appealing, and all of that without getting in the way of the rest of the room. It is also important to note that mounting the TV on the wall is a solution for small spaces, and sometimes, you can be fairly limited when putting something underneath. However, there are some solutions, and we are going to share them with you.
Creative Ideas for What to Put Under the Mounted TV
Regardless of what you plan to put under your mounted TV, you need to first determine how much space you actually have underneath. For starters, if the TV is mounted in a large room, you will likely need some media furniture to organize and confine your media equipment.
You can use media consoles, buffets, bookcases, and even dressers, as they are excellent options for this particular purpose. All of these are viable choices, especially if you have a big TV, since it might help it look less solitary and conspicuous on your wall.
On the other hand, if the room in which the TV is mounted is small and you do not have a lot of room, adding more furniture is not the best idea to go for. In fact, it is wiser to save some space underneath the TV by not putting any pieces of furniture and instead opting for some wall decor.
When you want to decorate the space under a big TV in a large room, there are many cool options to go for, but you need to consider how many media devices you have first. Suppose you have multiple devices connected to your television, such as external speakers, gaming consoles, or Blu-ray players. In that case, it is wisest to store them in a cabinet right underneath the TV.
In smaller spaces, you will have to look for alternative storage options. You should also consider some cable organizers on wall shelves and anything that can do a similar job. There are numerous combinations to go for, and we have listed some of the most practical in the section below.
1. Add Some Furniture
When adding furniture under your mounted TV, you should go for pieces that are slightly longer than your television screen to keep everything in balance. Personal choice plays a huge role in this, but the length of the furniture is very important since it can add more depth to the room and make the whole setup look much more visually appealing.
2. Buffets
Buffets are very stylish, spacious, and practical choices. They are also a great storage option for various devices from your entertainment center, and they are a great addition to any living room for their visual appearance and practical uses.
3. Dresser
Dresser is a great solution not just for any big room but for a bedroom specifically. This is a perfect pickup for various storage needs. You can put inside any belongings, including other media devices such as gaming consoles or players. It is a beautiful piece of furniture that can fit great in pretty much any room.
4. Fireplace
Needless to say, it is essential to mount the TV high above the fireplace to avoid any type of inconvenience and hazards. However, this arrangement is truly appealing and will catch the eye of every guest that visits you and provide you with a comfy and beautiful view any time you sit down to binge your favorite show or watch some movie.
5. Houseplants
Decorative houseplants are another creative solution for decoration around your entertainment station. Adding some green plants under the TV can really open up the space and make the area around it look prettier. Moreover, plants release oxygen, thus making your room and yourself breathe better.
6. Floating Shelves
Floating shelves are very simple to assemble and a great decorative solution for your entertainment center. These shelves integrate your TV into the overall decor of the room, and they eliminate the box look. Moreover, floating shelves are extremely versatile and can be used for various purposes, making them a viable option to go for.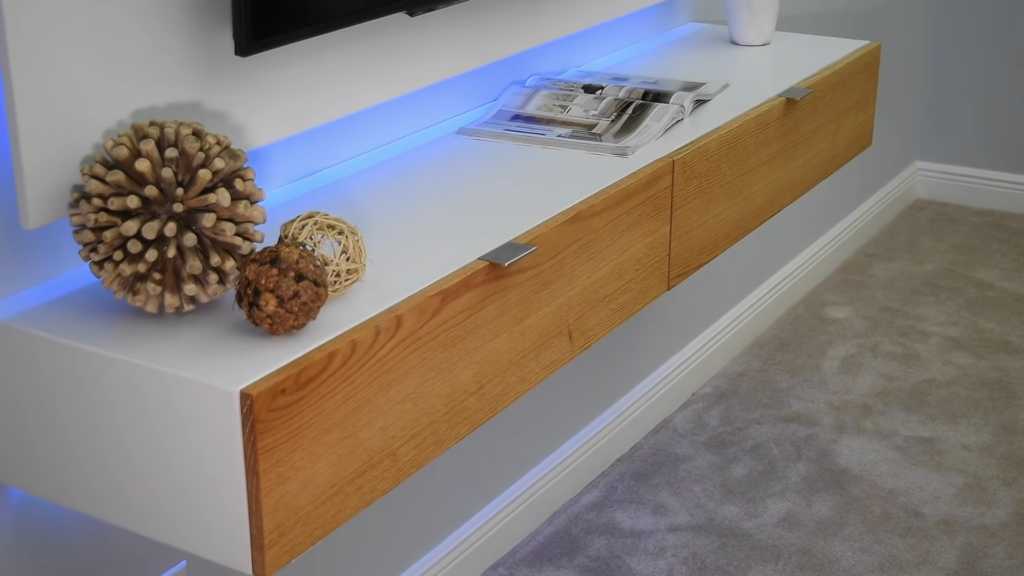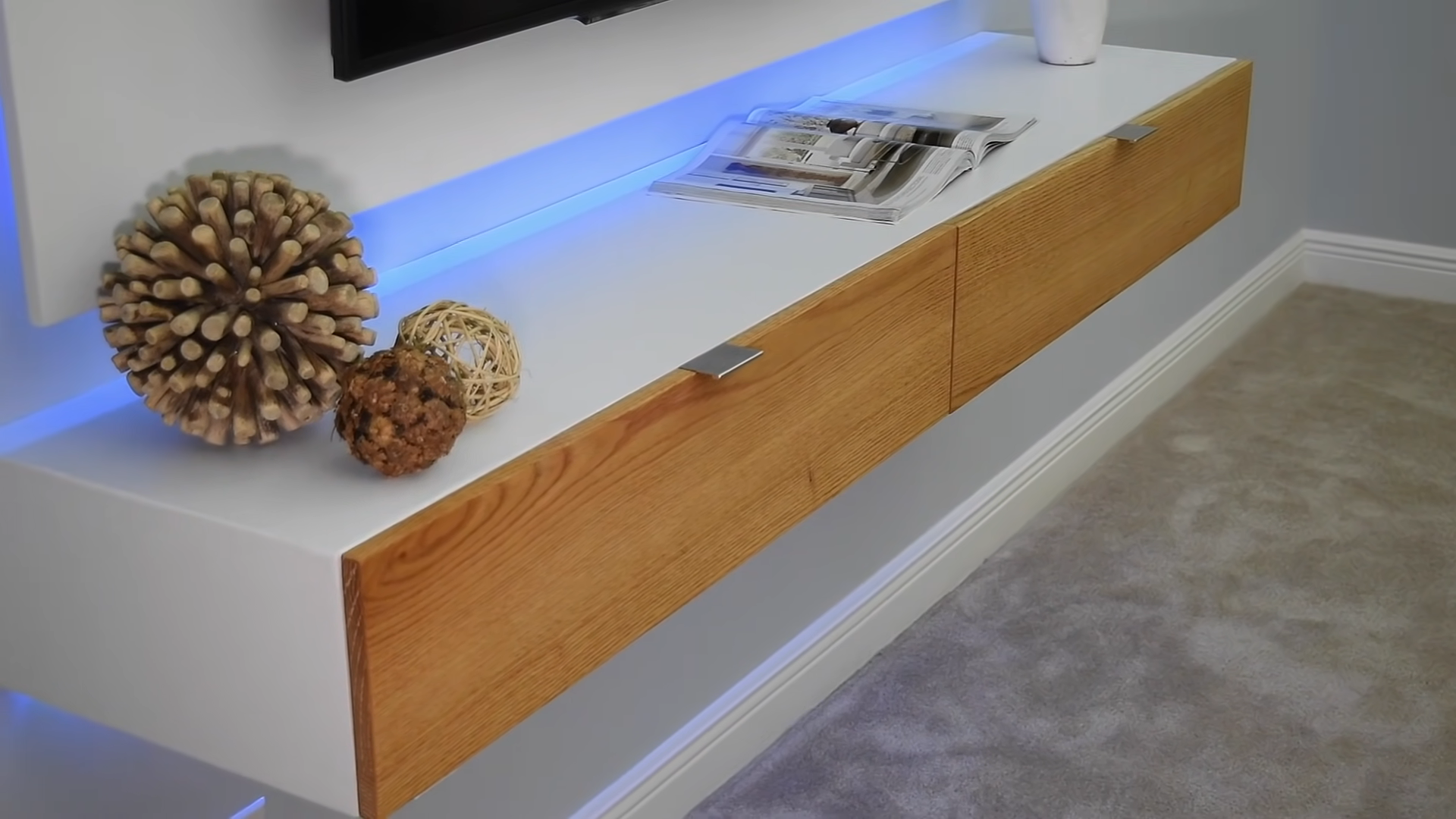 7. Add Some Paintings, Pictures, or Photos
Surrounding your mounted TV with some artistic pictures, paintings, or photos can truly breathe a new life not just into the surrounding area but into the entire room. You can add multiple smaller frames and add a set of fresh colors to your whole entertainment center.
8. Backlight Your TV
You might want to consider installing a backlight behind your TV, which will add some illumination to the room while also making it seem much more decorated than a regular blank wall. These lights are available in a wide variety of colors so that you can combine them properly with the rest of the decor in your room.
9. Add Some Bookshelves Underneath
Bookshelves are excellent piece of furniture that allows you to customize further and decorate. With these shelves placed to frame your mounted TV, you will have plenty of room to add some extra decorations and make the space around your entertainment center even more.
10. Put Your TV on an Accent Wall
Creating a pallet accent wall to mount your TV on will certainly add a whole new dimension to the room and make it look that much prettier. When the whole wall is made of wood, everything else you put above, underneath, or around it will have a much better visual appearance.
Final Words
The additions you can place under your mounted TV entirely depend on the type of room, the lighting, and the color of the wall. Make sure to figure out the dimensions properly before adding anything to it, and take your time when deciding.
Decorating the space around your entertainment center should not be a chore but something you will enjoy and get creative with, so choose carefully and revisit our list of suggestions if you still lack inspiration.