Tired of watching poor-quality shows on your television due to poor signals? Or want to have the best quality television antenna? In this article, we will help you in finding the best antenna for your television that you can trust and rely upon. We understand how frustrating it is to look at distorted pictures or videos only because of the bad signals. This indeed is an issue and it needs an instant solution.
So, to find a solution to this problem, we are introducing you to some best quality antennas. These antennas are omnidirectional. This means that you are now free from the worry of changing the direction of the antennas of your television. Different companies offer various kinds of TV antennas and we have tried to talk about as many of them as possible.
Top Long-Range Omnidirectional TV Antennas
Given below is a list of some top-tier TV antennas:
1. LAVA HD2605 Outdoor HDTV Antenna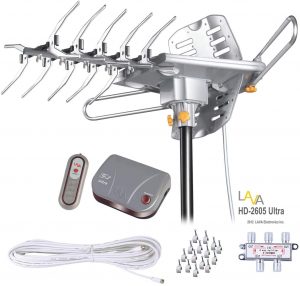 LAVA HD television antenna is basically a product by an American brand that offers its customers quality results. This television antenna has the ability to catch the signals from every nook and corner which makes it effective and desirable. Other than that, this antenna is one of the most popular antennas in the market, currently.
The HDTV antenna does not require constantly changing its direction because it can catch the signals on its own. Moreover, this is an outdoor antenna which makes it even more effective in terms of catching signals. All of these qualities make this antenna the best long-range television antenna.
Furthermore, this antenna has a vast range that is approximate up to 120 to 125 miles. Although this is an outdoor antenna, you can also adjust it indoors but on the top floor so that it can easily catch the signals. Moreover, you can connect eight televisions with this antenna at a time. Sounds amazing, right?
Pros
Huge variety of channels
Effective
Good quality
Cons
The weather may affect results
Finally, the LAVA HDTV Antenna comes with a lot of advantages. It has the capability of picking up the signals from every direction which makes it stand out among other ordinary antennas. Apart from that, you can also connect this antenna to TVs that are not HD but for that, you will first have to convert the digital signals to analog ones.
2. 1byone Outdoor TV Antenna 360° Omni-Directional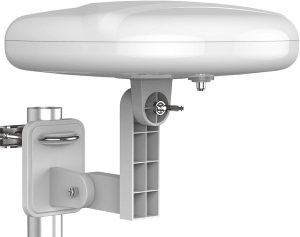 1 by one is a popular brand that is known for its electronic products that include TV antennas, and other electronic accessories for your television. It also has to offer you products related to beauty. For instance, hairdryers, nail filers, and much more. Plus, these are not the only products you can get from 1 by one. Rather they have a huge variety of other categories too.
You can get this 360 omnidirectional tv antenna in white color. Plus, it has a very compact and unique shape, unlike traditional antennas. To make it work effectively, you will have to first look for the broadcast tower. Apart from that, the most interesting thing about this antenna is that it can work perfectly fine even in a windy atmosphere.
Moreover, this antenna is water-resistant to some extent which further adds value to its performance. Since this antenna is omnidirectional, you do not need to keep on changing its direction to adjust the channels. It can do that on its own and give you all the channels that you want. So, you must go for it and see how it works for you.
Pros
Innate amplifier
Can resist weather changes
Effective
Overall, this is one of the best omnidirectional tv antennas. One thing that you should keep in mind is that tv antennas give you the quality outcome if only one television is connected to them. If you connect more televisions with the help of the splitter then you may get a few channels. The quality can also get affected due to this.
3. 1byone Antenna with Omni-Directional Long-Range Reception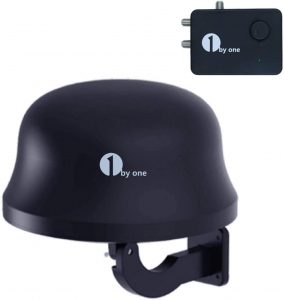 Omnidirectional long-range reception TV antennas are quite easy to install. It has the ability to introduce you to a huge variety of channels. From news to entertainment, you have access to every channel with this antenna. An omnidirectional antenna by 1 by one store is a compact antenna that occupies less space.
The best part about this antenna is that even if the towers are at a great distance, it is still able to catch the signals. This shows how efficient it is. Moreover, you will get the best quality image with this omnidirectional TV antenna. The long-range reception antenna also comes with boosters that add value to the effectiveness of the antenna.
The boosters help in enhancing the performance of the antenna by removing the hurdles in the way of signals. Moreover, this antenna does not get affected by weather changes. Even in rain or wind, it remains consistent in its function and gives you the best results. This shows how reliable and trustworthy the antenna is.
Pros
Weather-resistant
High-quality results
Reasonable price
Cons
Breaks Down with harsh weather
Finally, 1 by one omnidirectional long-range antennas have multiple advantages that are rare and hard to find in low-quality antennas. You get this antenna with some warranty as well as you can return it within three months of usage. This means that you can try and test for a few days to see how it works.
4. Outdoor TV Antenna – 1byone 720°Omni-Directional Reception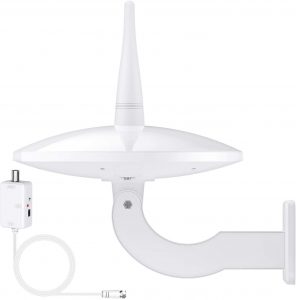 The 760-degree omnidirectional antenna by 1 by one brand is basically an outdoor antenna that you can also place indoors. However, you need to locate the antenna at some height even if it is indoors. By that, we mean to say that you can place it on top of the floor. This helps the antenna to easily get access to the signals.
The amplifier in the antenna that is already there helps to amplify the signals and make them reachable. The 720-degree outdoor antenna also plays the role in removing all the unwanted hurdles in the way of the signals. These hurdles may include harsh weather such as rain, wind, etc. So, it is one of the most resilient antennas in the market.
Furthermore, this antenna is really convenient to install without putting in any extra effort. The best part about 1 by one omnidirectional antenna is that it can survive under extreme heat due to the sun and also in the rain or windy weather. These qualities make it a lot more reliable and trustworthy for your apartment.
Pros
Durable
Quality results
Easy to install
Cons
Only works near the tower
In the end, the outdoor 720 omnidirectional antenna has got a number of advantages to offer to you guys. It is durable and can sustain extreme weather conditions. Whether it is raining or there is wind, this antenna has the ability to survive and still give you some quality results. So, you must try it out.
5. GE Outdoor TV Antenna, Long Range Antenna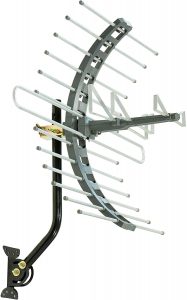 GE is a popular brand that is famous for its quality home appliances. They have been offering their services for a long period of time. With time, they managed to gain immense popularity all over the world. Now, they are known as one of the top brands for electronic products. You can trust them and get the product you like the most.
GE outdoor antennas are specially made for outdoor locations. However, you can also place it indoors if you have any suitable place at some height. Open-air lets the antenna grab signals in an easier manner. One thing you need to make sure of is that the tower is located somewhere near your place so that signals are caught by the antennas easily.
Moreover, you can connect more than one television with this antenna because it has the capacity to divide the signals. However, this is only possible with the help of a splitter because the splitter is the basic component that can distribute the signals in an equal manner. Plus, it also comes with a warranty.
Pros
Affordable
Durable
Quality results
Finally, GE outdoor antenna is one of the most reliable TV antennas that you can trust. It can give you a variety of channels that are just one click away. You can enjoy a vast variety of channels at your home or your workplace even with the help of these antennas. Plus, the warranty makes it much more reliable.
6. Monoprice Omni-Directional 360 Degree Antenna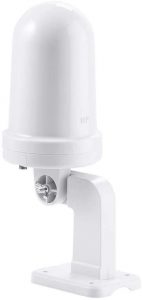 Monoprice is a famous company and is known for its electronic products. This is basically an American company and is well-known around the globe. They have been exporting their electronic machines and other products for a long period of time. Due to their excellent quality, they have gained trust among the majority.
The omnidirectional TV antenna by Monoprice is a multifaceted antenna that has the ability to serve efficiently. You have the option to locate it outdoors or indoors, wherever you think is suitable. Apart from that, this is a compact and small antenna device that looks really smart too. So, it is not only powerful but also good in its appearance.
The color of this 360-degree antenna is white which is a pretty and elegant color. Moreover, this antenna can survive temperature changes. Whether it is hot or windy weather, Monoprice omnidirectional antennas can survive just any atmosphere. So, this quality makes it a reasonable and durable antenna.
Finally, all the advantages are what make this antenna stand out. This is one of the best long-range directional TV antennas that you will ever come across. The brand is also trustworthy and well-reputed. So, all these qualities add value to the 360-degree antenna and due to this reason, you must go for it.
7. Lava Omnipro HD-8008 Omni-Directional HDTV Antenna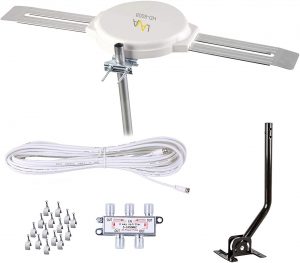 LAVA brand is popular for its antennas, splitters, and other electronic products for your everyday use. The best part about this brand is that it offers diversity. There is a huge variety when it comes to appliances and electronic products. Their products are imported and shipped to every part of the world due to their good reputation.
LAVA Omni pro HDTV antenna is a small and compact antenna with great results. The best part about this antenna is that it comes with an innate amplifier that adds more value and power to it. It basically helps the antenna in catching the signals more effectively and conveniently. So, that is why an amplifier is extremely essential.
Apart from that, this is the most preferred antenna in the USA and this shows how reliable and famous it is among common people. As it is omnidirectional, it does not require any change in the direction to attain the signals. Rather it has the ability to catch them due to its power and effectiveness. So, we can say that you should definitely try it out.
Pros
Durable
Trust-worthy
Good quality
Finally, the Omni pro-Lava HDTV antenna has a lot to offer to the people. It has the ability to introduce a huge variety of channels that are easily accessible. However, its price is a bit more as compared to other random antennas but that is also due to the fact that its performance is outstanding.
Buying Guide
Given below is a list of things that you need to think of before purchasing a long-range TV antenna:
1. Location for Your Antenna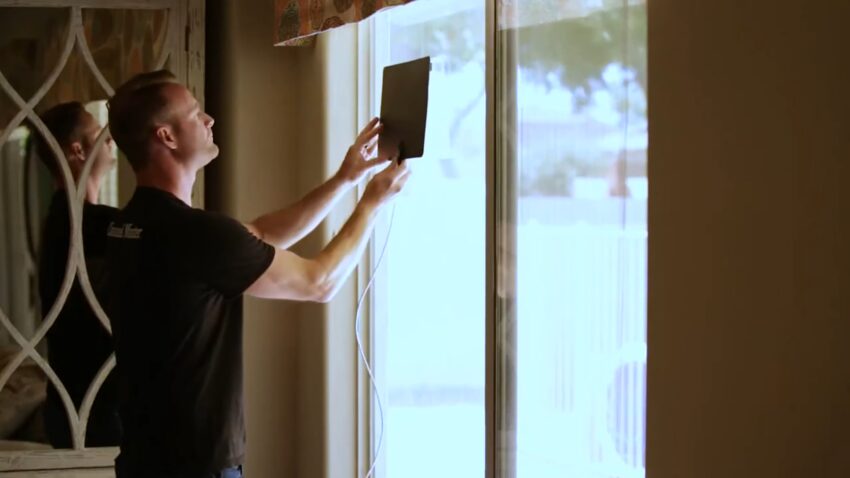 The first and foremost thing that you should consider before you go to buy an antenna is the location of your place. Location determines a lot about which antenna is best suitable for your home and which is not suitable. Also, location will help you know whether the antenna you are planning to buy can catch the signals or not.
However, the brand of the antenna does not matter as much as the type matters but yes, you can know that the brand is trustworthy if its reputation is good. So, before you go to buy an antenna, do consider your location and area because it does affect the performance and the outcome. So, above everything else, consider the location and other external factors such as direction, etc. before buying an antenna.
2. Outdoor Antenna
This is another important factor to look for in an antenna. Whenever you go to buy an antenna do consider the fact that whether the antenna is an indoor one or an outdoor one. Outdoor antennas are far better than indoor antennas due to obvious reasons. They are able to catch the signals more easily. Apart from that, outdoor antennas have a much greater frequency. So, all of this does affect the way your antenna will perform. It affects the number of channels and their quality as well. So, you should keep this in mind too.
3. Types of Antennas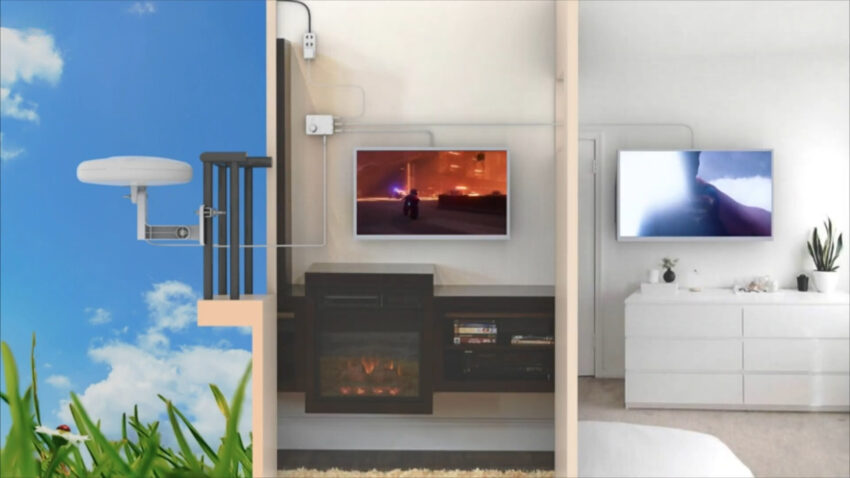 There is a huge variety of antennas in the market which means that you have got a number of options. Some antennas are directional which means that they only work in a certain direction. By that, we mean to say that such antennas are only capable of catching the signals to show you a limited number of channels.
On the contrary, omnidirectional TV antennas have the ability to catch signals from every direction. This capability of being an all-rounder makes omnidirectional antennas stand out from the other types of antennas. Moreover, with these antennas, you get access to more channels, unlike the directional antennas. In a directional antenna, the variety of channels is limited.
4. Indoor Antennas
Apart from that, most of the time the indoor antennas turn out as omnidirectional. However, this is not the limit because you can find omnidirectional antennas in the outdoors too. This means that you get a vast variety when it comes to omnidirectional antennas. This huge variety creates a room for you where you can choose the one that you find most appropriate, considering all the factors. So, you should prefer an omnidirectional antenna over the other types of antennas.
5. Receptive Ability of the Antennas
The receptive ability of the antennas is an extremely essential factor. You should consider this factor when you plan to purchase a long-range antenna for your television. Basically, receptive power is the ability of the antenna that helps in catching the signals. Moreover, it is also linked to the frequency waves. Sometimes, the location of your place is such that it blocks the signals and there is a lot of description and interference in the way.
In such a situation, the receptive quality of the antenna will help to catch these signals which are difficult to pick otherwise. Receptors of the antennas have a relation with the frequency and the signals which in turn are related to the input and the output. So, all of these factors are interrelated and influence each other's performance and results.
FAQs
Does aluminum foil boost the antenna signal?
The answer to this question is yes. Aluminum foil does boost the signals from the antenna to a certain extent. The reason why it boosts the signals is that due to the aluminum foil, the conductivity is increased. This ultimately results in adding strength to the signals so that they are easily received by the television. Moreover, it also helps in expanding the surface area.
Do any TVs have built-in antennas?
With the advancement of technology, televisions today come with built-in antennas. However, such types of antennas can serve only limited purposes. With the help of innate antennas, you can easily connect your television with a WiFi connection or even Bluetooth. To experience some quality results, you need to buy a separate antenna for your TV.
Where is the best place to put an antenna?
In our opinion, the best place for an antenna is one that does not hinder the signals or block them. There are a lot of things that can cause blockage of the signals and stop them from reaching. Such obstacles may include walls, buildings, etc. So, you should consider all of these things before locating the antenna.
Are outdoor TV antennas better than indoor ones?
Outdoor TV antennas generally have a higher range and can capture signals more effectively since they are not obstructed by walls or other structures. However, indoor TV antennas can work well in areas with strong signal reception and are more suitable for those who cannot install an outdoor antenna.
How far can a long-range TV antenna capture signals?
The range of a long-range TV antenna depends on various factors, including the terrain, the height of the antenna installation, and the power of the broadcast tower. Some long-range antennas can capture signals from 50 miles, while others can reach 100 miles or more.
Do TV antennas provide HD channels?
Yes, TV antennas can capture over-the-air HD channels. Many broadcast stations transmit their signals in high definition, allowing you to enjoy crystal-clear picture quality without any additional cost.
Can multiple TVs be connected to a single TV antenna?
Yes, it is possible to connect multiple TVs to a single TV antenna. You can use a signal splitter to divide the antenna's output and distribute it to different televisions. However, it's important to ensure that the signal strength remains sufficient for all connected TVs.
Can weather conditions affect TV antenna reception?
Yes, severe weather conditions such as heavy rain, strong winds, or thunderstorms can impact TV antenna reception. These conditions may cause temporary signal disruptions or reduce signal strength. However, modern TV antennas are designed to minimize the impact of weather on reception.
Are TV antennas suitable for all locations?
The suitability of a TV antenna depends on various factors, including the distance to broadcast towers, the surrounding terrain, and potential signal obstructions. In some cases, certain locations may require specialized antennas or signal amplifiers to overcome reception challenges.
Do TV antennas work with all TVs?
Yes, TV antennas work with all TVs that have a built-in tuner or a digital converter box. Most modern TVs are equipped with a built-in tuner, allowing you to connect a TV antenna directly. For older analog TVs, a digital converter box is required to decode the digital signals received by the antenna.
Final Thoughts
Everyone wants to have a quality picture on their screen. If the quality is not good, it can really become annoying and irritating. To experience good quality images and a variety of channels, you need to have a reliable antenna too. So, given below are our top three recommendations regarding omnidirectional antennas:
Lava Omnipro HD-8008 Omni-Directional HDTV Antenna is one of our top recommendations due to its durability and effectiveness. This antenna comes with an amplifier that again contributes to its performance and makes it a top-quality antenna. So, you must go for it. Monoprice Omni-Directional 360 Degree Antenna is a product of a popular American brand. The best thing about this antenna is that it not only works efficiently but is also compact and good in appearance. Its color and design is quite appealing and has no major disadvantage GE Outdoor TV Antenna, Long Range Antenna is quite reasonable in terms of its price. Plus, this antenna is suitable for indoor as well as outdoor. This makes it flexible in its function. Other than that, its brand is also well-known. So, you must also consider this antenna
So, in this article, we have tried to incorporate all the possible options that may help you in choosing the right option. There are certain things that you need to consider such as price range, performance, company, the type of antenna, and some other things. A good antenna can make a lot of difference in your life. So, go and get one.