Twenty-four inches television is a small and compact TV but do not be fooled by its size as it houses all the entertainment you have been longing for. These TVs are famous nowadays primarily for their petite size. This makes them an ideal choice for people living in dorms and apartments who are short of space but don't want to miss some spicy entertainment like daily news, sports highlights, movies, and much more!
So, saving you some precious time and hectic scrolling, we have filtered the 10 Best 24 Inches Televisions that deserve to be your next purchase. Without further ado, let's jump into the review.
Top-Rated 24-Inch TVs
1. LG 24LM520D-WU 24-Inch HDTV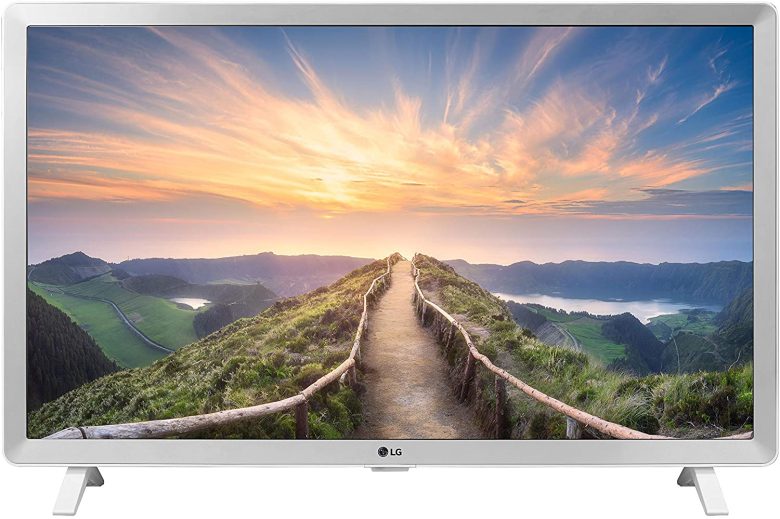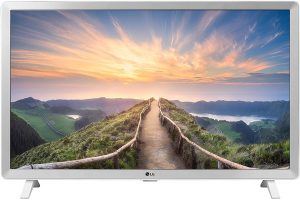 LG 24LM520D-WU is a device made for kitchen purposes. Its size and steel colour are perfect for your kitchen. It matches your kitchen and makes the outlook perfect. This television has a small screen display which is ideal for kitchen and small bedrooms. It has all the essential functions and specifications to meet your basic need of watching television, that is, entertainment.
The look of the television and its quality are both outstanding which is the topmost priority of most people. Still, when it comes to functionality, many other television brands offer many latest features at the same price.
This television has better picture quality because of the presence of the Triple XD engine, which ensures you get an eye-catching real-life picture. The sound system is perfect and delivers clear and smooth sound without any extra noises. This TV is perfect for those who don't want to operate complex features but are only willing to fulfil their basic needs.
Pros
Strong design
Steel colour
Outstanding picture quality
Cons
1 HDMI port
No extra smart features
LG 24LM520D-WU 24-Inch HDTV is an intelligent choice to fit your entertainment needs. It is designed in a way that suits best to your kitchen and ensures your entertainment. This television has a steel colour that looks cool on your walls. It has all the essential functions you demand from your television. The screen display is outstanding, and speakers are made to satisfy you completely with your entertainment.
2. VIZIO D-Series D24f-F1 24-Inch Smart TV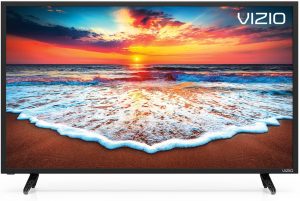 This product also comes in other sizes, so you can choose exactly what size you want. It comes in 1080p HD, which means 1920 pixels are distributed on the screen horizontally and 1080 vertically. It makes sure to give you sharper and more precise picture formation on the net. If you want a smaller television with perfect cost, it is the best suitable product for you.
It comprises a full array of backlight technology to give you a higher level of brightness and a more colourful image by focusing and highlighting all the colours and contrasts. You can also connect it with your mobile and watch your favourite videos and shows on the big screen of your television. The television can also be given commands while using Google assistant powered speakers. You can make it easier for you to operate it through voice rather than manually operating it.
It does lack some latest apps but still help with the latest technologies operable in it. It has high definition resolution, which gives you outstanding picture quality and video performance. It makes sure you have spent your money at the right place, as you get the best TV experience with the next purchase.
Pros
Can connect to mobile
1080p resolution
Operable by Google assistant powered speakers
This VIZIO D-Series D24f-F1 24-Inch Smart TV also comes in different sizes. It has a full array of backlights which makes it brighter and more colourful. 1080p HD technology ensures you provide healthy, smooth videos, and above all, it smartly works and can be connected to your mobile through Chromecast inbuilt techniques. You can easily give it voice commands through Google Assistant powered speakers to make it easy to use.
3. Westinghouse 24-Inch TV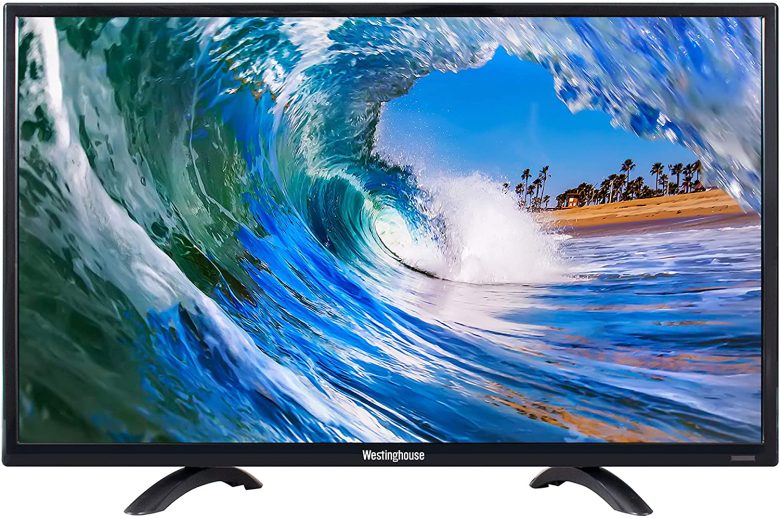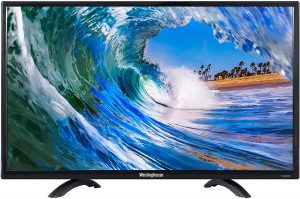 Westinghouse 24-Inch Television is made in such a way that gives you a high definition picture to ensure that you have a perfect, clear picture without any blurring. The movement of the picture and video remains smooth and less blurry to make it more ideal for you. It gives you a sharper, proper, and accurate image.
It has ports available for the connectivity of external devices, which ensure you provide connection points for your gaming consoles, USBs and other set-top boxes or DVD players. The highly noticeable feature of the Westinghouse 24-Inch Television is its parental control system, which lets you block content on the basis of ratings and reviews.
It provides you with a clearer, more consistent, precise and focused quality of the picture. It has connectivity systems of VGA, and HDMI which allows your television to connect with external devices. Its connecting ports also support the connections of gaming consoles to give your real-life gaming experience.
Pros
Parental control
Multiple Connecting ports
Lesser blurry motion
Cons
Expensive in the given features
Westinghouse 24-Inch Television provides you with a high definition picture and decreases the blurry motion. It also offers parental control for the safety of the violent content from children. It gives multiple connecting ports for the connection of multiple external devices to make life easier for you.
4. LG Electronic 24LM530S-PU 24-Inch HD webOS 3.5 Smart TV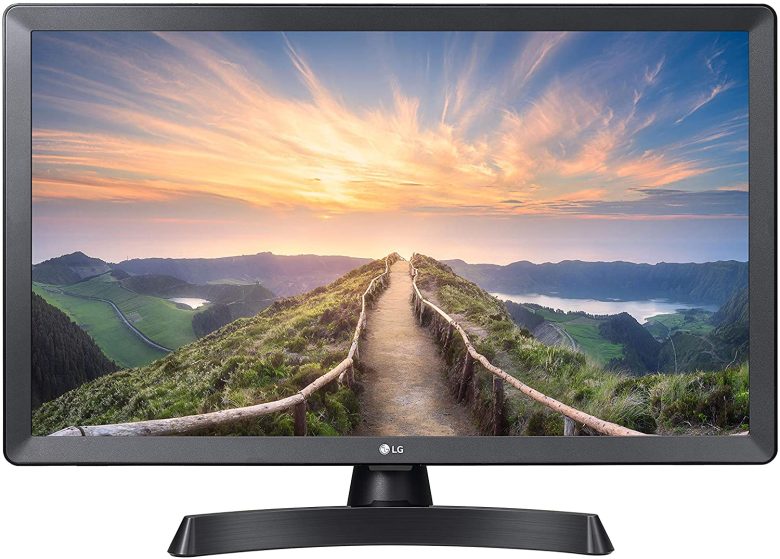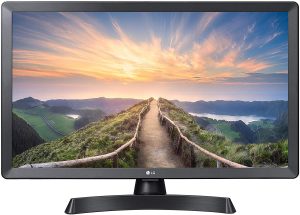 This product gives you versatile functioning with dual characteristics of monitor and television both in a single machine. Its high HD display provides the perfect balancing of colours, their contrasts and sharpness. You would love to watch various accurate colours with high definition, clearer, and brighter images.
The image's projection is highly efficient because of the presence of a wider viewing angle which makes sure you can see a clearer picture from every angle, whether you are sitting or standing. This webOS 3.5 smart TV makes it perfect for you when you want to use it for searching through internet purposes. Built-in WiFi makes it a complete set-up for those searching for durable, all in one, versatile products.
Efficient functioning speakers are associated with this television set. They have built-in audio speakers that have a stereo sound associated with stereo speakers, after which you will not require any soundbar or external sound speakers. Easily wall-mountable television is highly recommended for those who want the monitor, computer and television all in one system.
Pros
Built-in WiFi
Efficient speakers
Wide viewing angle
This product is a versatile and highly functional product with built-in WiFi systems that make your web search convenient and comfortable. They help you watch your favourite worldwide channels with easy to operate remote control. Wider viewing angle and high definition HD display provide full-colour, high in contrast and clearer, sharper picture to make you thoroughly enjoy your favourite channels.
5. SuperSonic SC-2412 LED Widescreen HDTV & Monitor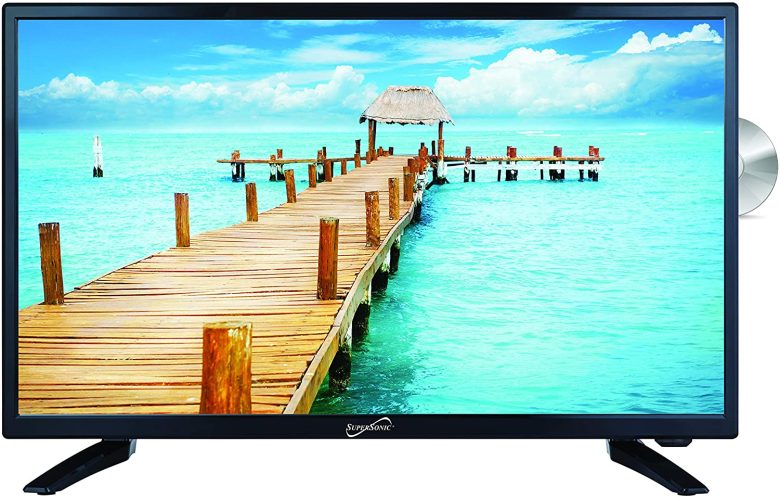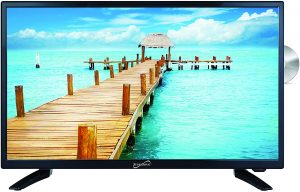 This is a unique product in the way that it is made with an inbuilt DVD player. You can easily use this DVD player for your videos and pictures. No external equipment is needed to play the DVD. The inbuilt DVD system is compatible with DVD, CD, VCR, CDR and SVCD. It provides us with a 1080p picture quality for striking colours and contrasts.
Another essential characteristic of the SuperSonic SC-2412 LED Widescreen HDTV & Monitor television is the digital noise reduction feature. It helps in reducing all the unnecessary voice that creates hindrance in the original TV voice. This also consists of various picture modes, for example, standard, dynamic and others. They are variable from each other and can be selected as per your choice.
This television has ports for USB connection, HDMI connections and AC ports. You can easily use your screen as a computer monitor by connecting the HDMI cables and selecting appropriate settings. These will let you enjoy the computer monitor on your television screen. It will help you have the monitor's view on your television. It is made in a stylish and decent look and will be an attractive add on to your bedroom or living room.
Pros
Inbuilt DVD player system
Stylish
It can be used as a computer monitor
Cons
Sometimes comes with defective internal supply
A versatile product that has an inbuilt DVD player system that is designed in a stylish, elegant manner. It makes the overall look of the room attractive and flawless. It has USB connection ports, HDMI ports and AC ports. Its versatility makes it easier to use as a computer monitor too. In this way, you can get all multiple functions in one device.
6. LG Electronics 24LH4830-PU 24-Inch Smart LED TV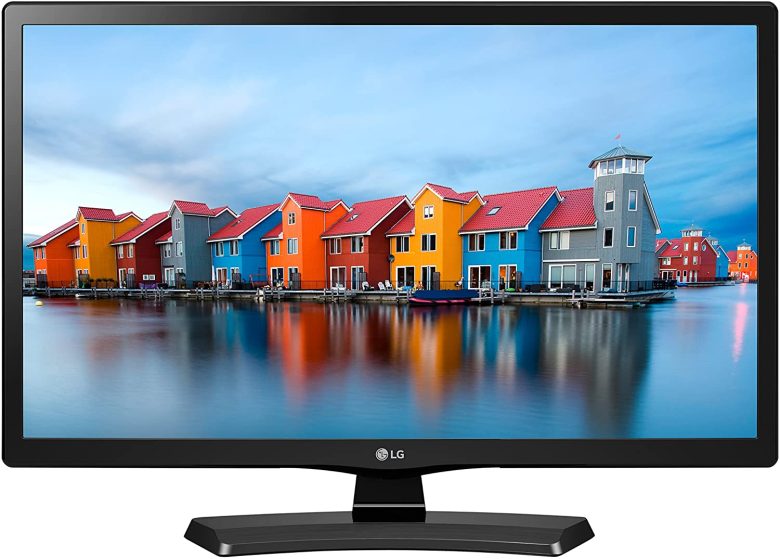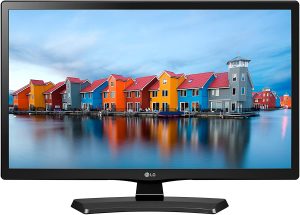 This is a product first produced in 2016. The specification which makes it best among 24 inches Televisions is its wider viewing angle which makes it convenient and clear from every side. It makes the overall image excellent and efficient for you to watch. It is the most demandable product in 2023.
The top attractive and efficient feature is its in-built WiFi which helps you access countless online features and entertainment facilities. It becomes flawless as it avoids the hurdle of external connectivity of WiFi and other devices. Another exciting feature is its inbuilt BlueTooth connectivity which makes your life easier. You can efficiently perform house chores while listening to your favourite tv shows.
It consists of 2 HDMI ports that ease your connections with the external devices that can enhance your media connectivity and improve your intelligent LED TV functioning. HDMI ports allow you to easily connect your gaming console with your LED screen to get a bigger, broader and authentic gaming experience.
Pros
Outstanding brightness
Wider viewing angle
Inbuilt Bluetooth and wifi system
Cons
Limited HDMI ports only 2
This LG Electronics 24LH4830-PU 24-Inch Smart LED TV has inbuilt WiFi and BlueTooth connections. It consists of 2 HDMI ports that help you connect external devices with your LED like gaming consoles. The larger viewing angle and high contrast brightness make your picture performance excellent and efficient.
7. AXESS TV 1705-24 24-Inch LED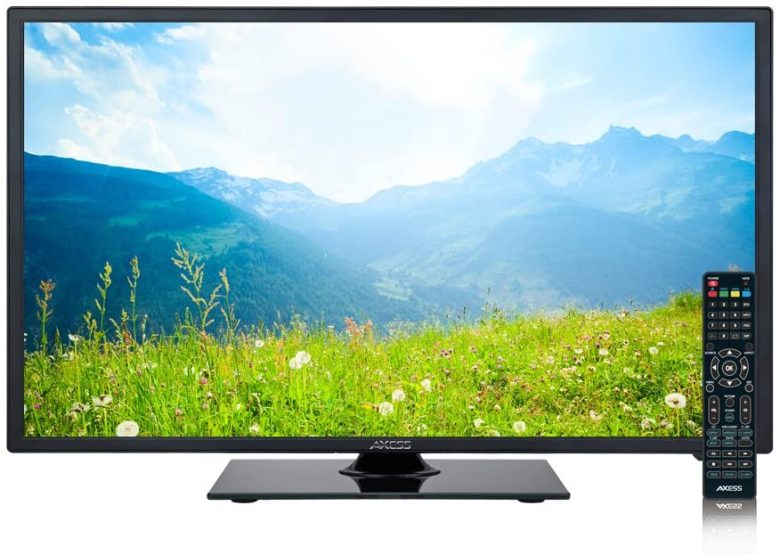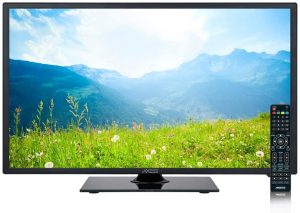 It's a 24 inches versatile functioning television. The best feature of this television works on a 12 voltage battery which will be helpful for you if you want to operate the TV on cars and boats. It also has a wider high-performance screen display which makes it perfect for viewers, no matter at what angle they are viewing.
This product has unique features fixed in it, like a multi-language display on the screen. If you are looking for a television that should give you a home theatre experience, you should select this AXESS TV 1705-24 24-Inch LED television because of the presence of rear-mounted speakers. This gives your TV a boost in its audio system.
It also has various picture modes that include standard, dynamic, contrast and sharp. This helps in selecting the correct picture mode for you to experience the best display. It also has an inbuilt sleep timer that would be helpful for children and even adults—this timer, when set up, makes sure that the television automatically turns off when the selected times up.
Pros
Rear-mounted speakers
Versatile
It can be used in cars
This product is renowned for its highly efficient audio system because of the presence of rear-mounted speakers. They help in achieving the high perfect audio performance. It has a 12-volt battery, which we can easily use in boats and cars. This product is also associated with an inbuilt picture mode display and sleep timer.
What To Look For While Buying A TV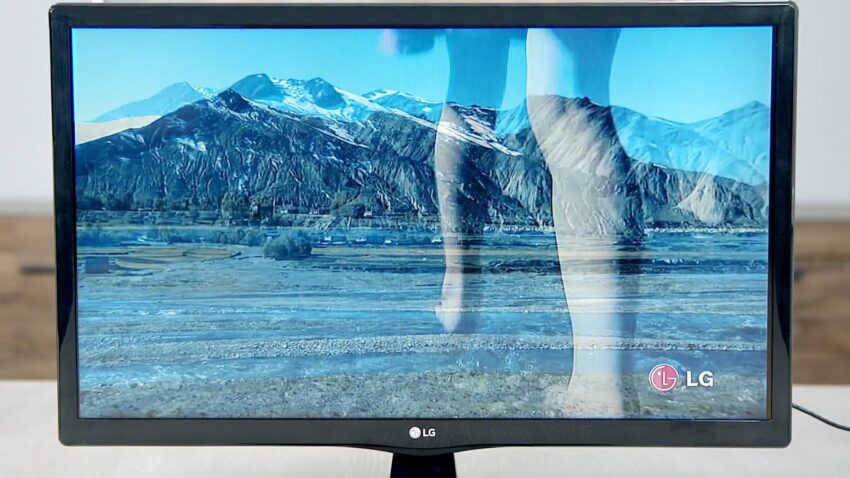 Before finalising the television, make sure you have researched all the specifications present in the selected TV to get the best TV for the best experience. Look for all the below-mentioned characteristics in the TV you choose to get an excellent quality product.
Resolution
Check for the resolution of the picture to ensure you get a high-quality image. The ideal resolutions are 4K or 8K. But they are present in limited TVs. I would never suggest ever buying a 1080p screen resolution TV. This can create a blurry vision on the screen when the videos are moving faster.
Make sure to check the resolution your tv is providing you before making the final purchase. So you would get the excellent quality resolution of your picture to give you an incredible experience. Technology is advancing every day, and you can have the best resolution when you look for it.
HDR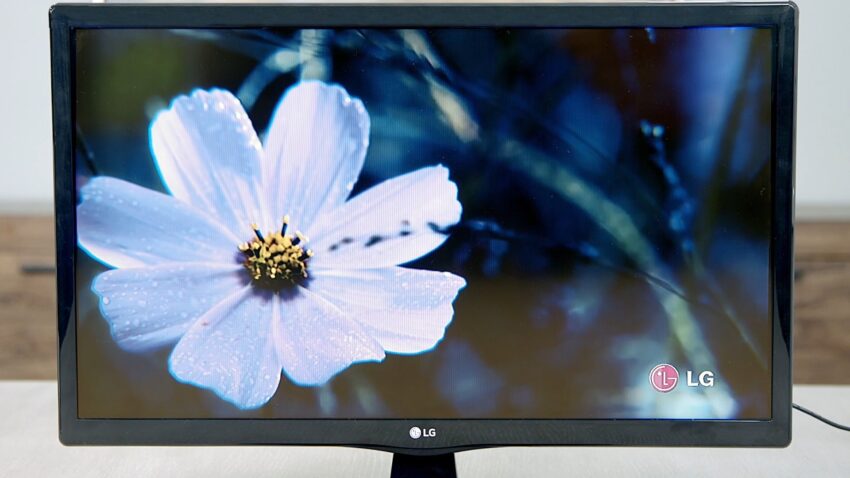 HDR stands for High Dynamic Range. It's a set of functions that includes more colors, high contrasts and various brightness levels. This makes your picture's color more attractive, more precise and clean. This set comes in 4k TVs. HDR 10 is the standard setting of many television sets. If you want to see the bright, more colorful and eye-catching pictures, pick the TV sets that have HDR 10 mode to make sure you are looking at precisely what you wanted to.
Screen Size
Screen size also matters, and it is highly dependent upon the room size, the wall size and the viewer's distance from the television. Remember to keep in mind all of the location settings where you would set your television. If your room is more extensive, never select a small TV screen size for the display. It would look weird.
Similarly, if you have a small space, do not ever select wider screen size. This will make the room look inadequate and unattractive. Research the ideal screen size for your room and choose the best size according to your room. Also, keep in mind at what height you are going to place your TV. This would make the look, the audio and the video more efficient.
Cable Ports & HDMI Connections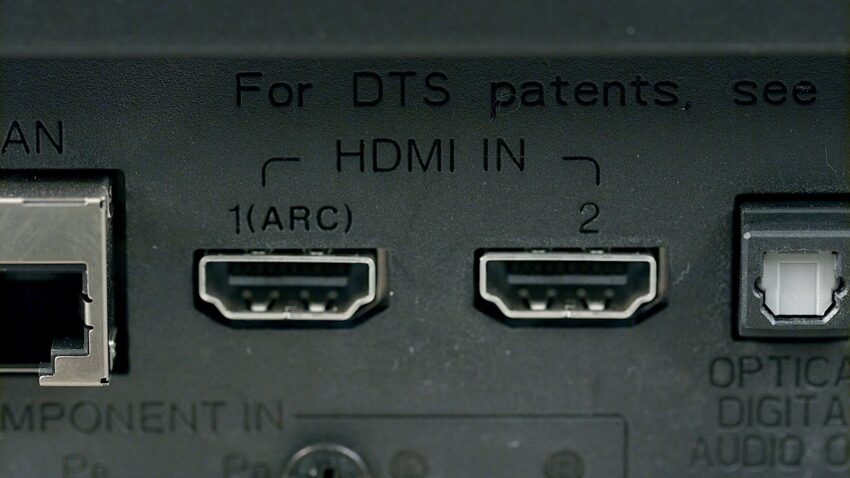 Must attention should be given to the HDMI ports and settings of the television. Always check and concentrate on the counting of HDMI ports, cable connections and USB ports all. Ensure you can connect other devices with your smart appliance to get the bigger, better practice television watching experience.
Check for the quality of the ports and ask about their characteristics. The better the quality of the cable port you have, the more signals you can pass, the better experience you will have. Similarly, the ideal HDMI ports should be 4 in the count, so you would be able to connect multiple devices with your system.
Bluetooth Connectivity
If you plan to spend a handsome amount of money, go and search for Bluetooth connectivity for your TV. Please select the one which has Bluetooth functioning in it. Connecting your television BlueTooth with your Bluetooth speakers will give you an immense amount of comfort.
This would result in a higher level of ease for you while walking and working in the whole house, and listening to your fav song or show without irritating others. This would create a higher level of ease for you while working and enjoying both. Similarly, it would help if you do not want to disturb someone with your TV voice. You can conveniently go for Bluetooth speakers.
Sound Quality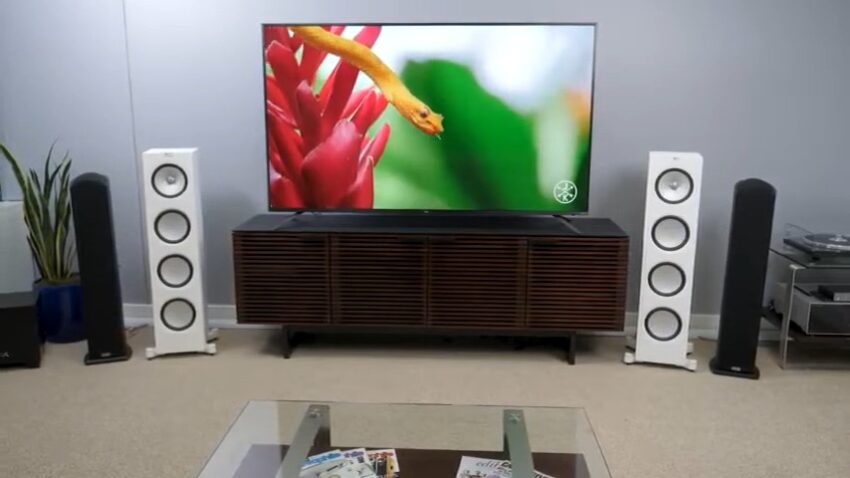 There is one common drawback with many extensive television systems. The picture quality would be excellent, but when it comes to the sound quality, it is zero in most cases. Most of the time, the speakers do not match the quality of the screen and picture. Make sure to check the speaker's functioning and voice before making the final purchase. Most of the reviewers suggest that to deal with the lack of a perfect system we recommend buying soundbars with it. They will help you give you a real theatre experience in your home.
Refresh Rate of The Picture
Refresh rate refers to the refreshing of the picture per minute. It is measured in Hz. The refresh rate of the image is 60Hz, which tells us that this picture refreshes itself 60 times per minute. After careful research, we can say that do not compromise over refresh rate if you love to watch action movies and fast videos. This 60Hz refresh rate can destroy the smoothness of the image. Go with higher refresh rates which not only will make your video smoother but will also appear plainer and will make sure you get each and every clip more blended.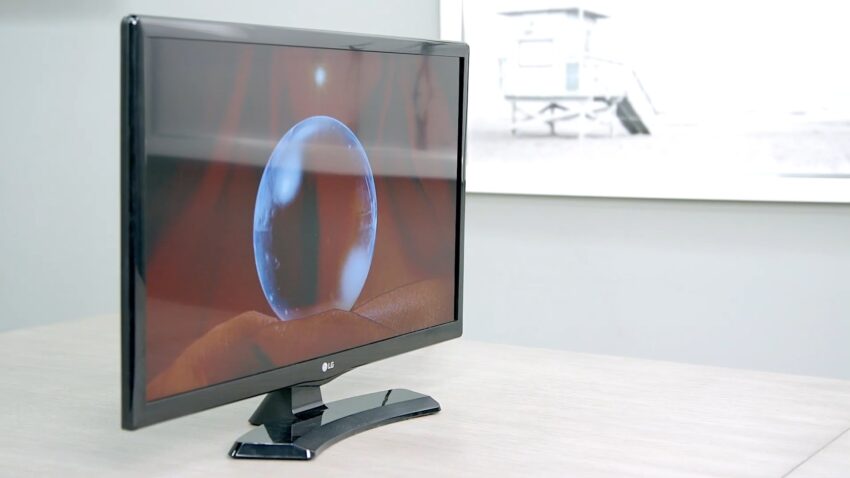 Price
Try the bargaining method while buying your favorite TV. Check the price and search for the same TV from other retailers. If you see a significant price difference, go for the one that is giving you more concessions. With bargaining technique, you may get the best premium televisions at lesser rates. Consider the price and specifications both at the same time to purchase the product in the best affordable range.
Warranty
Check for the product which comes in a warranty. Make sure to ask about the time period of the warranty and what they offer. Many brands have their services all through the nation. If your product is in warranty and has some issues, you can quickly call the dealer and get the things done as soon as they send a person to your home to deal with the problem with your television. It's worth getting a television that comes with a TV to ensure you are on the safe side for at least the warranty time period.
FAQs
What is an average size TV?
There is a major difference in the trend seen from 1998 to 2023. It started from 23 inches average size in the year 1998 and reached up to 47 inches in this 2023 year. It has more than doubled in size. The research on this trend says it would still move up to 50 inches or more by 2023.
Is A 24 inches TV too small for a bedroom?
A 24 inches TV is a more excellent option for a smaller bedroom. It is a suitable size for a kitchen area. You can easily watch a 24 inches television from somewhere between 6 to 7 feet away. It also depends on your choice. You can select a 24 inches TV for your bedroom if you don't want the TV to take all the attention.
What is the most popular size TV?
The most popular and standard size TVs nowadays are larger, broader television sets. They are in the highest demand this year. They come in diagonally measured sizes ranging from 42 inches, 50 inches, 55 inches and 75 inches.
How far should I sit from a 24 inch TV?
If you have a 24 inches television in your room, you should sit 2 feet away. If you sit further away, it would be of no benefit to buy the 24 inches screen because you would not be able to see and enjoy the details. Whereas if we consider the medical perspective, the eye specialist says to sit almost 8 to 10 feet away from the TV screen.
Can a 24-inch television be used in the kitchen?
Yes, some 24-inch televisions, like the LG 24LM520D-WU, are specifically designed for kitchen use. They have a steel color and a small screen display that matches well with kitchen aesthetics.
Does the LG 24LM520D-WU have smart features?
No, the LG 24LM520D-WU is a basic television that focuses on fulfilling your essential needs of watching television. It does not have extra smart features but offers a strong design and outstanding picture quality.
Can I connect my mobile to the VIZIO D-Series D24f-F1 24-Inch Smart TV?
Yes, the VIZIO D-Series D24f-F1 is a smart TV that can be connected to your mobile. It supports mobile connectivity through Chromecast built-in technology, allowing you to watch your favorite videos and shows on the big screen.
What is the unique feature of the Westinghouse 24-Inch TV?
The Westinghouse 24-Inch TV offers a parental control system, allowing you to block content based on ratings and reviews. This feature is particularly useful for families with children to ensure they are not exposed to inappropriate content.
Does the LG Electronic 24LM530S-PU function as a monitor as well?
Yes, the LG Electronic 24LM530S-PU is a dual-function television that can be used as both a monitor and a TV. It offers a wider viewing angle and built-in Wi-Fi, making it a versatile choice for various purposes.
Does the SuperSonic SC-2412 LED Widescreen HDTV & Monitor have an inbuilt DVD player?
Yes, the SuperSonic SC-2412 LED Widescreen HDTV & Monitor comes with an inbuilt DVD player, eliminating the need for external equipment. It supports various formats such as DVD, CD, VCR, CDR, and SVCD.
Concluding Remarks
Every television has its specific characteristics and functionality. They have been made under different brands and consists of other traits. Before making the final purchase, keep in mind all the necessary information mentioned above to get the best product. Ensure to check for the top 7 best 24 inches televisions discussed above and then look for others. Before buying the product, satisfy yourself by searching and learning about all the necessary descriptions of the product mentioned above to get maximum satisfaction.
After hours of research, I would recommend buying,
LG Electronics 24LM530S-PU 24-Inch HD webOS 3.5 Smart TV because of its built-in WiFi, wider video angle and high-quality stereo sound speakers.
Westinghouse 24-Inch Television as this device comes with a parental management system, connecting multiple ports to make connection convenient with external devices.
SuperSonic SC-2412 LED Widescreen HDTV & Monitor has an inbuilt DVD player system and looks highly stylish and elegant. It also can be used for monitor screen purposes.
Make sure to focus on every detail because once you have made a purchase, it would not be changeable.