Overall when you're talking about what is the best 50 inches TV it is very easy to get lost. This because of two reasons The first being the vast number of TVs that come in the 50-inch size. The second is the varying prices for this already popular size.
It's very hard to nail down what is the best or even more precisely, what is worth it. Brands offer different features for each of their models so it's very easy to become overwhelmed. I aim to help with that.
TV Viewing Distance Size Chart
There will be a chart in conjunction with this information to help you easily make sure you're looking for the best size of TV for the living space you're trying to fill. On a desktop, it will be to the right, and on mobile, it will be below, but why is the right viewing distance important?
Simply put, immersion. An immersive experience is a good one and everyone is looking for the best experience. So by making sure your viewing distance is correct, you can help maximize everything a TV has to offer that isn't hardware or software.
If you're looking for the best 50 inch TVs, then your TV should be around 6.5 feet away or almost 2 meters for the best experience.
| | |
| --- | --- |
| TV Size | Viewing Distance |
| 32″ | ~5.0 feet / 1.5 m |
| 40″ | ~5.5 feet / 1.8 m |
| 43″ | ~6.5 feet / 1.9 m |
| 50″ | ~7.0 feet / 2.3 m |
| 55″ | ~8.0 feet / 2.4 m |
| 60″ | ~8.5 feet / 2.5 m |
| 65″ | ~9.0 feet / 2.7 m |
| 70″ | ~9.5 feet / 2.9 m |
| 75″ | ~12.0 feet / 3.6 m |
Is the best 50 Inch TV Worth It?
This is a much more simple question to answer. In fact, all TVs have a 'worth it' value that you could give them, which is more than just a 50 inch TV is worth it. The two most important factors that go into deciding if a TV is worth it is the price and size of the TV.
I've made a small chart below that you can look into to help decide the cost and potential caution you should have before purchasing a TV.
There are three different things to note when looking at this graph. The three colors.
Yellow is for a TV that is often too cheap to be true. You'll often be lacking features or better performing basics that a normally priced TV would have.
Green is for TVs that are often reasonably priced for the features they offer. You're likely to get a deal when you find a TV size within the green prices.

Red is for TVs that are often overpriced. They do not offer a considerable amount of advantages for the features they often charge for. This is also when often times you are charged a price premium for a brands name. Such as Sony or Samsung.
Will a Big TV Offer More Features?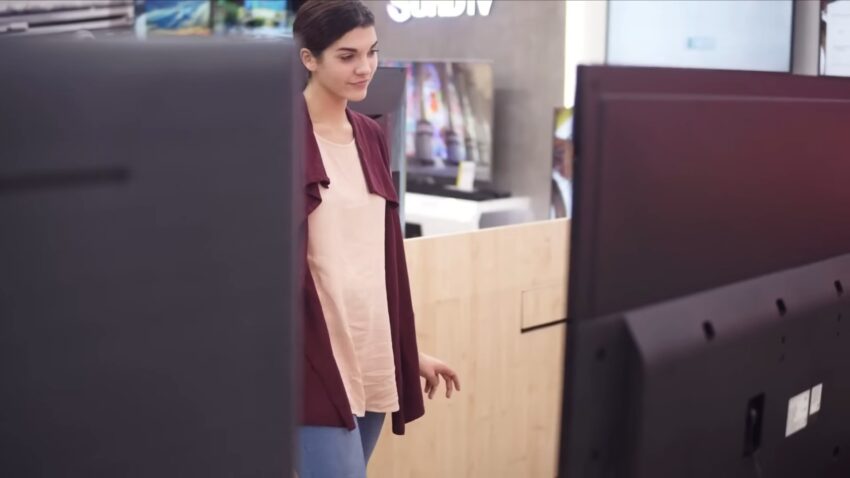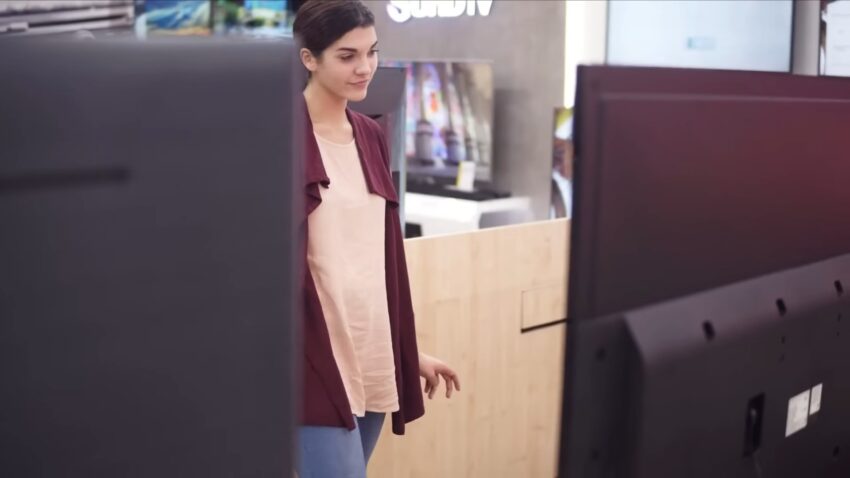 The answer to this question is yes and no.
I've talked about the proper viewing distance before and how it will make for an immersive experience. You can find that information here. So as you can see from the chart above the larger a TV becomes, the more immersive of an experience it can offer to you.
This is very important as it can turn an alright movie into an amazing movie or whatever type of content you're watching. Getting lost in the program is what this is all about.
Then also note the features that are offered for the larger sizes. Often times since a model will be offered in many sizes, with features alone, it is impossible to rationalize a legitimate price for larger sizes since smaller TVs will offer the same features.
I do talk about this with my buying guide that is being updated very often these days. Many features a TV could have are including, but not limited to:
Good contrast ratio
Good viewing angle
Great response times
Motion interpolation
24p playback
Excellent smart features
and many more
So combining knowledge from the top and bottom graphs are extremely important in deciding what is the best for either a price or a series of sizes. When coming to these conclusions I make sure to not only take all of this into consideration, but I also aim to have handled enough TVs to make a reasonable conclusion.
This is just my way of effectively digging through the archives for the best 50 inch TVs if you will.
Top 50 Inch TV Models
Without further ado, I will now list the best 50 inch TVs so far this year.
These conclusions took some time. So if you do not agree let me know in the comments below how you feel and what I can do to improve.
Smaller 4 K UHD TVs are usually less preferred as home entertainment devices to really appreciate the standard as 4 K quality looks much better, at least when viewed at normal viewing distances of 7 to 10 feet, which has more effect on a larger screen.
From an idea or natural viewing distance of around 8 feet, 4 K resolution tends to look almost the same as Full HD if the material has been well designed in either pixel size and the TV in question (4 K UHD or HD) functions optimally.
However, this is not to suggest that for those of you who are indecisive over 4 K vs sticking to Full HD we do not endorse smaller 48 to 50 inch 4 K TVs. Furthermore, as the new, cutting-edge technology, 4K in TVs is where all the cool additional technologies are going.
HDR (high dynamic range) is not even present on Full HD televisions and much of the same extends to a host of other interface technologies such as improved (normally quantum dot) brightness and backlighting.
In other terms, apart from resolution, a high-quality 4K TV like the ones we're about to discuss would definitely offer certain strong and very noticeable advantages over even a great Full HD display.
1. Best Value TV For Size: Hisense 50H8F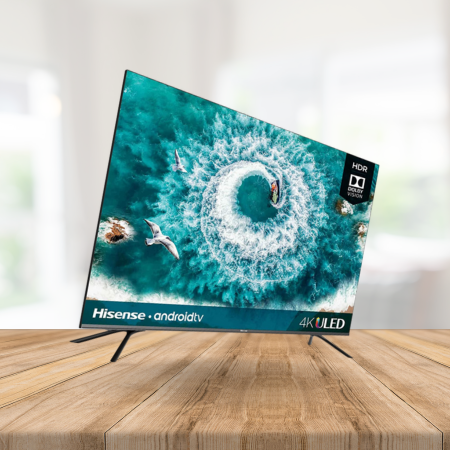 The best 50 inch TV for your budget that we've examined so far is the Hisense 50H8F. It's a reasonably excellent TV that's good for most uses and offers a good price-to-performance rate. It looks slightly more luxurious than its price point suggests and its smart design utilizes Android TV, which allows you access to a huge number of apps.
The television has dark and consistent blacks, though its local dimming feature is unfortunately only average. But it can get fairly bright, and thanks to its wide color gamut, HDR material looks very good. It has an extremely low input lag and does a great job at upscaling 1080p video, making it a great option while operating on a PS4 Slim or Xbox One S.
Unfortunately, it is not the best TV for sports as it has a relatively slow response time which results in visible blurriness behind fast-moving objects. It also has poor viewing angles, which isn't great to watch the game if you have a large group of people around. Overall, this is a great TV offering excellent value for most uses.
The Hisense H8F, all in all, is a great TV for most uses. It is a great choice to watch movies or play games in a dark room, and a good choice to stream tv shows during the daytime. It's not as well fit for sports as the picture degrades when shown at a distance unless you are viewing it alone.
| Feature | Specification |
| --- | --- |
| Screen Size | 50 inches |
| Resolution | 4K Ultra HD |
| HDR | HDR10 |
| Refresh Rate | 60 Hz |
| Smart TV | Yes |
| Operating System | Android TV |
| Wi-Fi | Yes |
| HDMI Ports | 4 |
| USB Ports | 2 |
Pros
Deep, uniform blacks.
Excellent low input lag.
Great peak brightness in SDR.
Cons
Bad viewing angles.
Slow response time.
2. Best For Games – TCL 50S425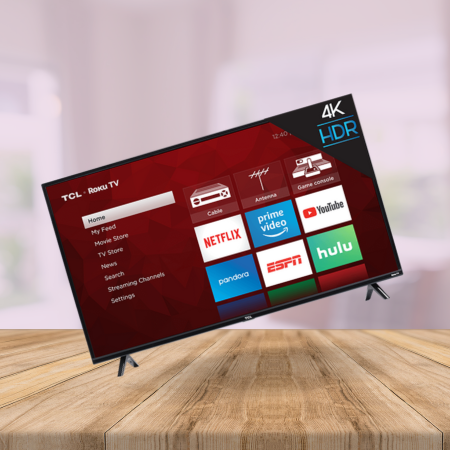 The best 50 inch TV we've reviewed so far in the budget category is the 2019 TCL 4 Series 50S245. This entry-level tv has standard bezels and a plastic stand and design, which is expected from television at this price point.
It has an excellent contrast ratio which gives it decent black uniformity and good black overall rates. It's surprisingly great for gaming, despite being a budget Screen, due to its very low input lag and fast response time, which delivers crisp motion.
Unfortunately, the tv can not get very bright, which can be an issue because you generally watch television in a very bright area. Even, though supporting HDR10, its poor peak brightness and relatively limited color gamut mean that HDR won't pop as much as it should.
This TV uses a very smooth and easy-to-use user interface from Roku which is fantastic and offers a wide range of apps. Due to its excellent remote app, which is convenient, you can use your phone or tablet as a remote too.
Like most TVs with a VA panel, its viewing angles are disappointing and you'll want to arrange your living room so you're sitting directly in front of the TV to avoid having an inaccurate image. Overall, while this TV may not perform as well as higher-end TVs, especially for HDR content, it's an excellent choice for video games, or if you need something inexpensive with decent overall performance.
| Feature | Specification |
| --- | --- |
| Screen Size | 50 inches |
| Resolution | 4K Ultra HD |
| HDR | HDR10 |
| Refresh Rate | 60 Hz |
| Smart TV | Yes |
| Operating System | Roku TV |
| Wi-Fi | Yes |
| HDMI Ports | 3 |
| USB Ports | 1 |
Pros
Very low input lag, great for games.
Great smart features.
Cons
Can't get bright enough.
Image degrades when viewed at an angle.
3. TCL 50S525 – Low Input Lag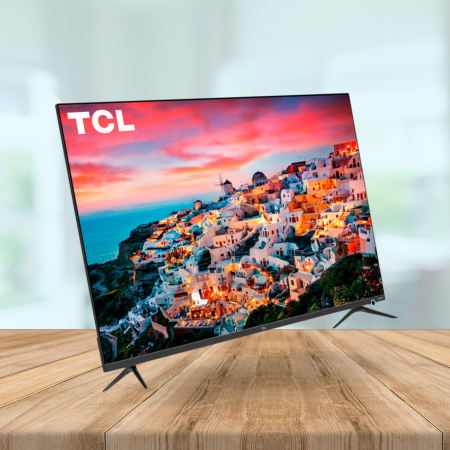 Try out the TCL 5 Series/50S525 2019 if you like the smart features of the TCL 4 Series 2019 but want a TV that's great for movies and has a broader color gamut to get more out of HDR.
This TV has the same excellent low input lag as the other TCL, but due to the slightly slower response time, it does not show movement as crisp. This TV, however, is brighter, has better performance in the dark room, can remove judge from any source, and has a wide range of colors to help deliver better HDR content.
Overall, if you just want a secondary television or something affordable with decent performance, get the S425, but if you're watching a lot of movies or want something that's going to be slightly better for HDR, it's worth spending a bit more on the S525.
The TCL S525 is a good TV for most uses. It has excellent contrast and good black uniformity, important for watching movies in a dark room. It has outstanding low input lag, and a fast response time, great for gaming or for use as a PC monitor. Unfortunately, the image degrades when viewed at an angle, and it has mediocre gray uniformity, so it isn't the best choice for watching TV shows or sports during the day.
| Feature | Specification |
| --- | --- |
| Screen Size | 50 inches |
| Resolution | 4K Ultra HD |
| HDR | Dolby Vision HDR |
| Refresh Rate | 120 Hz |
| Smart TV | Yes |
| Operating System | Roku TV |
| Wi-Fi | Yes |
| HDMI Ports | 3 |
| USB Ports | 1 |
Pros
Deep, uniform blacks
Outstanding low input lag
Cons
Image degrades at an angle
PWM flicker at low brightness levels
4. SAMSUNG NU8000 50 Inch 4K UHD HDR Smart TV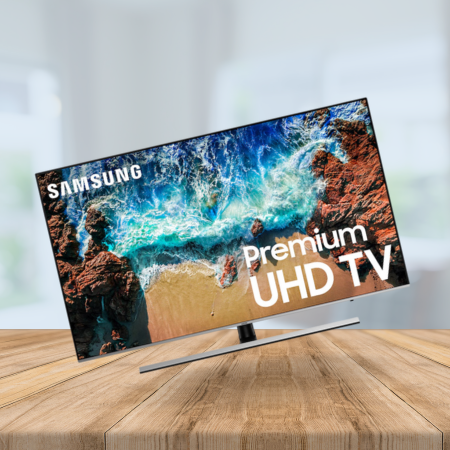 Samsung's NU8000 is the excellent 2018 and early 2019 non-QLED 4 K TV for the company and we really value its quality in virtually all important metrics. This model comes with the kind of features that just a couple of years ago would have been the realm of Samsung's ultra-premium models but is now just one of Samsung's mid-range TVs.
The NU8000 is the pricest of models in the NU-Series, indeed, but it is still reasonably affordable, quite elegantly designed and comes with outstanding light response, superior gesture handling and complete HDR monitor features, including some very good peak brightness that hits almost 1000 nits. Furthermore, this IS one excellent gaming TV, with extremely good responsiveness for HDR, 4K or just about any sorts of console games.
On the other side, the NU8000 loses QLED display technology's much deeper color vibrancy and while it does have local dimming, the efficiency of this functionality is only average in this model.
Even so, it's a sure choice for one of the top three 2018 and early 2019 40-50 inch 4 K HDR TVs. The NU8000 49 inch model is pretty cheap on a final note and makes for a particularly great alternative to the Q6FN if you're set to get a Samsung TV.
| Feature | Specification |
| --- | --- |
| Screen Size | 50 inches |
| Resolution | 4K Ultra HD |
| HDR | HDR10 |
| Refresh Rate | 120 Hz |
| Smart TV | Yes |
| Operating System | Tizen |
| Wi-Fi | Yes |
| HDMI Ports | 4 |
| USB Ports | 2 |
5. Samsung Q6FN QLED 4K UHD HDR 50 Inch Smart TV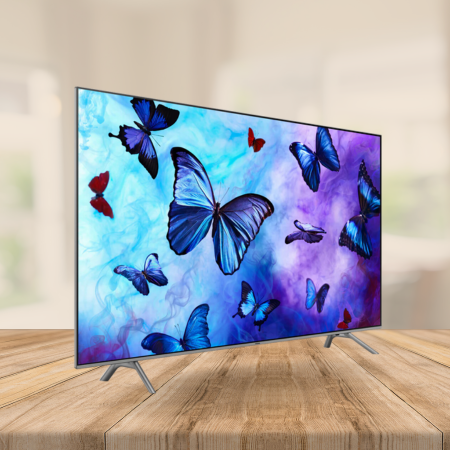 Taking a very, very close second position on our list of best 49-50 inch 4 K UHD TVs for 2018 and early 2019 is the Samsung Q6FN. That's the most inexpensive among Samsung's QLED TVs and by far the best offer from this company at this price and size.
The Samsung company released a new 4K TV Samsung Q6FN QLED TV in the year 2018. The performance and the resolution of this TV are very high. The picture quality is very good with a wide range of colors.
Due to the high contrast ratio in the darker rooms black color appears more and we feel like we are in the theater. The visual is brighter the bright room. The person who likes to play games more experience smooth gaming while playing games on this TV. This is the best 4k TV for gaming.
To resolve light in a bright room, it can be clear, and it also has good handling of reflection. Gamers will be satisfied with the outstanding low input lag and adjustable refresh speed assistance, and for a seamless gaming experience, the TV can also interpolate low frame rate material with low input lag. Unfortunately, once displayed at an angle, the picture lacks focus.
The Samsung Q6FN is a bit more expensive than the Q8FM, but still has the same advantages as q8fm. The Samsung Q6FN is also much better in terms of performance and reliability compared to Q8FM. This is because the Samsung Q6FN does not require any additional hardware or software upgrades. The Q6FN can be used for both high-end and low-end TVs.
The Q6FN is also very lightweight, which makes it easy to use on your TV and mobile phone. The Q6FN is also very lightweight, meaning that you don't need a lot of space to carry around. The Q6FN is also a great choice for those who are looking for a more compact device.
The Samsung Q6F QLED video is The showcase for many things, from Samsung's newest smart-TV designs to its superior sound and modern design. If you need to move up from value-priced models but aren't in the rush to pay some thousand dollars for the payment OLED, Samsung's QLED displays go to offer the best alternative LCD panels can provide.
But some of Samsung's common strengths, like it's extremely refined smart-TV structure, appear to have missed the half-step with the introduction of new features.
| Feature | Specification |
| --- | --- |
| Screen Size | 50 inches |
| Resolution | 4K Ultra HD |
| HDR | Q HDR |
| Refresh Rate | 120 Hz |
| Smart TV | Yes |
| Operating System | Tizen |
| Wi-Fi | Yes |
| HDMI Ports | 4 |
| USB Ports | 2 |
Pros
Blacks are deep and uniform
Low input lag for gamers
Great color rendering for normal and HDR content
Does come with some basic local dimming
Very good contrast ratios and black levels
Supports FreeSync for Variable Refresh Rates
Cons
Image degrades when viewed at an angle
Not nearly as bright as other 2018 QLED TVs
No Dolby Vision HDR
FAQs
What is the difference between LED, OLED, and QLED TVs?
LED TVs are backlit LCD TVs that use an array of light-emitting diodes to illuminate the pixels on the screen. OLED TVs, on the other hand, use organic compounds that emit light when an electric current is passed through them.
This allows each pixel to be turned on or off independently, resulting in deeper blacks and more vibrant colors. QLED TVs are a type of LED TV that use quantum dots to enhance the color gamut and brightness of the display.
What is HDR?
HDR, or High Dynamic Range, is a technology that allows for a greater range of brightness and contrast in images. HDR TVs can display brighter whites and deeper blacks, resulting in more detailed and lifelike images. HDR content is usually available in formats such as HDR10, Dolby Vision, and HLG.
What is the difference between 4K and 1080p?
4K, also known as Ultra HD, refers to a display resolution of 3840×2160 pixels, which is four times the resolution of 1080p (1920×1080 pixels). This means that 4K TVs can display more detailed and lifelike images with greater clarity and sharpness.
Conclusion
We reviewed many of the 50 inch TV's to find the best 4k TV, focusing on Amazon reviews, how well they performed in assembly checking, cost, and other factors. We checked some of the best 50 inch TV that you can buy.
Our recommendations are what we think are the best 50 inch TV currently available. These are the best 50 inch TV's to buy in every price range for you. We would recommend you to read the reviews of each and every 4k smart TV suggested.