A road map to 10 of the best soundbars available for LG TV owners today with a buying guide detailing things to keep in mind while shopping!
With the mounting popularity of soundbars, gone are the days of plain-looking, cubic speakers. These newfangled, baguette-shaped bars have irrevocably changed the face of electro-acoustic products with their eclectic technologies. They, moreover, take smart television viewing to another level by enhancing the sounds to an enthralling, cinematic level.
Hence, planning on upgrading your home theater to include a soundbar is an excellent choice, especially if it is in tandem with cutting-edge televisions like LG smart TVs. Although LG manufactures several soundbars of its own, it does not hurt to consider other companies.
Similarly, the oncoming recommendations are well-suited to most smart TVs—regardless of their manufacturers.
"What might these recommendations be?" You ask. Well, being hardened home cinema enthusiasts, we will be taking you through 10 of the best soundbars available to LG TV owners today. Are you intrigued? To waste no time, let us delve right into them!
Top Soundbars for LG TV
1. Polk Audio Signa S2 Soundbars – Editor's Pick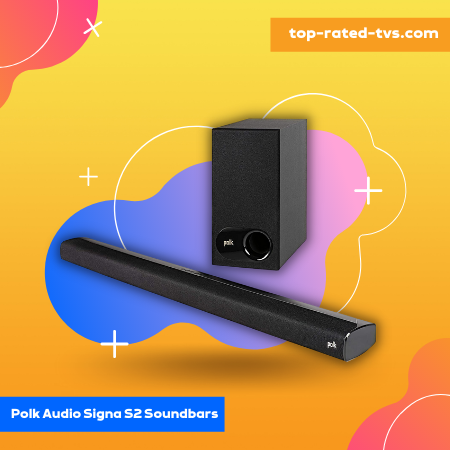 | Feature | Specification |
| --- | --- |
| Channels | 2.1 |
| Subwoofer | Wireless |
| Connectivity | Bluetooth, HDMI ARC, Optical Input |
| Dolby Digital | Yes |
| Dimensions | 35.43 x 3.22 x 2.15 inches (Soundbar), 6.72 x 13.4 x 12.2 inches (Subwoofer) |
As one of the least expensive soundbars on the market, the Polk Audio Signa S2 does not largely disappoint. Equipped with voice adjusting technology, it elevates sounds—dialogues in particular—to a remarkably lucid degree. Besides dialogues, it possesses a sound quality befitting music as well.
As far as its hardware and general make-up are concerned, there are a total of two-channel drivers contained behind its front-facing grille. These drivers, combined with their centrally focused tweeters, make this soundbar relay different notes proportionately. We, personally, enjoyed listening to orchestral music on this bad baby.
We agree that its overall appearance is clearly not its selling point; however, that does not compromise its promising fitted features and add-ons like the built-in Bluetooth and the accompanying subwoofer. The said subwoofer is relatively compact and will not ruin the aesthetic of your setup.
Nevertheless, if you are on the lookout for something with an LCD screen, this product is not for you. The absence of an LCD might hinder you from adequately gauging your desired settings; howbeit, the LED lights and aptly labeled buttons may not be that big of a problem once you get the hang of them.
Pros
Well-balanced audio
Dirt cheap
Integrated Bluetooth
Easy to configure
Sleek design
Cons
Screenless
Distorted audio past a certain volume
If you are not that big on appearances and low on budget, then this product is literally meant for you! It works excellently for an electronic that sells at a fraction of the price of a top-notch soundbar. What is more is that its audio enhancing will transfigure your LG TV into a portal to your favorite music shows, guaranteed!
2. Sony HT-S350 Soundbars – Worthwhile Purchase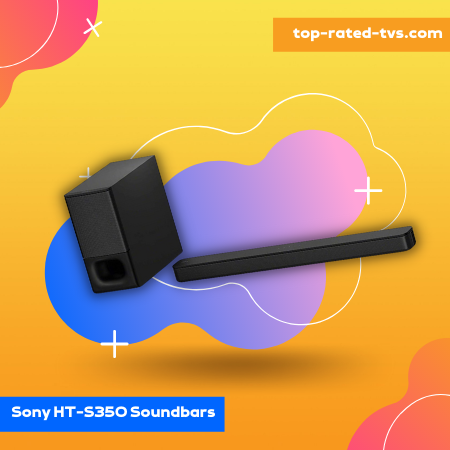 | Feature | Specification |
| --- | --- |
| Channels | 2.1 |
| Subwoofer | Wireless |
| Connectivity | Bluetooth, HDMI ARC, Optical Input |
| Dolby Digital | Yes |
| Dimensions | 35.5 x 2.5 x 3.5 inches (Soundbar), 7.5 x 15.25 x 14.13 inches (Subwoofer) |
If you want to invest in an entry-level product before footing the bill for the real deal, go for the Sony HT-S350. This soundbar contains various modes ranging from music and cinema to voice and night mode for a cheap alternative. We were all mainly sold on the night mode for effectively optimizing the sounds to pander to both us and our rotten noise curfew!
Aside from balancing out the noise at night, this soundbar is definitely not short on looks. With its faux leather covering and dainty buttons, it will go remarkably well with your LG TV. Additionally, it weighs very little and will fit most TV units perfectly. All in all, the design alone is enough to make it a worthwhile purchase.
Unfortunately, what this product offers in aesthetics, it lacks in surround sound and sound quality. While it fared well in an apartment, it was a big fail in a lofty room. Therefore, if your rooms are kind of huge, the sound quality might not be that great. Moreover, the sound quality of this soundbar becomes quite poor over Bluetooth.
Pros
Remote-controlled
Inexpensive
Exquisite design
Easy to set up
Variety of modes
Cons
Faulty Bluetooth transmission
Lacks Dolby Atmos and DTS:X Support
This soundbar is geared at people who value both style and money. It also makes an excellent purchase for people with small living spaces and struggling college students. If you fit any of these bills, then go grab your Sony HT-S350 now!
3. Samsung HW-N300 Soundbars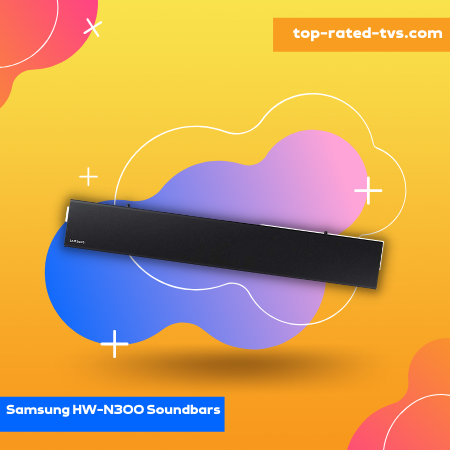 | Feature | Specification |
| --- | --- |
| Channels | 2.0 |
| Subwoofer | None |
| Connectivity | Bluetooth, USB, Optical Input |
| Dolby Digital | Yes |
| Dimensions | 28.7 x 3 x 2.7 inches |
While the last two products worked optimally in combination with a subwoofer; conversely, the Samsung HW-N300 is singularly all-powerful. This soundbar primarily stands out because of its resonant sounds—produced by not one but four speakers.
This product also owes its vibrant sound quality to the Dolby Digital 2.0 feature that produces neutral sounds. This feature, moreover, allows a user to switch between modes like mono and stereo. After trying out two products that were not Dolby/DTS supported, this soundbar was a fantastic experience for us—and a quite immersive one at that.
Some of the features that heavily discounted this device were its ports and jacks being located at the rear. To elaborate, it might present problems if your TV unit is not designed accordingly. Furthermore, some of the buttons on its remote control only work for Samsung TVs and might not function for your LG TV.
Pros
Rich sound quality
Integrated woofer/speakers
Dolby and DTS supported
Easy to hook up
Cons
Design flaws
Works best with Samsung TVs
Since this product comes with the promise of an immersive viewing experience, we suggest that you invest in it. As far as the problem of compatibility goes, you will figure it out in no time. Trust us, if we can find a way around compatibility issues, you can too!
4. LG SL5Y 2.1 Channel Soundbars – Best Soundbar For LG OLED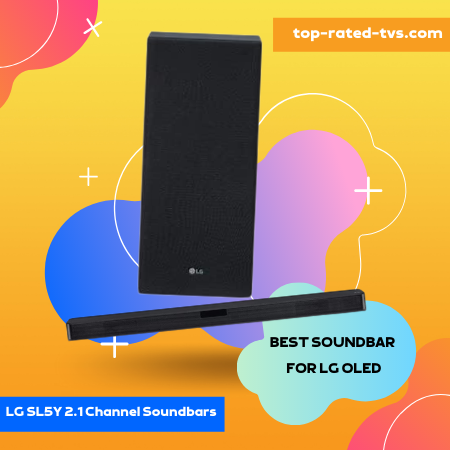 | Feature | Specification |
| --- | --- |
| Channels | 2.1 |
| Subwoofer | Wireless |
| Connectivity | Bluetooth, HDMI ARC, Optical Input |
| Dolby Digital | Yes |
| Dimensions | 35.03 x 3.23 x 2.17 inches (Soundbar), 6.73 x 15.35 x 12.3 inches (Subwoofer) |
Equipped with DTS Virtual:X technology, the LG SL5Y soundbar will be a good addition to your home cinema. Not only will it give your set-up a more uniform look, but it will also be quite transportive because of its three-dimensional sound quality.
Moreover, this soundbar possesses a bass blast that enhances low sounds like whispers. Simply put, you can bid farewell to rewinding a scene because you did not quite catch what was being said. Additionally, it supports several audio formats like MP3, OGG, and WMA.
Unfortunately, all of these amazing features are more likely to succeed in smaller environments. But even in more compact settings, the soundbar's emissions can become a little too over-processed to handle. On top of its simplistic design, the over-processing might put you and any company you have over off.
Pros
Immersive viewing
Affordable
Supports various audio formats
Equipped with DTS and Dolby technologies
Simplistic setup and design
Cons
Enormous subwoofer
Bluetooth connectivity issues
This product will pull your home cinema together both aesthetically and technologically. LG products, moreover, are known to last really long. To boot, we found this soundbar to be highly passable for its minimal price point. The product also reduces tripping hazards because of its hard-to-miss and wireless subwoofer.
5. Bose Solo 5 TV Soundbars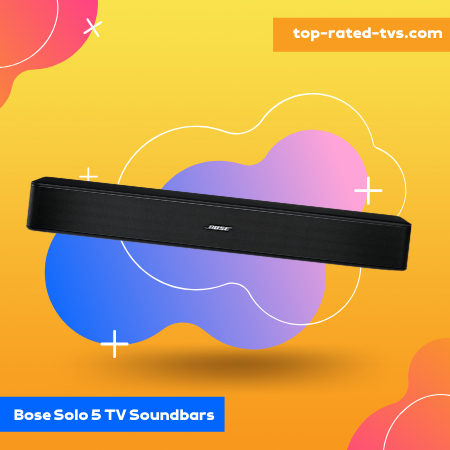 | Feature | Specification |
| --- | --- |
| Channels | 2.0 |
| Subwoofer | None |
| Connectivity | Bluetooth, Optical Input, Coaxial Input |
| Dolby Digital | No |
| Dimensions | 21.5 x 3.4 x 2.8 inches |
If you are faced with a small TV unit problem, then the Bose Solo 5 would be an ideal purchase for you. This petite soundbar is in vogue with people who enjoy mid-range content like podcasts and watch a few shows from time to time. Moreover, it also bodes well for people who enjoy nominal designs.
Another one of its fetching features is its auto-wake mechanism which automatically turns on at the hint of a sound. Similarly, it does not power off every few minutes like most soundbars because of its 60 minutes power-off settings. Certain other bars that we tested would go into standby mode when left unattended for over 10 minutes. Quite a nuisance honestly!
This product's fall from grace is the absence of a mounting kit. Unfortunately, to mount this soundbar, you will have to spend extra money on the Bose mounting brackets. These brackets starting at about $40 takes away from the product's inexpensiveness.
Pros
Remote-controlled
Disability-friendly
Cheap
Compact
Leveled sound quality
Cons
Mounting brackets not included
Low bass
If you are seeking out a soundbar for your parents or grandparents, seek no further than the Bose Solo 5. This soundbar is a godsend for people who have trouble getting up because of its power settings. Moreover, its compact design will make it easier for them to clean and position. So, yes! Let this be your next gift to your folks.
6. Yamaha Audio YAS-209BL Soundbars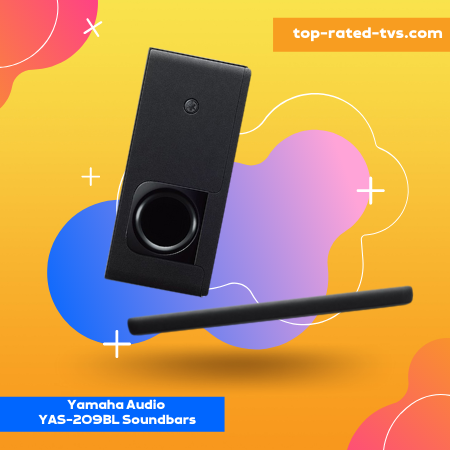 | Feature | Specification |
| --- | --- |
| Channels | 2.1 |
| Subwoofer | Wireless |
| Connectivity | Bluetooth, Wi-Fi, HDMI ARC, Optical Input |
| Dolby Digital | Yes |
| Dimensions | 36.6 x 2.5 x 4.3 inches (Soundbar), 7.5 x 16.5 x 16 inches (Subwoofer) |
Virtual Assistants are all the rage in this day and age. Thus, if you are someone who loves to move with the times, then the Yamaha Audio YAS-209BL—with its terrific Alexa feature—should be your pick. Yes, the Alexa technology very much means bidding goodbye to get up in the middle of a good scene to fidget with your soundbar.
Jokes aside, we also found the Yamaha soundbar to be quite minimal in terms of style and configuration. What is best is that its controls are all housed on the top instead of at the front. Hence, it eliminates the problem of distracting lights and blinking while viewing.
As far as its sound profile goes, this device is not equipped with any satellite speakers. Therefore, it cannot properly emanate surround sound. Its subwoofer somewhat alleviates this problem; however, most people do not have a dedicated space for an additional item in their TV units.
Pros
Inexpensive
Entry-level soundbar
Minimal design
Easy to configure
Virtual Assistant technology
Cons
Lacks surround sound
Devoid of Dolby Atmos
This soundbar works best for people who largely consume dialogue-oriented content like films. It, moreover, would also fulfill the needs of people who prefer a more minimal look to gaudier ones. And we can all agree that the Alexa feature is mightily enticing, can we not?
7. VIZIO Elevate Soundbars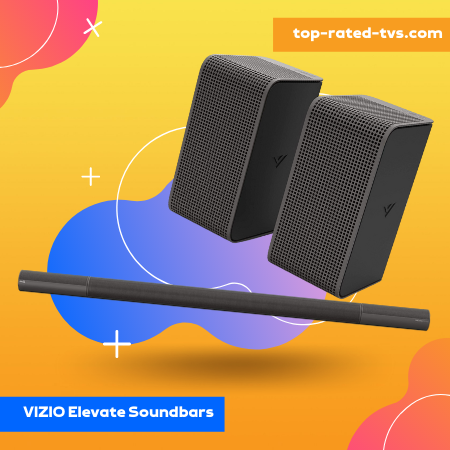 | Feature | Specification |
| --- | --- |
| Channels | 5.1.4 |
| Subwoofer | Wireless |
| Connectivity | Bluetooth, Wi-Fi, HDMI ARC, Optical Input, USB |
| Dolby Atmos | Yes |
| Dimensions | 48 x 2.64 x 5.25 inches (Soundbar), 11.42 x 11.42 x 13.39 inches (Subwoofer) |
As the most exorbitantly priced product on this list, the VIZIO Elevate is bound to have a plethora of attractive features. These features include naming a few, Chromecast and Spotify Connect compatibility. Additionally, they include a traditional USB port and Bluetooth. Yes, it is quite a plus point galore!
In terms of sound quality, this soundbar does more than just deliver. The amazing sound is not limited to just one or two types of content but remains uniform across multiple content types. Therefore, be it films, podcasts, music, etc., this soundbar will come through undoubtedly.
Nevertheless, for each excellent soundbar, fate reserves a stumbling block. This soundbar's stumbling block is its complex configuration. Unlike the entry-level soundbars listed above, the VIZIO soundbar is awfully confusing to set up because of its confounding remote and short wires. Unfortunately, its user manual is no relief whatsoever either.

Pros
Great sound profile
Supports Spotify Connect
Includes Dolby and DTS:X technologies
Rotating speakers
Uniform sound across varying content
Cons
Expensive
Complicated setup
If you are a person of exquisite tastes, then the VIZIO Elevate will become you. We know it will look smashing together with your pioneering LG TV. No doubts about it! Furthermore, It is one of those soundbars that truly suck you into the content you are viewing. Thus, you will not regret spending a wad of money on it.
Things to Consider Before Purchasing a Soundbar for Your LG TV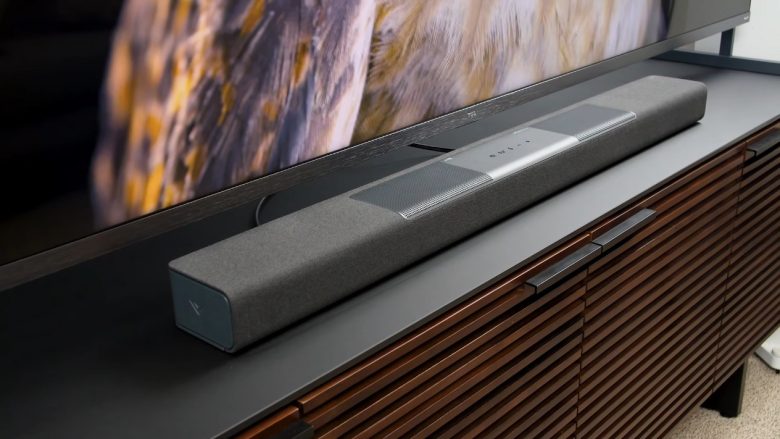 If you think investing in a soundbar presents minor inconveniences, you have another thing coming. It can be quite exhausting and highly disappointing a lot of the time. Therefore, to ensure that your soundbar shopping runs into no hiccups at all, we have prepared an all-encompassing list of things to factor into your purchase.
Configuration Conundrums
Although most beginner soundbars are easy to configure, they are not precluded from driving you nuts. If you happen to be the short-tempered type or have trouble following user manuals; ask one of the company's representatives to come over and help with the setup.
Ideally, go for devices that you know you will be able to install yourself. Additionally, the simpler the remote control, the simpler the setup. Therefore, it is imperative to discuss these things with the salesperson to get a firmer hand on configuration troubles.
Reliable Retailer
Since soundbars can cost an arm and a leg, we are not averse to secondhand ones. However, we recommend that you buy a brand new one from a trusted and certified dealer. It will not only come with the promise of a warranty but also entail repair services and a multiplicity of added benefits.
Another downside to hand-me-downs is the absence of a user manual. Trust us, user manuals can help eliminate problems way more effectively than a random video on the internet. Bottom-line is if you cannot afford the firsthand soundbar, ensure that your secondhand one comes with its manual.
Doomed Designs
Design flaws are beyond one's control. However, the onus of buying a device that does not compliment your TV unit's dimensions is definitely on you. We recommend that you measure your space before setting out on a quest for a soundbar.
Furthermore, purchase a design that ties in with your LG TV instead of going for what seems like the cheapest bet. A uniform color/design will greatly contribute to your home cinema's aesthetic value. And one cannot deny that good designs are usually accompanied by good features as well.
Substandard Sound Profiles
It is no mystery that quality sound should be your top priority when it comes to investing in a "sound" bar. Hence remember to do in-depth research on the different ranges that your soundbar of choice emanates. We recommend that you buy something with a subwoofer for entry-level soundbars since it makes up for reduced sound profiles.
Surround sound is another major problem that you will have to navigate. If you have loftier rooms, we would advise you to purchase something that has a considerable and dependable surround sound. Moreover, ensure that Dolby/DTS:X technologies are supported if you want a more balanced sound profile.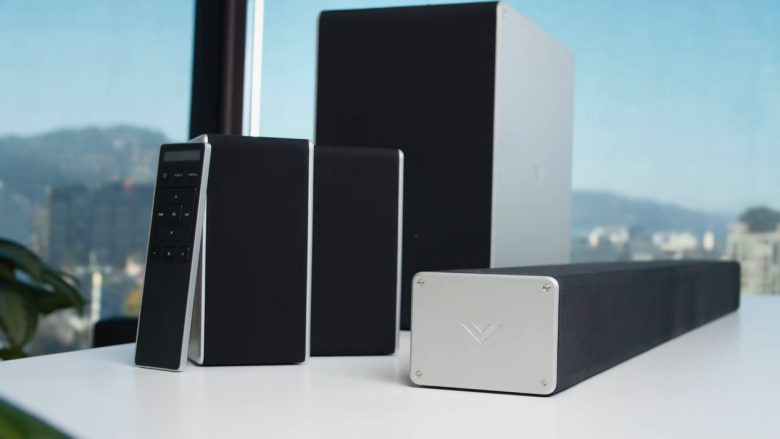 Wire Troubles
There are a number of wireless soundbars on the market these days. Nonetheless, wired varieties are far more common. While shopping for soundbars, you should inquire about the cables—especially their length and type. Some types of AV cables might not connect to your LG TV that easily. On the other hand, shorter wires risk accidents and fires.
Opposingly, longer wires are not good news either. They are likely to tangle and you might trip over them. Additionally, they look really unappealing as they peak out of your TV unit.
Wi-Fi and Bluetooth Blues
Make sure that your soundbar has integrated Bluetooth. This feature will allow you to get the most out of your soundbars by connecting other devices to them. Furthermore, Bluetooth comes in handy if one of your wires frays or stops functioning.
Wi-Fi connectivity should also be one of your top priorities if your soundbar is controlled using an app. Wi-Fi can come to the rescue in case your Bluetooth transmission starts malfunctioning as well.
Mounting Madness
Imagine investing in a soundbar only to find out you do not have enough space for it. Your only option in a scenario like this is to mount your soundbar. Unfortunately, all soundbars do not come packed with fixtures, and some of them cannot be mounted, to begin with. Therefore, purchase after thoroughly deliberating on mounting and space.
Price Points
Not everyone has money to blow on a soundbar. But most cheap soundbars only have a handful of mediocre features. Hence, do not invest hastily just because a bar is cheap. Remember, buying cheap is buying twice and that is something you do not want.
Most overpriced bars are very long-lasting. Thus, we recommend that you spend at least 20 percent above your original budget. This 20 percent will warrant a bar with better specifications and guaranteed longevity.
FAQs
Do all soundbars have a USB port?
Most soundbars have a USB port to make up for the lack of a Bluetooth feature. However, the presence of in-built Bluetooth and other input methods renders a USB port redundant. Therefore, some brands might choose not to include one on their soundbar.
Are mount brackets and fixtures available for all soundbars?
Not necessarily. Some companies might choose not to include them to increase sales for brackets that they sell separately. If you would like to mount your soundbar, check product descriptions to see if they can be mounted and if they include brackets or not. Several brands cannot be mounted at all because of their designs.
Can I add more speakers and gear to my soundbar?
That depends on the number of jacks and ports your soundbar contains. If it only has a few jacks for its own wiring and add-ons, then you cannot add additional gear. However, adapters are also always an option.
Where can I find a user manual for a secondhand Bose Solo 5?
If you know someone who owns a Bose Solo 5, you can ask them to lend it to you. Contrariwise, you can surf the various user manual websites online for a PDF version of it. YouTube videos might also supply you with the required information. If all else fails, call the company and see if they can help.
What do Dolby/DTS technologies do?
These technologies give you improved control over how you listen to your content. They, further, enhance the audio to sound more leveled and make for a more immersive viewing experience. Simply put, you can optimize the audio greatly based on the type of media you are consuming.
Concluding Remarks
Buying the right soundbar can be quite a hassle without a proper road map to soundbars. We hope our list helps you decide on a product that continues to grace your home for years to come. Some products that we have decided on keeping include:
The Bose Solo 5 TV Soundbar for its accessible and simplistic design and technology. The Sony HT-S350 Soundbar for its reliable noise control and inexpensiveness. The Samsung HW-N300 Soundbar for its self-sufficiency and immersive viewing.
Remember to refer to our buying guide for a more holistic understanding of what goes into purchasing a soundbar. It will make this important purchase a worthwhile one, hand on our hearts.