Oftentimes people ask me if should I buy a refurbished TV. It's actually a very simple process that is often overlooked by many people. This is because of how the TV industry works. They want to always be able to sell to the consumer at full price without much of a discount or deal on the price of a TV.
This is where the myth of refurbished TVs and other products comes into play. A manufacturer will have a new model that is released.
Let's say that approximately 5 percent of those same units failed the warehouse test. Those same units, granted, did fail the test, but what does the company do with them? They certainly do not throw them away. They retest them and regrade the product. This is how new firmware is developed and released. Not to mention how hardware issues are caught.
The Re-Grading of TVs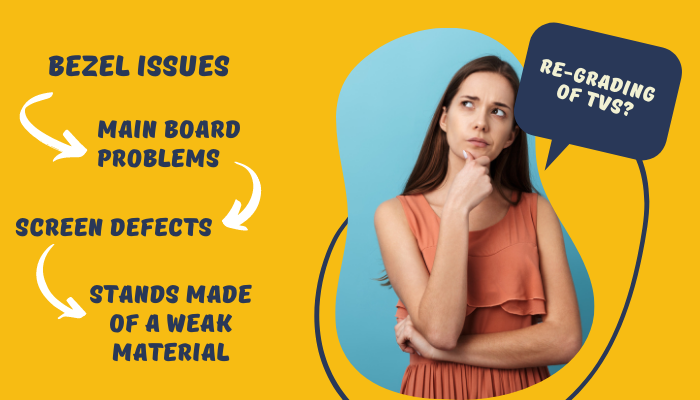 Now think you're a manufacturer and you have a fleet of TVs that are considered "bad" products. What do you do?
In most cases, the manufacturer will do one of two things. They will sell to a company that is willing to do the work for them. This will allow them to make some of the cost back while washing their hands clean of the product.
The second and often most common thing they will do is re-grade the product. This involves software and hardware fixes. I've listed the most common things looked for when re-grading TVs:
Bezel Issues
Main Board Problems
Screen Defects
Stands made of a weak material
Sound Panel Problems
Internet adapter issues and hotfixes
Issues with Propitiatory smart platform fixes
This and much more all will be tested, improved on, and then re-graded.
See Here: The Best Smart TVs to Buy 
How Good are Refurbished TVs?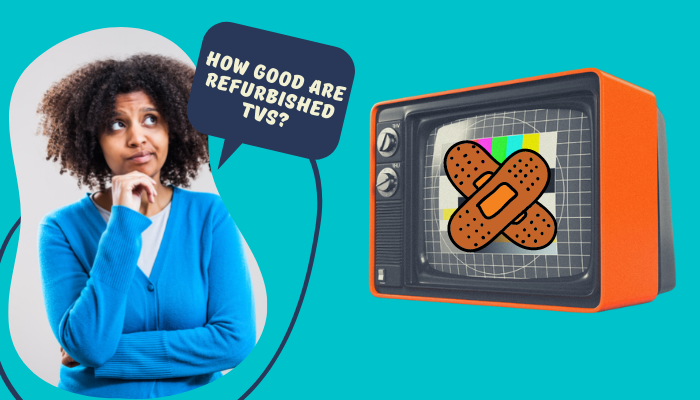 To tell how good refurbished TVs are is actually quite simple and I made a small chart to reference if you have purchased a refurbished TV or if you are interested in buying a cheap TV for sale. Note that there are three different common grades that make it easy to tell how good of a refurbished TV you actually are.
TV Grades Summary
A Grade
Also known as "Like New". A grade is the second most common type of re-graded or recertified TV. This is because it is the hardest to bring up to snuff because there have been more hands touching the product to ensure quality. On the other hand, more people touching the product means a more reliable end result.
B Grade
B Grade TVs are the most common TVs because of the simplicity of how they work and are graded. They are often running against the same test Grade TVs would be tested against, but since they are not as cosmetically appealing they fail A testing. Thus making them a B Grade TV.
This translates into savings for you. As long as you do not mind small issues with the TV that does not affect the image produced, you will save some cash on an otherwise most likely expensive TV.
C Grade
C-grade TVs are the least common of the three grades for one reason. They usually will come with a small defect or part of the TV that is not working. Some cases are not so bad while others are very bad. In a case where the internet doesn't work, you might find yourself putting up with it to save yourself 500 dollars.
In another case, where the inputs are broken and the screen is scratched you're not likely going to want to save money for a beaten TV.
Should I Get Extended Warranty TV?
The simple answer is yes. Yes, you should get an extended warranty on your TV. They will cover small things for your TV that you probably didn't think about and offer a small cushion on your purchase if issues come about.
First, the biggest thing here is that warranties are almost always to the original owner only. That means if you get sold something with a warranty still intact, you're not likely to take advantage of that warranty for the TV.
The warranty is also often worded as the following:
"The 90 limited warranty covers manufacturing defects in materials and workmanship of your "Insert Brand or Manufacturer" branded product."
What Does This Mean For Your TV?
Very little. It simply gives you a vague understanding of the coverage your TV actually has. A more detailed understanding of what your TV is not covered for. I've listed an example of the following:
"This limited warranty does not cover any damage caused by
(1) transportation or storage of the product; (2) improper use of the product; (3) failure to follow the product instructions; (4) modifications to the product, except as authorized in writing by "Insert Brand Name"; (5) unauthorized repair of the product; (6) normal wear and tear; or (7) external causes such as accidents, abuse, unusual physical or electrical stress, or other actions or events beyond "Insert Brand's" reasonable control.
This limited warranty also does not cover disposable items, or parts or components of the product that are inherently subject to deterioration during the normal operation of the product, such as batteries, stands, bezels, screens, etc.
This limited warranty only covers products purchased from "Insert Brand Name" or sellers authorized byInsert Brand Name", and this limited warranty does not extend to products purchased from unauthorized sellers. You may obtain a current list of authorized "Insert Brand Name" sellers by calling "Insert Contact Number" or emailing our Customer Service Department at [email protected]. Proof of purchase from an authorized seller is required for warranty coverage."
As you can see, most brands and manufacturers are more willing to tell you what is not covered than what is actually covered.
Warranty Rule of Thumb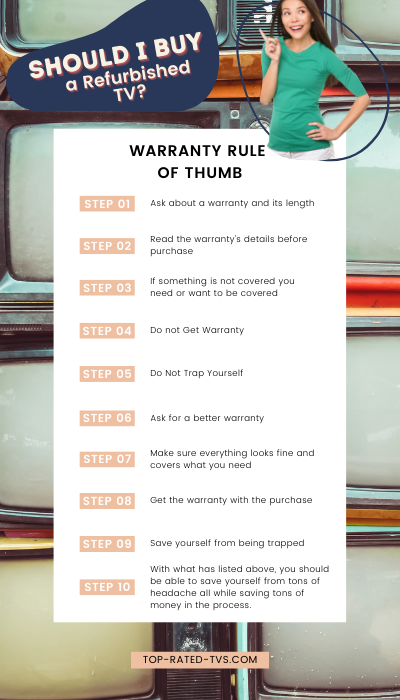 The warranty rule of thumb is very simple and should help save you from tons of distress in the future.
Ask about a warranty and its length
Read the warranty details before the purchase
If something is not covered you need or want to be covered
Do not Get a Warranty
Do Not Trap Yourself
Ask for a better warranty
Make sure everything looks fine and covers what you need
Get the warranty with the purchase
Save yourself from being trapped
With what has been listed above, you should be able to save yourself from tons of headaches all while saving tons of money in the process.
Where to buy
When looking to purchase a refurbished TV, it is crucial to buy from a trusted source to ensure quality and reliability. Some of the best places to buy refurbished TVs include:
Manufacturer websites: Many manufacturers offer refurbished TVs directly on their websites, ensuring that the refurbishment process meets their standards and includes genuine parts.
Authorized dealers: Authorized dealers have the manufacturer's approval to sell refurbished products and often provide warranties and support for these items.
Reputable online retailers: Online retailers like Amazon and Best Buy often have a section dedicated to refurbished products, including TVs. Make sure to check for verified reviews and seller ratings to ensure you're buying from a reliable source.
Environmental benefits
Buying refurbished TVs can be an eco-friendly choice as it reduces electronic waste and promotes the recycling and reuse of electronic components. By choosing a refurbished TV, consumers can help decrease the demand for new electronic products and contribute to a more sustainable and environmentally conscious approach to consumption.
Tips for inspecting a refurbished TV before purchase
When buying a refurbished TV, make sure to:
Inspect the TV for visible damage or defects, including scratches, dents, or dead pixels on the screen.
Check the ports and connections to ensure they are functioning properly and without any issues.
Test the TV's functionality, such as picture and sound quality, to make sure it meets your expectations.
Inquire about the history of the TV, including the reason for refurbishment and any repairs made during the process.
Verify the warranty and return policy offered by the seller, as these can provide added peace of mind and protection for your purchase.
Comparing refurbished TV prices
When comparing the prices of refurbished TVs with new models, consider the potential savings that can be made by opting for a refurbished TV. However, also take into account any additional costs, such as extended warranties or necessary accessories, when making your decision. Comparing prices across different sellers and platforms can help you find the best deal for your desired refurbished TV.
The lifespan of a refurbished TV:
The expected lifespan of a refurbished TV may differ from that of a new TV due to factors such as the quality of the refurbishment process, the age of the TV, and the usage patterns of the previous owner. To maximize the longevity of a refurbished TV, consider the following:
Choose a reputable seller or manufacturer that is known for high-quality refurbishment processes and genuine parts.
Opt for a refurbished TV that is relatively newer or has been gently used by the previous owner.
Follow the manufacturer's guidelines for proper care and maintenance of the TV to extend its lifespan.
By taking these factors into account, you can make an informed decision when purchasing a refurbished TV and enjoy the benefits of a high-quality, eco-friendly, and cost-effective entertainment option.
Is the picture quality the same as the new one?
The picture quality of a refurbished TV should be comparable to a new one if the refurbishment process was done correctly. However, it's essential to inspect the TV for any visible defects or dead pixels on the screen before purchasing to ensure the best possible picture quality.
Can I get a warranty for a refurbished TV?
Yes, many manufacturers and authorized dealers offer warranties for refurbished TVs. The length and coverage of the warranty may vary, so make sure to read the warranty terms and conditions carefully before purchasing.
Are refurbished TVs more prone to technical issues compared to new TVs?
Refurbished TVs may have had technical issues in the past, but a thorough refurbishment process should have addressed these problems. However, it's essential to buy from a reputable source and inspect the TV before purchasing to minimize the risk of encountering technical issues.
How much can I expect to save by purchasing instead of a new one?
The savings you can expect from purchasing a refurbished TV will depend on factors such as the brand, model, and age of the TV. Generally, you can expect to save anywhere from 15% to 50% off the original price.
Can I return a refurbished TV if I'm not satisfied with it?
Return policies for refurbished TVs can vary depending on the seller. Some sellers may offer a return period, while others might not accept returns for refurbished items. It's crucial to review the return policy before making a purchase to ensure you have the option to return the TV if you're not satisfied.
Are they older models?
Not all refurbished TVs are older models. Sometimes, newer models can be returned due to minor defects or customer dissatisfaction, and after addressing these issues, they are resold as refurbished items. When shopping for refurbished TVs, you can find a mix of older and newer models, depending on availability.
Can I trust online reviews for refurbished TVs?
Online reviews can be helpful when considering a refurbished TV, but it's essential to be cautious and look for verified reviews from genuine customers. Additionally, pay attention to the overall rating and consistency of reviews to get a better understanding of the product's quality and performance.
Conclusion
In the end, it means you can save yourself some money on an otherwise expensive TV. As long as you're okay with a TV that might be lacking some smaller features, or has minor cosmetic issues, you will be alright.
Often times you can score a decent warranty to help make the purchase a bit smoother too. Just in case you're not one hundred percent sure it's a good deal.
I hope this helps fill in the blanks about refurbished TVs.
Cheers!