Welcome to the ultimate TV showdown: Samsung versus LG. Picture this: two tech titans, constantly innovating, always striving for that top spot in the TV world. It's like a heavyweight title fight, and we're all ringside. But when you're the one shelling out the cash, it's not just about the spectacle. You want the best bang for your buck, and that's where the real battle begins.
SAMSUNG 43 inch

SAMSUNG 65 inch

LG NANO75 43 inch

LG C2 Series 65 inch

SAMSUNG 43-Inch Class Crystal 4K UHD AU8000 Series HDR, 3 HDMI Ports, Motion Xcelerator, Tap View,...
SAMSUNG 65-Inch Class Neo QLED 4K QN90B Series Mini LED Quantum HDR 32x, Dolby Atmos, Object...
LG NANO75 Series 43-Inch Class Smart TV 43NANO75UQA - 2022 AI-Powered 4K, Alexa Built-In
LG C2 Series 65-Inch Class OLED evo Smart TV OLED65C2PUA, 2022 - AI-Powered 4K TV, Alexa Built-in,...
Supported Services
AppleTV, Youtube, Google TV
Apple TV+, Samsung TV Plus, Netflix, YouTube, Prime Video, Disney+, Hulu, Xbox, Nvidia GeForce NOW, ESPN and Max
Netflix, Prime Video, Apple TV app, Disney+, and HBO Max
Netflix, Prime Video, Apple TV app, Disney+, and HBO Max
SAMSUNG 43 inch

SAMSUNG 43-Inch Class Crystal 4K UHD AU8000 Series HDR, 3 HDMI Ports, Motion Xcelerator, Tap View,...
Supported Services
AppleTV, Youtube, Google TV
SAMSUNG 65 inch

SAMSUNG 65-Inch Class Neo QLED 4K QN90B Series Mini LED Quantum HDR 32x, Dolby Atmos, Object...
Supported Services
Apple TV+, Samsung TV Plus, Netflix, YouTube, Prime Video, Disney+, Hulu, Xbox, Nvidia GeForce NOW, ESPN and Max
LG NANO75 43 inch

LG NANO75 Series 43-Inch Class Smart TV 43NANO75UQA - 2022 AI-Powered 4K, Alexa Built-In
Supported Services
Netflix, Prime Video, Apple TV app, Disney+, and HBO Max
LG C2 Series 65 inch

LG C2 Series 65-Inch Class OLED evo Smart TV OLED65C2PUA, 2022 - AI-Powered 4K TV, Alexa Built-in,...
Supported Services
Netflix, Prime Video, Apple TV app, Disney+, and HBO Max
Now, I've been in your shoes. I was on the hunt for a new TV, and I knew I wanted a champion, not a contender. Samsung and LG were the names that kept popping up. But choosing between them felt like picking a favorite child. So, I did what any self-respecting tech enthusiast would do: I rolled up my sleeves and dove into the specs.
So, buckle up. We're about to embark on a journey through the pros and cons of these top-tier TV brands. And don't worry if you're not a tech whiz. I've got a handy guide to help you understand all the jargon. Plus, if you're in the market for a new 4K TV, I've got some tips that might just tip the scales. Let's dive in, shall we?
Quick Comparison
| | | |
| --- | --- | --- |
| Features | Samsung | LG |
| Smart TV platform | Tizen | webOS |
| Panel Technology | QLED | OLED |
| Image Processor | Neo Quantum Processor | α9 Intelligent Processor |
| Viewing Angle | Poor Viewing Angles | Excellent at wide viewing angles |
| Sound System | HDR10 | Dolby Vision |
Samsung vs LG TV: Overview
Samsung and LG aren't just big names in the TV world; they're veritable heavy hitters of tech, hailing from the land of K-pop and kimchi, South Korea. They've got their fingers in a lot of pies, but TVs? That's their bread and butter. And boy, do they know how to butter it up. In North America alone, these two juggernauts held over 60% of the TV market share in 2019. That's a lot of screen time.
So, what's their secret sauce? Well, it's simple. They know what we want, and they deliver. Whether you're penny-pinching for a 43 in LCD TV, ready to splurge on a high-end 65 inch 4K HDR HDR set, or even eyeing the next-gen 8K behemoth, Samsung and LG have got you covered. They've got a smorgasbord of sizes and resolutions to fit every budget and living room.
Now, here's where it gets interesting. Most TV manufacturers are like kids in a candy store, borrowing hardware and software left and right. But not our friends Samsung and LG. They built their smart TVs from scratch. It's like comparing homemade apple pie to store-bought. There's just no contest.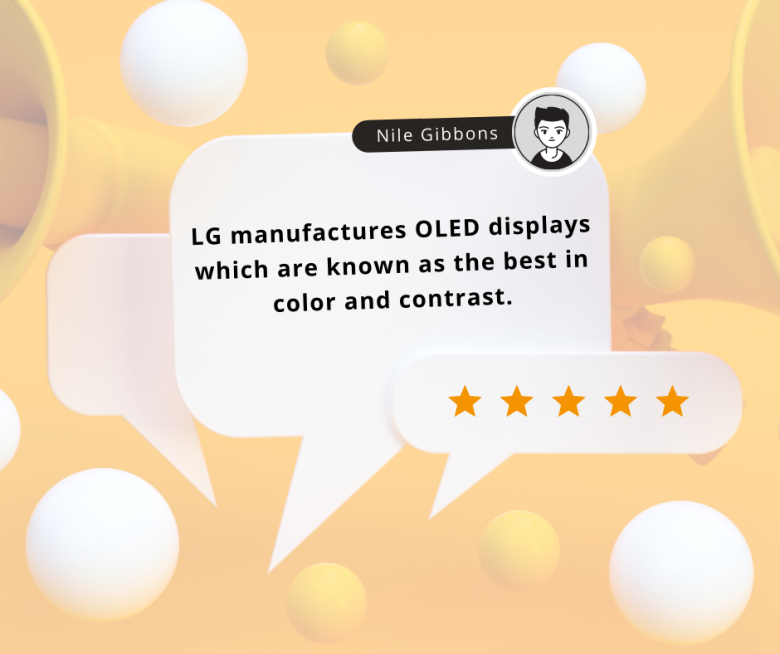 LG's claim to fame? Their OLED displays are renowned for their top-notch color and contrast. Samsung, on the other hand, is all about QLED technology. While it can't quite match OLED in image quality, Samsung isn't throwing in the towel just yet. They're gearing up to launch a QD-LED model that could be a game-changer.
Both Samsung and LG TVs are packed to the gills with the latest tech. We're talking rival OLED and QLED screens, features like Freeview Play, 4K Ultra HD, High Dynamic Range (HDR) support, sleek smart TV interfaces, voice recognition, and more. It's like they're the Swiss Army knives of the TV world."
Unique operating systems: LG webOS vs Samsung Tizen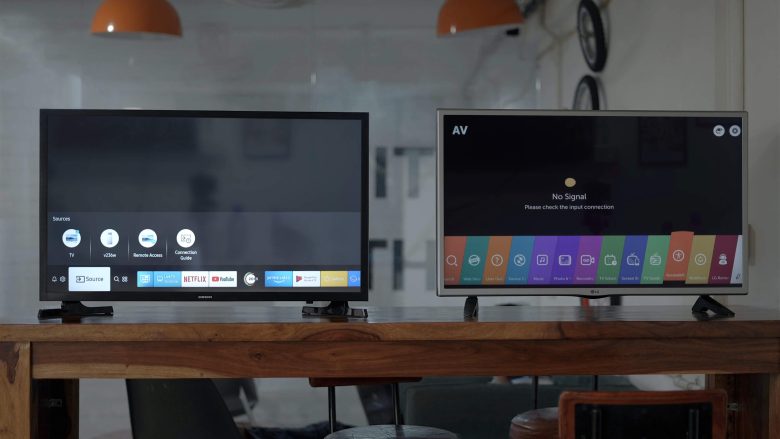 In the LG vs Samsung smart TV battle, both brands offer solid operating systems. LG's WebOS is decent, but Samsung's Tizen is much better these days. It's just that bit more punchy and responsive, providing many more features, including BT Sport and Tidal.
LG webOS
LG's webOS offers access to all major streaming applications, including Netflix, Amazon Prime Video, and (for 2019 models) the Apple TV app. Premium LG TVs often come with the Magic Remote, and you can press, scroll, or wave your hand to control the TV.
Streaming applications continue to be open and live. What this means is that you can quickly turn back and forth without losing whatever you've been streaming. Want to try out a game? Captain Marvel pause, go through another device, check the game, and then go back right to Captain Marvel.
Pros
Amazon Alexa and Google Assistant integration
Fast to navigate
Good app support
Quick app switching
Cons
Limited app selection
Slower updates
Samsung Tizen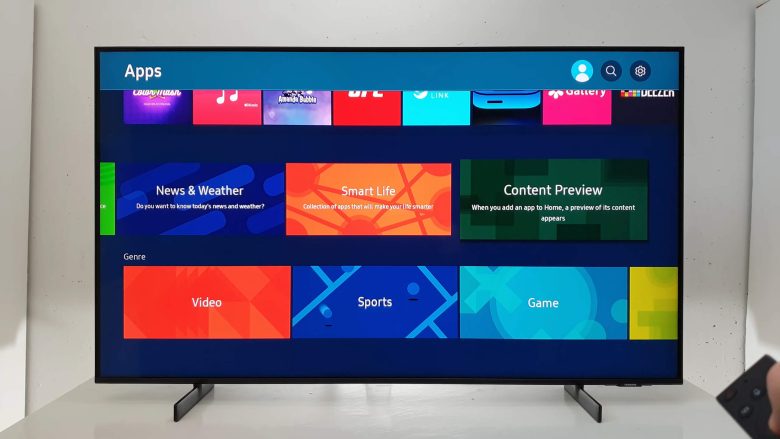 Samsung's Tizen technology doesn't make a huge change with its design, but it doesn't have a search algorithm as good as the ThinQ AI software from LG. Samsung offers its own first-party Bixby assistant, but again only for mid-range or premium sets–only with the choice of using Google Assistant or Alexa from third-party apps.
Pros
Fast to navigate
You'll receive free channels with TV Plus
Cons
Not a great number of apps
The search function isn't always the greatest
Dolby Vision vs. HDR10
Alright, let's talk Dolby Vision and HDR10. Now, you might think there's a world of difference between the two, but let me let you in on a little secret: it's not as big a deal as you might think. The real game-changer? Video performance. That's where the magic happens. HDR is still a bit of a toddler, finding its feet in the tech world. But let me tell you, even in its early days, all formats have the potential to deliver images so realistic, that they'll make your current TV blush.
LG wins with
picture quality
in this sector because they use Dolby Vision, which many brands don't always do. But if your metric is the price, then Samsung should win this HDR10 battle.
QLED or OLED?
It's time for the million-dollar question: QLED or OLED? If you're looking for the crème de la crème of TVs, the answer is OLED. These babies offer top-tier performance without making your wallet cry. So, if you've got some cash to splash and you want a TV that'll make your neighbors green with envy, an OLED TV is your best bet.
Here's a fun fact for you: all OLED panels are made by LG Display. So, even if you're watching the big game on a Sony OLED, you've got LG to thank for those crisp images.
Now, let's talk QLED. This is Samsung's brainchild, a unique technology that uses a quantum dot filter to amp up color and contrast. It's like the TV equivalent of turning up the saturation on your vacation photos. QLED TVs also use dimming zones to adjust brightness across the panel rather than tweaking each pixel individually. The result? QLED TVs often outshine their OLED counterparts. But they can stumble a bit when they have to juggle both light and dark images at the same time.
QLED vs NanoCell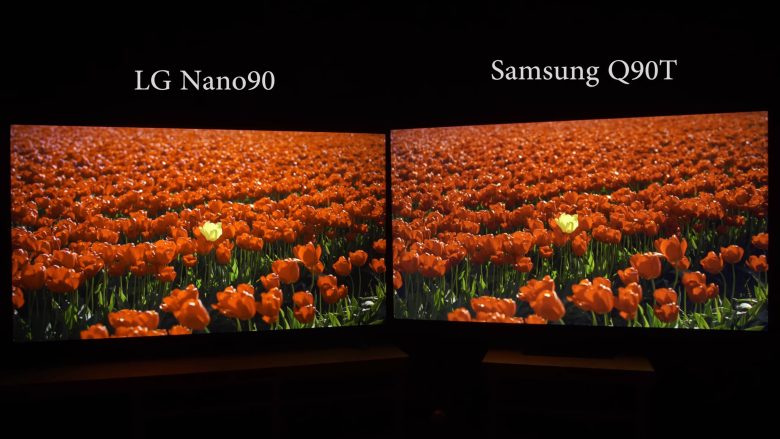 NanoCell is essentially the same kind of stepping-stone tech between standard 4K and OLED. You can read our 'what is NanoCell TV' explainer for a detailed explanation, but in a nutshell: a layer of tiny 'nanoparticles' is introduced between the LED backlight and the screen to improve the colors and contrast of the image.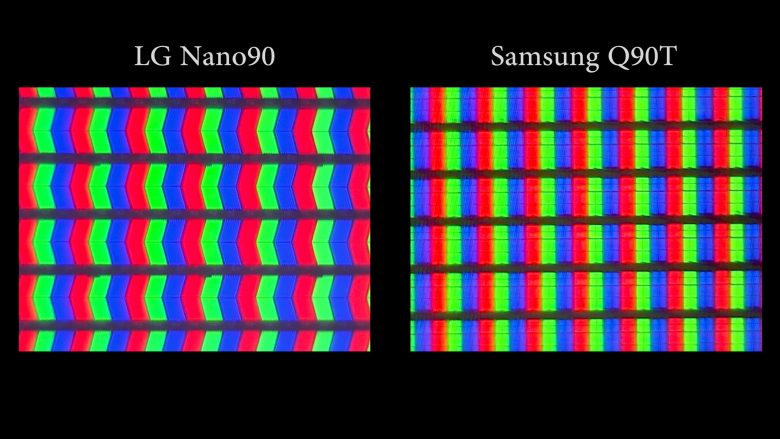 Image Processing
Apart from different panel technologies, Samsung and LG also use different types of image processors. Similar to computers, the processor is a powerful chip that is installed inside the TV, and it is considered its brain. It controls how fast the images flash up on the screen and processes the videos you are watching.
LG TVs use the a9, which is the latest in line of the company's processors. It is the most powerful processor that LG has produced to this day, and it is 50% faster than its predecessor. It optimizes its speed and graphics to support the next-gen technologies, which grants impressive visuals.
Samsung TVs use a Neo Quantum processor, which possesses similar qualities to what LG currently can offer. This processor boasts advanced AI upscaling technology which is responsible for absolutely stunning images. This technology is at its best when used in the company's high-end 8K TVs. It is a significant upgrade to its predecessor since it features 16 neural networks instead of one.
Design and Build Quality
Design aesthetics and build quality are integral, influencing the durability and the overall appeal of the TV in your living space.
Samsung: Sleek and Robust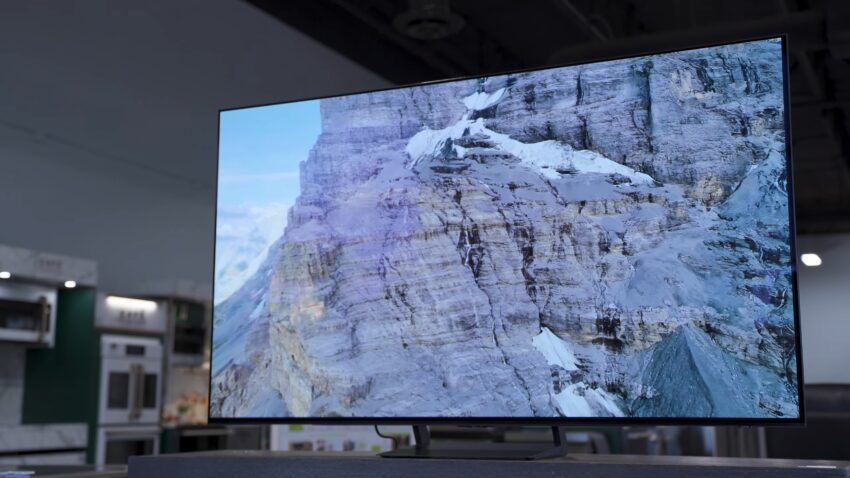 Samsung TVs are recognized for their sleek designs and robust build quality. The attention to detail and premium materials enhance the aesthetic and functional appeal of their range.
Aesthetic Appeal: Samsung's design philosophy emphasizes minimalist elegance and slim profiles.
Material Quality: The use of high-quality materials ensures durability and longevity.
LG: Elegant and Sturdy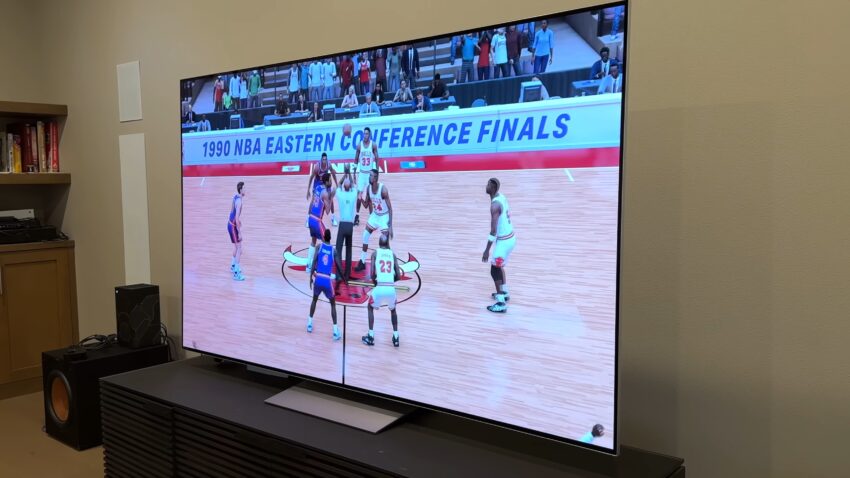 LG also prioritizes design and build quality, producing TVs that are not only visually appealing but also durable. Their approach to design emphasizes elegance and practicality.
Design Innovation: LG consistently introduces innovative design concepts, merging form and function.
Build Integrity: LG TVs are built to last, utilizing quality materials and superior craftsmanship.
Who Has the Better Motion Technology?
Although both companies have brought their motion technology to the next level, LG has a slight edge in this department. Most of the high-end TVs that come from LG have instant response time, which is an amazing feature for various purposes.
That being said, Samsung's TVs also offer exceptional responsiveness, granting pixel transition in just under ten seconds, which is pretty impressive as well. Although you will notice some flickering on both LG and Samsung TVs, it is marginal, and you can barely notice it even when you are gaming on very high resolutions.
Who Has the Better Peak Brightness?
When it comes to peak brightness, Samsung offers much better performance. This is something that applies not only to high-end TVs but to older models as well. Samsung TVs outperform LG ones in this category in pretty much any measurement.
For example, Samsung offers much better SDR real-scene peak brightness and HDR real-scene peak brightness. To paint you a better picture of this, we have compared two high-end models from these two companies – LG B8 and Samsung Q90.
Here is a comparison of the brightness:
| Peak Brightness Measure | LG B8 | Samsung Q90 |
| --- | --- | --- |
| SDR Real Scene Peak Brightness | 830+ cd/m² | Around 290 cd/m² |
| SDR Peak 2% Window | Around 1,300 cd/m² | Around 300 cd/m² |
| SDR Sustained 100% Window | 500+ cd/m² | Less than 150 cd/m² |
| HDR Real Scene Peak Brightness | Around 1,300 cd/m² | Less than 550 cd/m² |
| HDR Peak 2% Window | 1,140+ cd/m² | Around 720 cd/m² |
| HDR Sustained 100% Window | Around 530 cd/m² | Around 150 cd/m² |
Who Has the Better Sound Quality?
In terms of sound quality, these two brands offer similar performance and do not really stand out from the competition in any significant way. Both companies' mid-range models offer suitable frequency response and sound distortion, while high-end models have powerful bass and pretty loud speakers.
Connectivity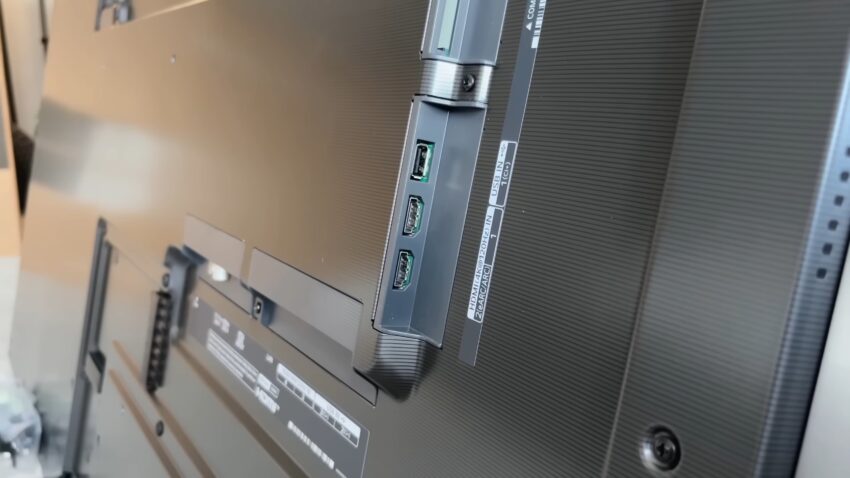 Both of these reputable brands hold very high standards when it comes to connectivity, and you can expect it to be strong on both their mid-range and high-end models. They offer comprehensive connectivity features, which you can see on their product's inputs, voice assistants, and wireless technologies.
For example, the latest models from both brands will offer you several HDMI and USB ports, Ethernet, 5.1 DTS (ARC/Optical), HDR 10+, or Dolby Vision input. Since Wi-Fi support is a must on all Smart TVs, you will also find 2.4 GHz and 5 GHz support.
Price and Value
Evaluating the price and the value provided is indispensable when selecting a TV brand. This encompasses not just the initial cost but also the features and performance offered.
Samsung: Competitive Pricing for Premium Features
Samsung offers a wide range of options across various price points, ensuring that users get premium features and reliable performance, balanced with cost considerations.
Price Range: Samsung provides diverse choices, catering to budget, mid-range, and premium segments.
Value Proposition: The blend of advanced features, superior performance, and competitive pricing enhances the value proposition of Samsung TVs.
LG: Exceptional Value at Various Price Points
LG also presents a diverse portfolio designed to accommodate different budgets while delivering exceptional value in terms of features and performance.
Budget to Premium: LG's extensive range spans from budget-friendly to high-end options, catering to varied consumer needs.
Balanced Offering: LG TVs offer a harmonious blend of top-notch features, outstanding performance, and reasonable pricing.
Our LG TV Recommendation
LG 83-Inch Class OLED evo Gallery Edition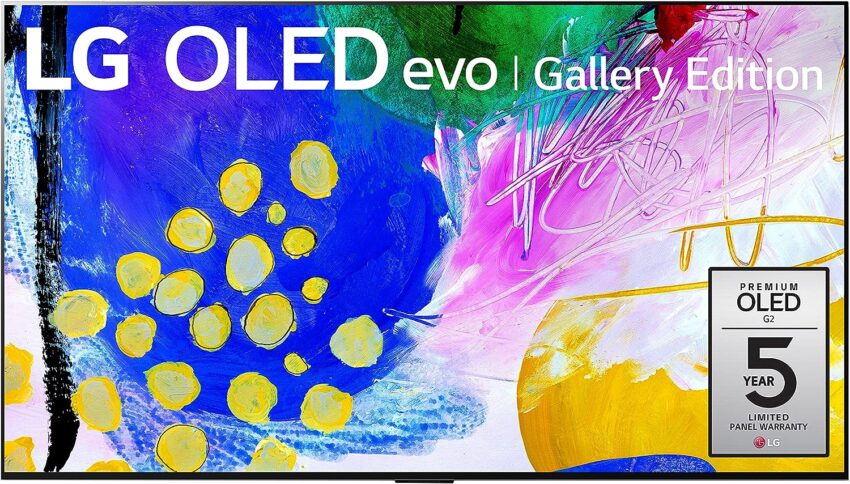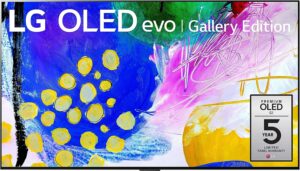 Check on Amazon
Check on LG
Check on Best Buy
A few weeks ago, I had the pleasure of experiencing the LG OLED83G2PUA, and it was nothing short of a transformative journey into the world of visual splendor. The immense 83-inch screen serves as a gateway to unadulterated, realistic viewing experiences, immersing the viewer in a myriad of colors and details.
Firstly, the resolution of this TV is truly a masterpiece, offering 4K clarity that breathes life into every frame. Supported by Pixel Level Dimming and Billion Rich Colors, every image is rendered with intense and vibrant coloration, bringing out the finest details in the darkest and brightest scenes alike. Cinema HDR and Dynamic Tone Mapping Pro further enhance the visual fidelity, offering a cinematic, high-dynamic range that is incredibly pleasing to the eye.
The viewing experience is broadened by the Wide Viewing Angle feature, ensuring that every seat in the room is the best seat. The inclusion of NVIDIA GEFORCE NOW elevates gaming sessions to new heights, providing smooth, responsive gameplay at a 120 Hz refresh rate, a treat for any gaming enthusiast.
The supported internet services such as Netflix, HBO Max, Prime Video, Apple TV, and Disney+ ensure that your favorite content is just a click away. The interface is user-friendly and intuitive, providing seamless navigation through a vast array of entertainment options.
The Magic Remote Control with Magic Tap (NFC) is an innovative addition, providing easy control and an added layer of convenience, allowing you to interact with your TV in new and exciting ways. The Room to Room Share feature is also a thoughtful touch, allowing content sharing across different rooms with effortless ease.
While the included flush mount is a handy accessory for wall mounting, it's worth noting that the stand is sold separately, which might be a minor inconvenience for some, but given the array of features and unparalleled performance, it's a small price to pay.
The dimensions (12.6″D x 72.7″W x 43.9″H) of this OLED TV make it a prominent feature in any room, but its sleek and elegant design ensures it complements your living space rather than dominating it.
The LG OLED83G2PUA is a harmonious convergence of advanced technology and artistic design, a must-have for anyone seeking to elevate their home entertainment experience. Whether it's movie nights, gaming sessions, or casual viewing, this TV ensures that every moment spent in front of it is a symphony of visual excellence.
Pros
Stunning Visuals
Equipped with the latest technology.
User-Friendly Interface
Quick and efficient performance.
Cons
Premium Price
May require time to explore features.
Our Samsung TV Recommendation
SAMSUNG 55-Inch Class OLED 4K S90C Series Quantum HDR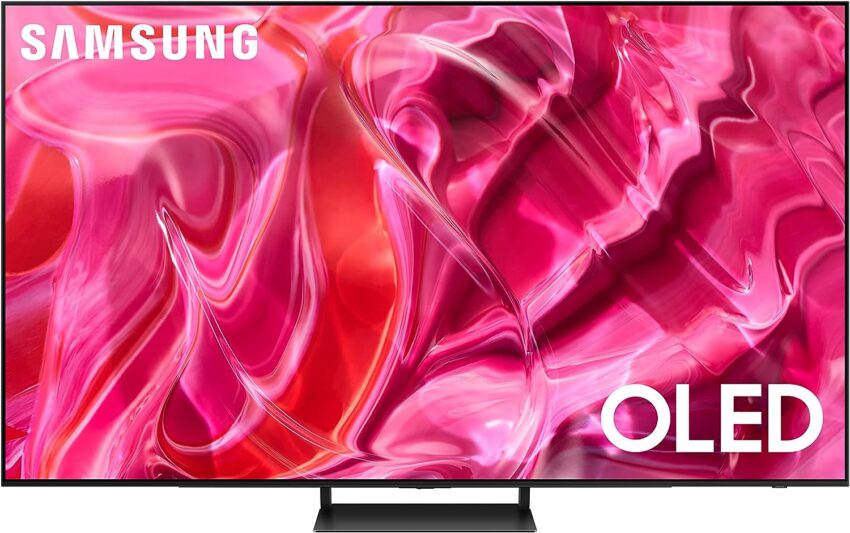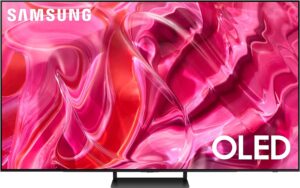 Check on Amazon
Check on Samsung
Check on Best Buy
Samsung's S90C OLED TV is, without a doubt, a masterpiece in the world of entertainment. Having owned this television for a while now, I can comfortably say it offers an unparalleled visual and auditory experience.
With a 55-inch OLED screen, the visuals are strikingly clear, and the Quantum HDR OLED technology brings each scene to life, analyzing and enhancing every detail. Whether I am watching a high-paced action movie or a serene nature documentary, the 4K resolution and Pantone-validated colors provide richness and accuracy, making each viewing a treat for the eyes.
As an avid gamer, the Samsung Gaming Hub is my haven. Whether I am connecting my console or streaming games, the user-friendly interface and a plethora of options make gaming seamless and enjoyable. The Motion Xcelerator Turbo Pro ensures sharp, crisp visuals, and with a refresh rate of up to 144Hz with compatible content, every game feels smooth and immersive.
The extensive range of supported internet services like Netflix, Disney+, Hulu, and Prime Video gives me a plethora of options for my binge-watching sessions. Switching between services is smooth, and the user interface is intuitive, enhancing the overall user experience.
The integration of Dolby Atmos and Object Tracking Sound Lite creates a 3D sound experience that moves along with the action on the screen. Pairing it with a Samsung soundbar through Q-Symphony 3.0 amps up the auditory experience, creating a harmonious synergy of visuals and sound.
The innovative SolarCell Remote is not just smart but also eco-friendly with its solar panel charging feature. It also houses a built-in microphone, making voice commands through Google Assistant or Alexa an effortless endeavor.
The LaserSlim design, with a depth of only 4mm, is an aesthetic delight. Whether it's on or off, it augments the look of my living space, and the near bezel-free appearance makes the viewing experience more immersive.
The Samsung S90C is a convergence of stunning visuals, superior sound, sleek design, and user-friendly features. It has transformed my viewing and gaming experiences, making them more enriching and immersive. Whether you are a movie enthusiast, a gamer, or someone who loves to stream content, this TV caters to all your entertainment needs brilliantly.
Despite the premium features, I believe this TV offers great value for money, considering the unparalleled quality and experience it provides. It is a worthwhile investment for anyone looking to elevate their home entertainment system.
Pros
Offers a vibrant and clear display.
Equipped with innovative technology.
Easy navigation and setup.
Built to last with quality materials.
Cons
Slightly higher investment.
Samsung vs. LG TV Comparison Chart
Samsung
LG
HDR 10+ system you can appreciate details during playback
Full HD resolution
Easy to use and set up
Elegant design
Excellent price/performance ratio
Easy to set up
Ultra HD 4K resolution
4K UHD quality with
self-illuminating pixels.
Vivid color images
Voice control
WebOS 5.0 operating system
Bluetooth 5.0 available
Quad Core 4K processor
that eliminates noise in images
The panel is made with Quantum Dots. Quantum Dots technology intensifies the various shades
Delivers crisp colors, even in dark in dark scenes
It integrates a powerful processor. The quantum Lite processor that calibrates brightness
Samsung uses QLED panels
LG opts for OLED technology
Ultra-thin edges
Thin edges
Allows you to duplicate the image  of your cell phone on the TV
A energy rating
One Remote Control
(syncs TV with other apps)
Compatible with Google and Alexa voice
Other applications available
No headphone output
Multi View (allows you to see the screen  of your Smartphone on the panel)
Good compatibility with
all USB devices
Does not detect some files
hosted on a USB memory stick
Full 360º surround sound
simulating that of the cinema
FAQ
Do LG and Samsung TVs offer warranty periods, and if so, how long are they typically?
Yes, both LG and Samsung offer warranty periods for their TVs. Typically, these companies provide a one-year warranty, but the duration may vary depending on the model and the region.
It is advisable to check the warranty details provided with the purchase or consult the respective official websites for specific information related to warranties.
Can the operating systems on LG and Samsung Smart TVs be updated?
Yes, both LG's webOS and Samsung's Tizen operating systems receive periodic updates. These updates often bring new features, performance improvements, and security enhancements.
Users usually receive prompts to update the software when a new version is available, and they can also manually check for updates in the settings menu of their TVs.
How does the energy consumption of Samsung and LG TVs compare?
Energy consumption varies significantly across models and largely depends on the screen size, technology, and features of the TV.
Generally, both brands strive to develop energy-efficient models, often featuring energy-saving modes and technologies. Specific energy consumption details can be found in the product specifications or the energy label on each TV model.
Do Samsung and LG TVs support screen mirroring from mobile devices?
Yes, both Samsung and LG TVs generally support screen mirroring from compatible mobile devices, allowing users to display their mobile screens on the TV.
This feature might be named differently, such as "Screen Share" on LG TVs and "Smart View" on Samsung TVs, and availability may vary depending on the TV model and mobile device used.
Are there any differences in remote control functionality between LG and Samsung smart TVs?
Yes, there are differences in remote control designs and functionalities between LG and Samsung TVs. LG's premium models often come with the Magic Remote, which allows users to control the TV through motions, and it can also work as a universal remote for other devices.
Samsung's remote, called One Remote Control, offers a minimalist design with fewer buttons and can also control multiple compatible devices connected to the TV.
Do Samsung and LG offer TVs with variable refresh rate (VRR) support for gaming?
Yes, several high-end and some mid-range models of Samsung and LG TVs do offer support for Variable Refresh Rate (VRR), which can significantly improve the gaming experience by reducing screen tearing and stuttering.
It's essential to refer to the specific model's features or the official website for confirmation on VRR support as it may not be available on all models.
Which TV is better, Samsung or LG?
Although both brands offer excellent modern TVs, there are some tiny differences in features that can tip the scales. It largely depends on your preferences. For example, Samsung offers a better peak brightness while LG offers better response time. To pick the brand that will serve you best, you should do thorough research and take a closer look at the features each brand can offer.
Where are Samsung and LG TVs made?
Both are South Korean companies, and most of their TVs are manufactured in South Korea. However, both companies have production facilities in other countries, including China, Vietnam, and Mexico, among others.
The specific location of production can vary depending on the model and region, as both companies have a global presence and produce TVs for different markets.
What are the best LG and Samsung TVs for gaming?
Both LG and Samsung offer a range of TVs that are suitable for gaming, but some of the best models include:
Samsung S95B OLED: Packed with features that deliver an incredible gaming experience
LG C2 OLED: Offers an amazing gaming experience, especially for console gamers with an Xbox Series S|X or a PS5 or for PC gamers with a recent GPU
What is the newest Samsung TV?
The newest TV that comes from Samsung is the 2023 Micro LED, Neo QLED, and lifestyle TV that offers next-gen picture quality and numerous modern personalization options.
What is the newest LG TV?
LG OLED EVO G3 65 inch 4K Smart TV 2023 and the LG OLED EVO C3 65 inch 4K Smart TV 2023. These models are part of LG's 2023 lineup and offer the latest in TV technology, including OLED displays for superior picture quality.
Final Thoughts – LG vs Samsung TV
We've journeyed through the high-tech world of Samsung and LG TVs, explored the ins and outs of Dolby Vision and HDR10, and even dipped our toes into the gaming arena. We've seen how these tech titans have carved out their niches, with LG championing OLED technology and Samsung pushing the boundaries with QLED.
Whether you're a movie buff, a sports fan, or a gamer, there's a TV out there that's just right for you. And remember, the best TV isn't necessarily the one with the most bells and whistles but the one that fits your needs and budget. So, here's to finding your perfect match in the vast sea of pixels and screens.