The battle between Samsung TV and LG TV is a long, storied affair full of innovations, strife and, ultimately, amazing successes. These are two of the top TV brands in the world with television sets that are among the best TVs year after year. Read our side-by-side comparison, and find out which one should you opt for – Samsung vs LG TV.
There are many TVs available in the market when you look at the smart TVs almost all TVs look the same at first glance. Whether you are looking out for a large-size or moderate-sized TV. It's sure that TV's that come into your mind are Samsung and LG TV for the budget you have earned.
Every year many features have been updated by the tech titans. It may be featuring improved displays, more advanced processing, and sleeker designs.
You might be having a tough time deciding between Samsung and LG TV models whether it can be 4K, HDR or even 8K TV. So for buying the best 4k TV, you need to know which TV brand is the best? What are the key differences? Comparing LG and Samsung TV's here is a helpful reference to the pros and cons of these usually excellent tv brands.
We've created a guide to help you understand all of the terminologies we're about to use below. Plus, check this out if you're for buying a new 4K TV.
Quick Comparison
| | | |
| --- | --- | --- |
| Features | Samsung | LG |
| Smart TV platform | Tizen | webOS |
| Panel Technology | QLED | OLED |
| Image Processor | Neo Quantum Processor | α9 Intelligent Processor |
| Viewing Angle | Poor Viewing Angles | Excellent at wide viewing angles |
| Sound System | HDR10 | Dolby Vision |
Samsung vs LG TV: Overview
LG and Samsung are the manufacturers of large-scale electronics, located in South Korea. Television is a core part of all of their companies and both TV brands have built up good reputations in the US television market. For eg, in North America, LG and Samsung increased their combined market share of TV in 2019 to over 60 percent.
The key to its success? Catering to the desires of each and every customer. If you're searching for a cheap 43 in LCD TV, a high-end 65 in 4K HDR set or even a next-generation 8K Monitor, Samsung and LG deliver a large variety of sizes and resolutions to satisfy every budget.
Most manufacturers are borrowing hardware and software from other companies on the Smart TV market. It's much faster and much better. But their smart TVs were built from scratch by both LG and Samsung.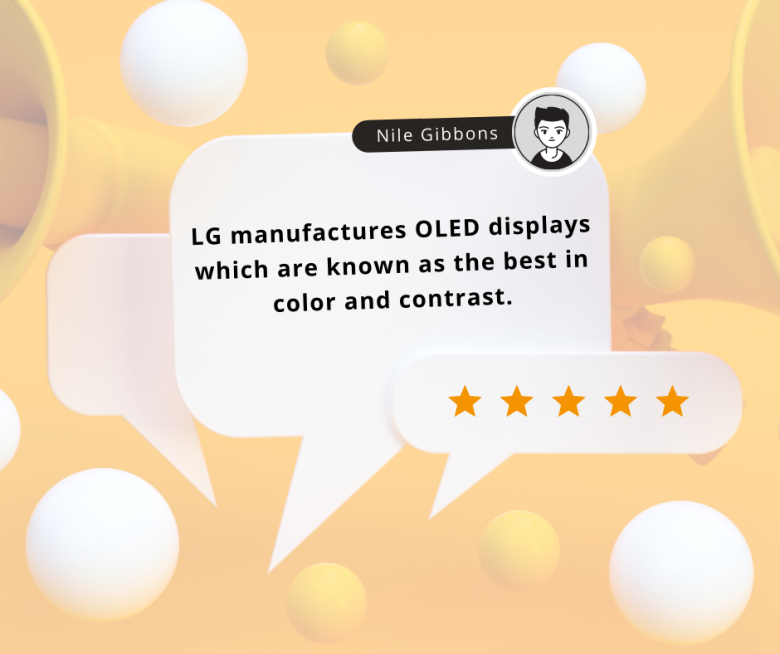 LG manufactures OLED displays which are known as the best in color and contrast. Samsung still uses QLED technologies which, for image quality, still can not equal OLED. This being said, in the immediate future, Samsung is planning to create a QD-LED model.
Samsung and LG TVs come fitted with the latest technology, rival OLED and QLED screens and apps such as Freeview Play, 4K Ultra HD, High Dynamic Range (HDR) support, sleek smart TV interfaces, voice recognition and more.
Unique operating systems: LG webOS vs Samsung Tizen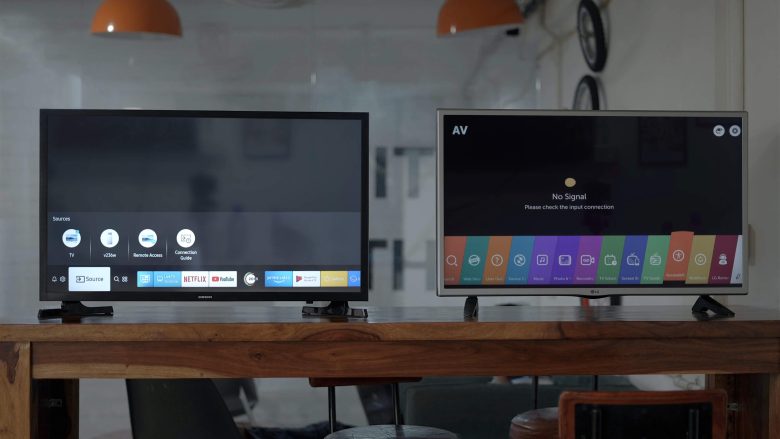 In the LG vs Samsung smart TV battle, both brands offer solid operating systems. LG's WebOS is decent but Samsung's Tizen is much better these days. It's just that bit more punchy and responsive, providing many more features, including BT Sport and Tidal.
LG webOS
LG's webOS offers access to all major streaming applications, including Netflix, Amazon Prime Video and (for 2019 models) the Apple TV app. Premium LG TVs often come with the Magic Remote and you can press, scroll or wave your hand to control the TV.
Pros
Amazon Alexa and Google Assistant integration
Fast to navigate
Good app support
Streaming applications continue to be open and live. What this means is that you can quickly turn back and forth without losing whatever you've been streaming. Want to try out a game? Captain Marvel pause, go through another device, check the game, and then go back right to Captain Marvel.
Cons
Nothing that would be worth noting. It's a solid operating system.
Samsung Tizen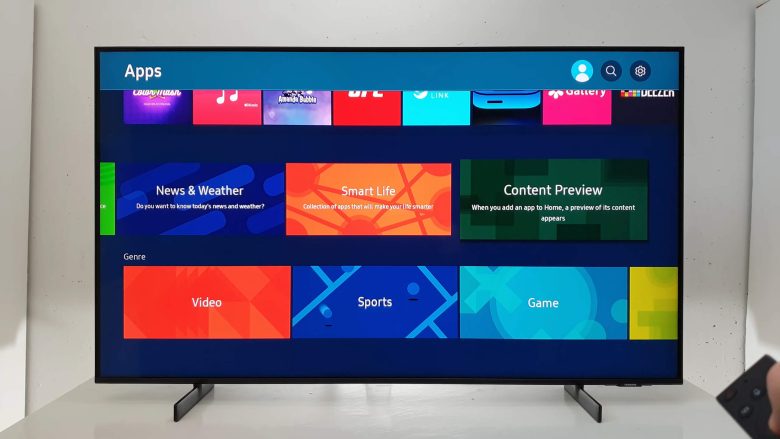 Samsung's Tizen technology doesn't make a huge change with its design, but it doesn't have a search algorithm as good as the ThinQ AI software from LG. Samsung offers its own first-party Bixby assistant, but again only for mid-range or premium sets–only with the choice of using Google Assistant or Alexa from third-party apps.
Pros
Fast to navigate
You'll receive free channels with TV Plus
Cons
Not a great number of apps
The search function isn't always the greatest
Dolby Vision vs. HDR10
Actually, it's not really that important in the difference between the two formats. Video performance itself has a much greater impact on HDR. Although in recent years the software has significantly improved, HDR still has very early days software. All formats have the ability to produce pictures that are much more realistic than we see on today's best TVs.
LG wins with
picture quality
in this sector because they use Dolby Vision, which many brands don't always do. But if your metric is the price, then Samsung should win this HDR10 battle.
QLED or OLED?
The best all-around TV that money can buy. That is the answer to what is an OLED TV. They offer the most high-end result while maintaining a relative cost to their performance, unlike QLED TV. In this case then, if you find yourself with a large budget and want a TV that will outperform all other TVs, then an OLED TV will be the best for you.
All OLED panels are manufactured by LG Display, so even if you've got a Sony OLED in your home, you have LG to thank.
On the other side, QLED is a unique technology that Samsung develops. QLED utilizes a quantum dot filter to improve color and contrast, which utilizes a variety of dimming zones to adjust brightness throughout the panel – rather than being able to do so individually for each pixel. QLED TVs are often much clearer than OLEDs, but they can struggle to continuously display both light and dark images.
QLED vs NanoCell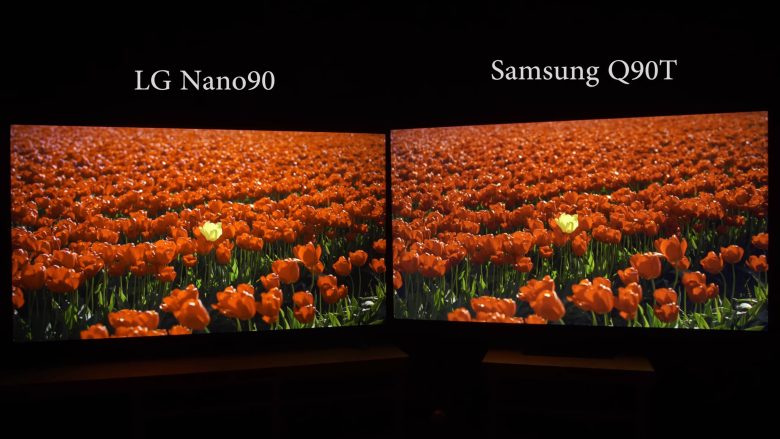 NanoCell is essentially the same kind of stepping-stone tech between standard 4K and OLED. You can read our what is NanoCell TV explainer for a detailed explanation, but in a nutshell: a layer of tiny 'nanoparticles' are introduced between the LED backlight and the screen to improve the colors and contrast of the image.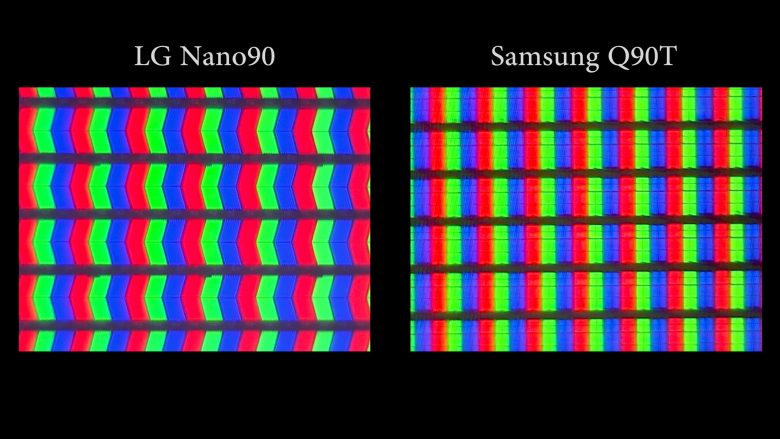 Image Processing
Apart from different panel technology, Samsung and LG also use different types of image processors. Similar to computers, the processor is a powerful chip that is installed inside the TV, and it is considered its brain. It controls how fast the images flash up on the screen and processes the videos you are watching.
LG TVs use the a9, which is the latest in line of the company's processors. It is the most powerful processor that LG has produced to this day, and it is 50% faster than its predecessor. It optimizes its speed and graphics to support the next-gen technologies, which grants impressive visuals.
On the other hand, Samsung TVs use a Neo Quantum processor, which possesses similar qualities to what LG currently can offer. This processor boasts advanced AI upscaling technology which is responsible for absolutely stunning images. This technology is at its best when used in the company's high-end 8K TVs. It is a significant upgrade to its predecessor since it features 16 neural networks instead of one.
Samsung vs. LG – Who Has the Better Motion Technology?
Although both companies have brought their motion technology to the next level, LG has a slight edge in this department. Most of the high-end TVs that come from LG have instant response time, which is an amazing feature for various purposes.
That being said, Samsung's TVs also offer exceptional responsiveness, granting pixel transition in just under ten seconds which is pretty impressive as well. Although you will notice some flickering on both LG and Samsung TVs, it is marginal, and you can barely notice it even when you are gaming on very high resolutions.
Who Has the Better Peak Brightness, Samsung or LG TVs?
When it comes to peak brightness, Samsung offers much better performance. This is something that applies not only to high-end TVs but to older models as well. Samsung TVs outperform LG ones in this category in pretty much any measurement.
For example, Samsung offers much better SDR real scene peak brightness and HDR real scene peak brightness. To paint you a better picture of this, we have compared two high-end models from these two companies – LG B8 and Samsung Q90.
Here is a comparison of the brightness:
| Peak Brightness Measure | LG B8 | Samsung Q90 |
| --- | --- | --- |
| SDR Real Scene Peak Brightness | 830+ cd/m² | Around 290 cd/m² |
| SDR Peak 2% Window | Around 1,300 cd/m² | Around 300 cd/m² |
| SDR Sustained 100% Window | 500+ cd/m² | Less than 150 cd/m² |
| HDR Real Scene Peak Brightness | Around 1,300 cd/m² | Less than 550 cd/m² |
| HDR Peak 2% Window | 1,140+ cd/m² | Around 720 cd/m² |
| HDR Sustained 100% Window | Around 530 cd/m² | Around 150 cd/m² |
Who Has the Better Sound Quality?
In terms of sound quality, these two brands offer similar performance and do not really stand out from the competition in any significant way. Both companies' mid-range models offer suitable frequency response and sound distortion, while high-end models have powerful bass and pretty loud speakers.
Connectivity
Both of these reputable brands hold very high standards when it comes to connectivity, and you can expect it to be strong on both their mid-range and high-end models. They offer comprehensive connectivity features, which you can see on their product's inputs, voice assistants, and wireless technologies.
For example, the latest models from both brands will offer you several HDMI and USB ports, Ethernet, 5.1 DTS (ARC/Optical), HDR 10+, or Dolby Vision input. Since Wi-Fi support is a must on all Smart TVs, you will also find 2.4 GHz and 5 GHz support.
Frequently Asked Questions
Which TV is better, Samsung or LG?
Although both brands offer excellent modern TVs, there are some tiny differences in features that can tip the scales. It largely depends on your preferences. For example, Samsung offers a better peak brightness while LG offers better response time. To pick the brand that will serve you best, you should do thorough research and take a closer look at the features each brand can offer.
Where are Samsung and LG TVs made?
Samsung and LG are both South Korean companies, and many of their TVs are manufactured in South Korea. However, both companies have production facilities in other countries as well, including China, Vietnam, and Mexico, among others.
The specific location of production can vary depending on the model and region, as both companies have a global presence and produce TVs for different markets.
What are the best LG and Samsung TVs for gaming?
Both LG and Samsung offer a range of TVs that are suitable for gaming, but some of the best models include:
LG CX OLED: The LG CX OLED is a highly regarded TV for gaming, with support for features like HDMI 2.1 and variable refresh rate (VRR) technology. It also has excellent color accuracy and low input lag, which is important for gaming.
Samsung Q80T QLED: The Samsung Q80T QLED is another popular TV for gaming, with support for HDMI 2.1, VRR, and low input lag. It also has a bright, vibrant display and a range of smart features.
LG Nano90: The LG Nano90 is a mid-range TV that offers excellent gaming performance, with support for HDMI 2.1 and VRR. It also has good color accuracy and low input lag, making it a great choice for gamers on a budget.
Samsung TU8000: The Samsung TU8000 is another mid-range TV that offers good gaming performance, with low input lag and support for VRR. It also has a bright, clear display and a range of smart features.
What is the newest Samsung TV?
The newest TV that comes from Samsung is the 2023 Micro LED, Neo QLED, and lifestyle TV that offers next-gen picture quality and numerous modern personalization options.
What is the newest LG TV?
The latest TV release that comes from the LG company is the LG G2 OLED TV. It has 55, 65, and 77-inch options, and earlier this year, they announced that this TV would offer a 97-inch option.
Final Thoughts – LG vs Samsung TV
Samsung vs. LG TV Comparison Chart
Samsung
LG
HDR 10+ system you can appreciate details during playback
Full HD resolution
Easy to use and set up
Elegant design
Excellent price/performance ratio
Easy to set up
Ultra HD 4K resolution
4K UHD quality with
self-illuminating pixels.
Vivid color images
Voice control
WebOS 5.0 operating system
Bluetooth 5.0 available
Quad Core 4K processor
that eliminates noise in images
The panel is made with Quantum Dots. Quantum Dots technology intensifies the various shades
Delivers crisp colors, even in dark in dark scenes
It integrates a powerful processor. The quantum Lite processor that calibrates brightness
Samsung uses QLED panels
LG opts for OLED technology
Ultra-thin edges
Thin edges
Allows you to duplicate the image  of your cell phone on the TV
A energy rating
One Remote Control
(syncs TV with other apps)
Compatible with Google and Alexa voice
Other applications available
No headphone output
Multi View (allows you to see the screen  of your Smartphone on the panel)
Good compatibility with
all USB devices
Does not detect some files
hosted on a USB memory stick
Full 360º surround sound
simulating that of the cinema
The overall consensus is that both TV brands are good, so if you choose either of them you can't make a bad decision. It all depends on how much money you are trying to pay in the LG vs Samsung debate, and the features are the most important to you.
So finally, when we compete with LG and Samsung, LG has superior quality and thus wins the battle. But Samsung offers cheaper models with affordable prices which helps people to get the job done. Since every home needs a smart TV, people go for Samsung instead of more expensive TVs.
Here are some of the best-selling Samsung models on the market:
Also, Take a look at some of the best LG TV's available in today's market: