Television technology has expanded with OLEDs, which deliver transparent display quality, brighter color transformations, better viewing angle, lower energy consumption, and faster refreshing rate.
LG has launched a worth-buying C-series that boasts OLED technology. You might be wondering which one's the best from this sequence.
Thus, we brought this blog to discuss LG C9 vs CX!
Differences Between LG C9 & CX
These TV sets are equally excellent in performance but come with some differences. In this section, I will discuss each product individually by highlighting major features which scored differently, and after reviewing both, we'll decide which one is better and why. So please don't skip the part, and let's begin!
LG C9 – Review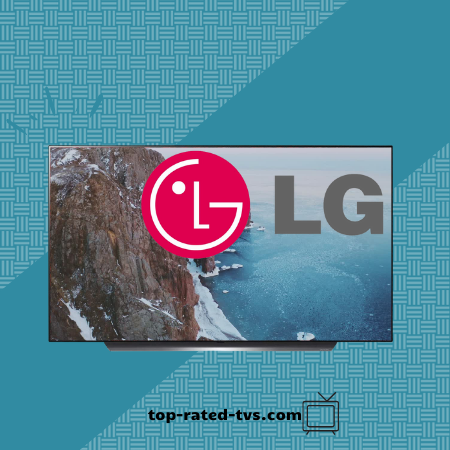 Available on Amazon
There is no doubt that the LG G9 is one of the superlative OLED TVs. The OLED panel installed in this device offers astonishing black coupling with a definite contrast ratio which provides a broad angle to viewers.
As compared to CX, it has a brighter display which makes it more appropriate for home theaters. These are the main two advantages I noticed in this model. Let's move on to each minor specification.
Design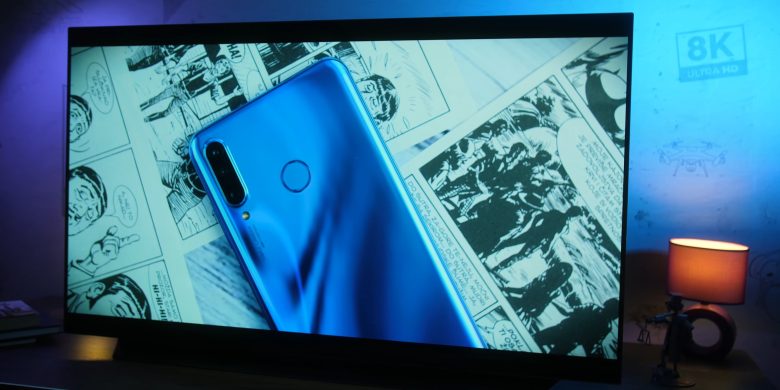 The build quality is quite impressive as it is a top-notch model. LG C9 model is an upgraded version of the LG C8, so it looks pretty similar to its predecessor in terms of design except for some minor variations.
Overall, the TV has an aesthetic, thin black body, thanks to the OLED panel. It is composed of mixed solid and metal plastic and feels very durable. The shape is flat, which looks astonishing and modified as compared to previous models with curvy backs.
Inputs or Ports
It comes with a panel located at the side, which houses three HDMI ports, including HDMI ARC and one USB input. While on the back of the TV, there are two more USB ports, another HDMI input, the Tuner cable port, and more.
These ports are almost similar on TV sets under this range. The best thing is that LG also includes a headphones port, which is an appreciable addition as many premium models lack this offer.
Display and Brightness Level
The display of C9 is the best I've ever seen! Trust me, the quality of the picture is live proof that this is a leading model. By all means, OLED plays its role in providing the supremacy display with the correct ratio of brightness and darkness levels.
The C9 features 830 brightness nits emitted from the panel. A nit refers to the candela per square meter that is roughly defined as light-emitting. In other words, a more significant number of nits is equal to high brightness levels.
On an average scale, TVs have 600 nits that deliver satisfactory results. But, fortunately, C9 is a flagship device with 830 nits which brings immensely better HDR performance.
LG CX – Review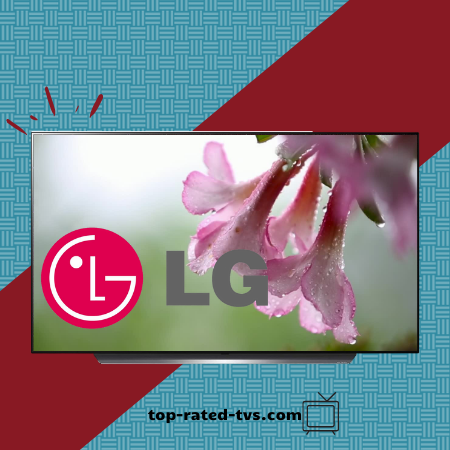 Available on Amazon
The LG CX is unquestionably the excellent TV to have at a reasonable price range. In terms of display and picture quality, this device is as great as its predecessors. It also boasts OLED technology which supports supreme picture quality and color transformation. Besides, it has some variances compared to the LG C9, so we have to drag this conversation towards the features to highlight each aspect.
Design
The design is identical to LG C9; however, the silver metal at the backside is a little darker than LG C9. Comprehensively, it features a flat black body with thin bezels that look contemporarily beautiful. However, you'll need a large bench to place this TV, especially if you bought a 65 or 75 inches set.
Inputs or Ports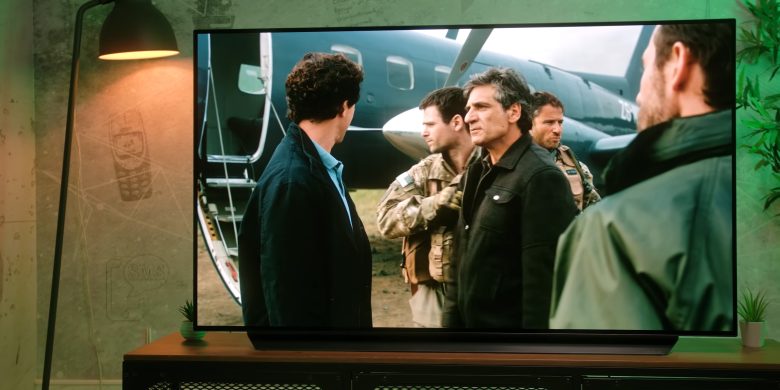 As far as connections go, there is no significant difference in this regard. Both have the same number of ports located at the same positions. The four HDMI ports were advertised to uphold HDMI 2.1 in these two TV models, but CX is testified to bound the bandwidth to 40 Gbps while the C9 can support the total 48 Gbps bandwidth.
Display and Brightness Level
The display of CX is substantial and perfect but not more than C9. I experienced a little less picture clarity than that of C9, maybe because of the price difference. Though, CX is a front-runner model and features an excellent brightness level that is fine with viewers. Technically, it comes with 820 nits brightness which is a little lower than C9 but visually, you can't feel any significant difference.
Picture Performance: Comparing LG C9 and LG CX
The picture performance of both the LG C9 and LG CX is exceptional, thanks to the OLED technology that offers perfect black levels, infinite contrast ratio, and wide color gamut. However, the C9 has a slight edge when it comes to display quality, providing a slightly higher peak brightness of 830 nits compared to the CX's 820 nits.
This difference, although small, can contribute to a more vibrant and detailed HDR performance on the C9. Both models support HDR10, Dolby Vision, and HLG formats, ensuring compatibility with a wide range of content.
Sound Quality: How Do the LG C9 and LG CX Stack Up?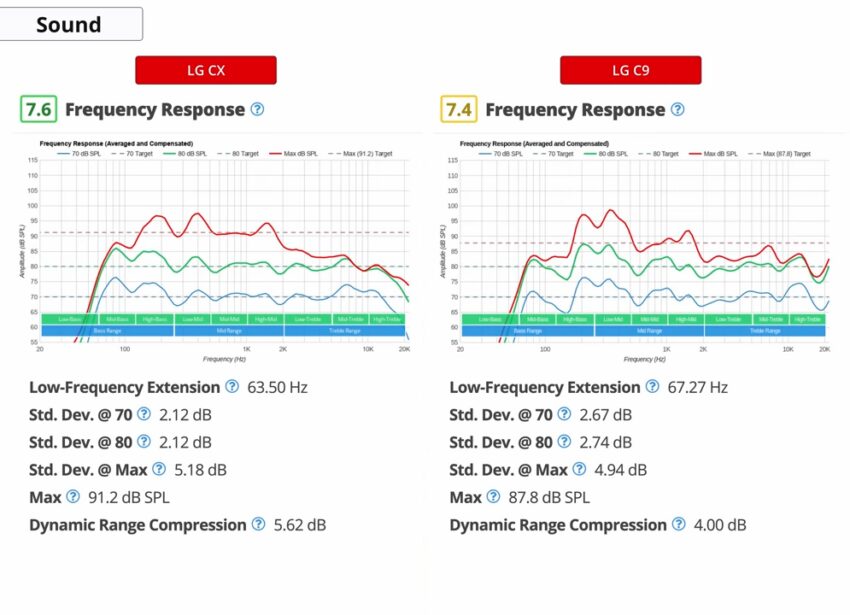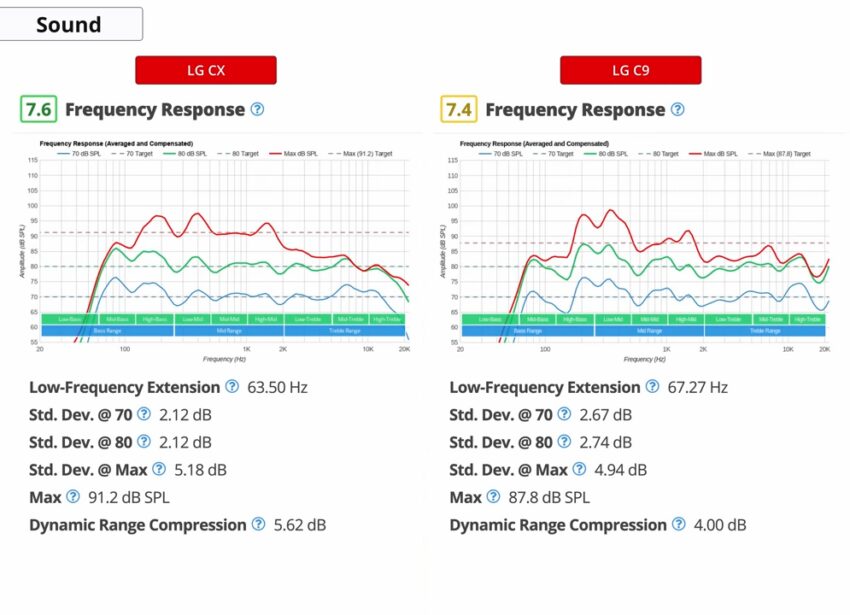 Both the LG C9 and LG CX come with built-in speakers that deliver decent sound quality for most casual viewing experiences. However, for a more immersive audio experience, it is recommended to invest in an external sound system or soundbar.
The C9 features a 2.2 channel speaker system with 40 watts of total output power, while the CX has a 2.2 channel speaker system with 20 watts of total output power. Both models support Dolby Atmos, allowing for a more immersive and spatial audio experience when connected to a compatible sound system.
Gaming Performance: Input Lag and Responsiveness for Gamers
Gamers will find both the LG C9 and LG CX to be excellent choices for gaming, thanks to their low input lag and fast response times. The C9 boasts an input lag of around 13ms in Game mode, while the CX has a similar input lag of around 14ms.
Both models support HDMI 2.1 features such as Variable Refresh Rate (VRR) and Auto Low Latency Mode (ALLM), enhancing the gaming experience by reducing screen tearing and providing a smoother gaming experience. The C9 has a slight advantage in terms of HDMI bandwidth, supporting 48 Gbps compared to the CX's 40 Gbps.
Smart TV Features: Exploring the WebOS Platform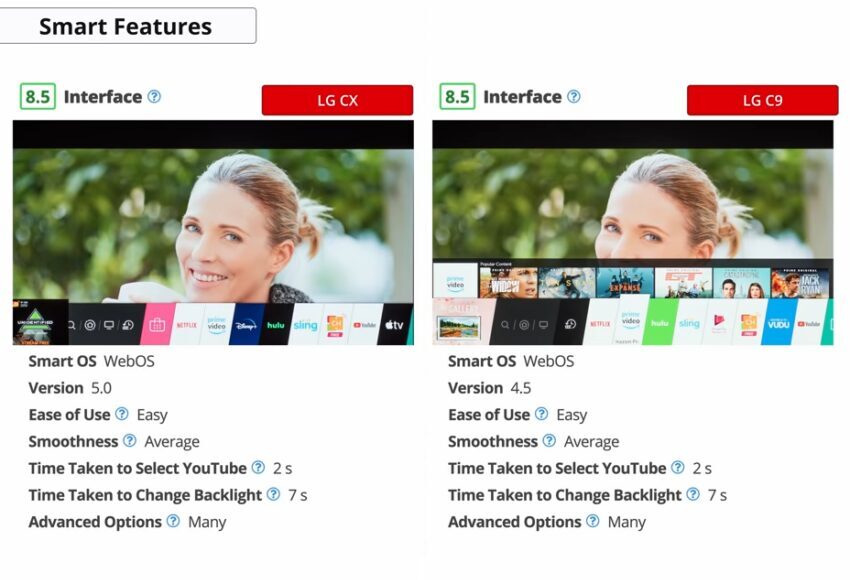 Both the LG C9 and LG CX utilize LG's WebOS smart TV platform, which provides an intuitive and user-friendly interface for accessing a wide range of apps and streaming services. The platform offers popular apps like Netflix, Amazon Prime Video, Hulu, and YouTube, among others.
The WebOS platform also supports LG's ThinQ AI technology, allowing for voice control and integration with other smart home devices. Both models feature a built-in web browser and support for screen mirroring via Miracast.
Price Comparison
The LG C9 is typically priced higher than the LG CX due to its superior display performance and higher peak brightness. However, the CX offers a more budget-friendly option while still delivering exceptional picture quality and features. It is essential to consider your budget when deciding between the two models, as the price difference may not be justified for some users given the relatively small difference in performance.
User Reviews
Customers who have purchased the LG C9 and LG CX have generally been extremely satisfied with their purchase, praising both models for their stunning picture quality, user-friendly interface, and sleek design. Some users have noted that the C9's higher peak brightness and better color accuracy make it worth the extra investment, while others find the CX to be more than adequate for their needs. A few users have reported issues with burn-in on both models, but this is relatively rare and can be mitigated with proper usage habits. Overall, both the LG C9 and LG CX have been well-received by users, earning high ratings and positive feedback.
Which One Is Better – LG C9 vs LG CX?
The LG C9 has a more refined display with a better color gamut and a broad view angle, making it more suitable for gaming or movies, etc. It gives improved brightness peaks with quality visuals.
Also, the ear -infinite ratio is incomparable in this model. However, there is a risk of burn-in!
With the flip of a coin, we had a CX model! It is also a top-notch product that possesses an excellent response cycle and has perfect blacks. It also offers a wide view angle which makes it an appropriate choice.
Besides, you might not find it suitable in a highly bright room because of its slightly lower brightness.
In a nutshell, I must say that C9 is the winner of this battle based on few facts. But, CX was also equally competitive and on balance. If you're not tight on your pocket and want to enjoy a picture on a large OLED panel, then you should go for LG C9. Otherwise, LG CX is the best alternative.
FAQs
Is it worth getting LG CX?
Yes! If you're looking for better picture quality at a better price, there is no fit except LG CX. It comes in an astonishing design and features an OLED panel that is class-leader!
I found it great for watching movies, series, daily use, or even gaming. It is available in 45, 55, 65, and 75 inches.
Is the LG C9 good for gaming?
In the context of gaming performance, LG C9 is a great survivor. It features a 21.2 ms lag time, one of the highest response periods I've ever seen on a TV. The device also supports HDMI input, USB port, and headphones input, making it an ideal choice for gaming.
How long will an OLED TV last?
OLED TVs are winners in today's television market. LG is a top brand that manufactures the most acceptable OLED devices (C series) in the sequence. The company has stated that the lifespan of an OLED TV is more than 30K hours which is approximately equal to a screen time of three hours per day for about 27 years.
Final Verdict
Summing up, both LG OLED TVs belong to the same series but boast minor differences which impact individual performances. In the blog, I've mentioned my remarks on both with the supported facts and figures.
LG C9 is a conqueror in features but is pricier than CX. I hope that this information will assist you in better understanding to make a good decision.
Happy TV Screening!