After a long day of work, there's nothing quite like kicking back and immersing myself in the world of television. It's not just the easiest form of entertainment, it's also a portal to countless stories, characters, and realms. Plus, it's a gamer's best friend, providing a canvas for epic battles, high-speed races, and immersive adventures.
Now, if you're on the hunt for the best 43-inch smart TV, chances are you're not trying to outfit a sprawling living room.
Maybe it's a snug bedroom or a kitchen that's calling for a touch of tech. It means you'll need to measure your viewing distance accurately (because squinting at your favorite show or missing a crucial game move is no fun). So, let's navigate the galaxy of 43-inch smart TVs together and find the perfect fit for your space.
1. LG OLED evo C2 Series 4K Smart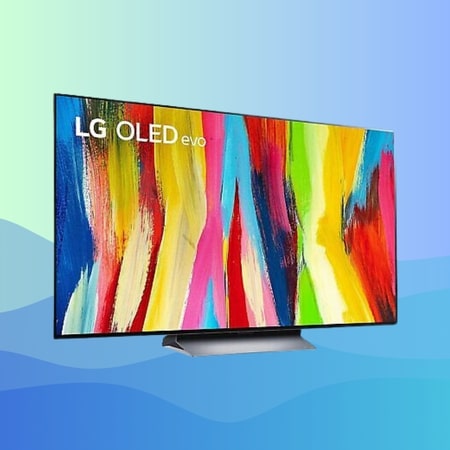 Check on Amazon
Check on BestBuy
Check on LG
In my journey through the vast world of 43-inch TVs, I've found a clear standout: LG OLED evo C2 Series 4K Smart TV. Its 4K OLED display is nothing short of magnificent, transforming any room into a personal movie theater. 
Watching any content, be it the latest films or engaging in intense gaming, is a sublime experience thanks to its 120Hz refresh rate, which serves up scenes with unparalleled fluidity.
But what sets this TV apart isn't just its eye-catching visuals. It's also an all-in-one entertainment center, made user-friendly by the integrated webOS, allowing seamless navigation across various streaming platforms. And with Bluetooth and Wi-Fi functionalities, connecting to other devices has never been easier.
To sum it up, this TV is the epitome of what style, tech performance, and smart features should look like in harmony. Having been a tech enthusiast for years, I can vouch that this TV truly raises the standard for others in its category.
| Features | Specifications |
| --- | --- |
| Screen Size | 42 inches |
| Display Type | OLED |
| Resolution | 4K (3840 x 2160) |
| Refresh Rate | 120Hz |
| Smart TV | Yes |
| Operating System | webOS Smart TV |
| Processor | α9 Gen5 AI Processor 4K |
| RAM | 2GB |
| Storage | 16GB |
| Bluetooth | Yes (V5.0) |
| Wi-Fi | Yes |
| Ports | HDMI: 4, USB: 3, LAN: Yes, Digital Audio Out (Optical): Yes, Headphone Out: Yes |
| Dimensions | With Stand: 932 x 577 x 170 mm, Without Stand: 932 x 540 x 41.1 mm |
| Weight | With Stand: 9.3 kg, Without Stand: 9 kg |
Pros
Stunning OLED picture quality
α9 Gen 5 AI Processor 4K
Filmmaker Mode with Dolby Vision IQ
Enhanced gaming with NVIDIA G-SYNC
Sleek design with wall-mount option
Cons
RWBG subpixel layout for text
TV stand sold separately
2. SAMSUNG 43 inch M70B Series 4K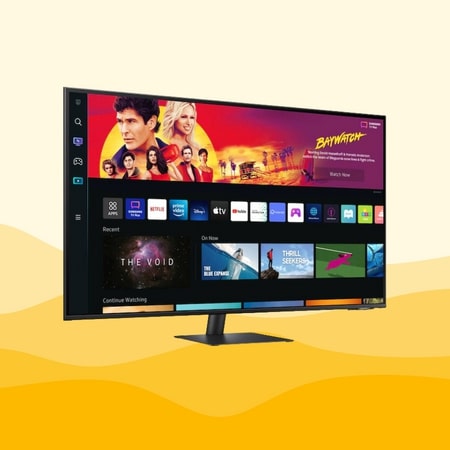 Check on Amazon
Check on PlanetsHoup
Check on BestBuy
Having recently acquired the Samsung 43″ M70B 4K UHD Smart Monitor, I must admit I've been thoroughly impressed. The 4K UHD resolution is a game-changer, offering exceptional clarity and vibrancy. Every image is rendered with precision, and movies have never looked better on a screen of this size.
But the standout feature for me is its dual functionality as a smart TV. Being able to switch between work presentations and my favorite Netflix shows without any additional devices is sheer convenience. The integration of voice assistants like Bixby and Amazon Alexa adds an edge, making navigation and control effortless.
The USB Type-C port is a blessing for seamless connectivity and the Ultrawide Game View. A real treat for the gamers out there. It's evident that Samsung has gone the extra mile with this one, ensuring it's not just another monitor but a comprehensive hub suitable for diverse needs. Kudos to their innovation!
| Features | Specifications |
| --- | --- |
| Screen Size | 43 inches |
| Display Type | 4K UHD |
| Resolution | 3840 x 2160 (4K) |
| Refresh Rate | 60Hz |
| Smart TV | Yes |
| Operating System | Tizen |
| Bluetooth | Yes (V5.0) |
| Wi-Fi | Yes |
| Ports | 2 x HDMI, 3 x USB (including USB-C), Ethernet |
| Dimensions | 38.1 x 22.2 x 7.8 inches (with stand) |
| Weight | 26.7 lbs (with stand) |
Pros
4K UHD with HDR10 support
Built-in Smart TV features
PC-less productivity options
Integrated SlimFit camera
IoT Hub for smart home control
Cons
Requires specific setup sequence
Some Bluetooth connectivity issues
3. SAMSUNG MU6300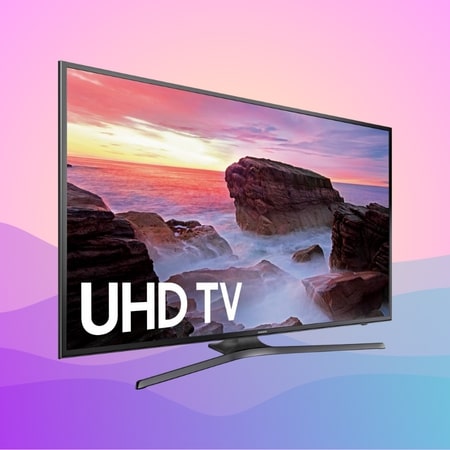 Check on Amazon
Check on PlanetsHoup
Check on Walmart
I've recently tested the SAMSUNG 55-inch MU6300 TV, and it performed on a very high level. The 4K resolution is a game-changer, offering four times the pixels of Full HD. This means that every detail, whether it's in a movie or a video game, is incredibly sharp and clear. The difference is genuinely noticeable, especially when compared to my old TV.
The color quality is another standout feature. The display produces vibrant and pure colors, making everything look more lifelike. Watching nature documentaries or colorful animated films is a treat, as the colors pop and make the viewing experience more immersive.
The supported internet services are a bonus. With built-in apps like Netflix, Hulu, and Amazon Instant Video, I've found myself binge-watching more than ever. The inclusion of a browser also means I can surf the web without needing to switch devices.
One of the most convenient features has to be the OneRemote. It automatically detects and controls all connected devices, eliminating the need for multiple remotes or manual programming. This has simplified my entertainment setup considerably.
For those who enjoy fast-paced action movies or sports, the Motion Rate 120 ensures smooth playback. I've watched several action-packed films and never noticed any lag or stutter, which is a testament to the TV's performance.
However, potential buyers should note the differences between the MU6300 and the MU630D models. I opted for the MU6300 due to its black cabinet and slightly higher HDR sustained brightness (450 nits). The contrast, labeled as "Mega Dynamic Contrast," is fantastic, making dark scenes richer and more detailed.
The SAMSUNG 55-inch MU6300 TV has been a fantastic addition to my living room. From its stunning 4K resolution to its user-friendly features, it offers a premium viewing experience. Highly recommended for anyone looking to elevate their home entertainment setup.
| Features | Specifications |
| --- | --- |
| Brand | Samsung |
| Model | MU6300 (UN43MU6300) |
| Display Type | LED |
| Screen Size | 43 inches |
| Resolution | 4K Ultra HD (3840 x 2160 pixels) |
| Refresh Rate | 60 Hz |
| Smart TV | Yes |
| Processor | Quad-core |
| Connectivity | Wi-Fi, Ethernet, Bluetooth, HDMI, USB, RCA, Optical Audio |
| Dimensions (without stand) | 38.4″ x 22.4″ x 2.3″ |
| Weight (without stand) | 19.6 lbs |
| Warranty | 1 year |
Pros
4X more pixels than Full HD
Vibrant and pure color display
OneRemote controls all devices
Smooth action with Motion Rate 120
Supports popular internet services
Cons
Requires manual check for device compatibility with OneRemote
4. TCL S405

Check on Amazon
Check on DvaSata
Check on TCL
From the moment I powered on the TCL 55S425, I was greeted with visuals that redefine clarity. The Ultra HD picture, when paired with the high dynamic range (HDR), delivered unmatched sharpness and detail. Even my collection of older content seemed to be given a new lease of life, thanks to the 4K Creative Pro upscaling. The visuals weren't just enhanced; they felt reborn.
The built-in Roku platform transformed my viewing habits. With a vast library of over 450,000 streaming options ranging from movies to TV episodes, my entertainment options felt limitless. Coupled with the dual-band Wi-Fi and Ethernet port, my streaming sessions were smooth, uninterrupted, and truly immersive.
One cannot overlook the genius of its interface. Shifting between my Blu-ray player, streaming services, gaming console, and other devices felt fluid and hassle-free. The simplicity of the TCL 55S425's design ensures that you spend less time navigating and more time enjoying.
This TV served as an exceptional centerpiece in my living room. With its impressive array of features combined with its user-centric design, it's a top recommendation for anyone aiming to upgrade their entertainment setup. Whether a tech aficionado or just someone seeking a richer viewing experience, this TV has something for everyone.
| Feature | TCL S405 (43S405) |
| --- | --- |
| Screen Size | 43 inches |
| Resolution | 4K Ultra HD (3840 x 2160) |
| Refresh Rate | 120 Hz CMI |
| Smart TV | Yes |
| Dimensions (W x H x D) | 38.3 x 22.2 x 2.9 inches |
| Weight | 16.6 lbs |
| HDMI Ports | 3 |
| USB Ports | 1 |
| Wireless Connectivity | 802.11ac Dual-band Wi-Fi |
| Remote Control | Standard Roku remote |
Pros
Stunning 4K UHD resolution
High Dynamic Range (HDR) technology
Seamless access to 500,000+ streaming channels
Simple, intuitive Roku interface
Built-in dual-band Wi-Fi and Ethernet
Cons
Limited to 3 HDMI inputs
Requires external speakers for better audio
5. Samsung UN40J5200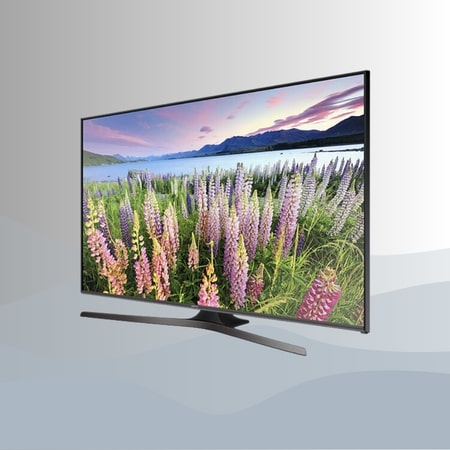 Check on Amazon
Check on PlanetsHoup
Check on Samsung
The Samsung UN40J5200 truly stands out as a premier choice for those in search of a top-tier 43-inch smart TV, and I've had a blast testing it. Straight from the unboxing, this model ensures you're fully equipped to dive into a world of streaming, offering seamless access to popular platforms like Hulu, Prime Video, and Netflix.
The Wi-Fi connectivity process is smooth, and the added feature to connect a Galaxy smartphone for screen mirroring is notably useful for photo and video sharing.
The sound experience is a definite highlight, with the Dolby DTS Premium Sound 5.1 ensuring movies and music come to life in a surround sound ambiance, thanks to its dual 10-watt speakers. And as someone who has multiple devices, the Anynet+ remote control is a godsend. It's refreshing not to juggle various remotes for different gadgets; this one does it all.
However, what truly captures the essence of a luxurious viewing experience is the full-array LED screen. The Eco Sensor technology is innovative, automatically adjusting the TV's brightness based on the room's ambient light. This ensures optimal visuals, whether you're watching in broad daylight or a dimly lit room.
The Samsung UN40J5200 is not just a TV; it's an experience. Whether you're a movie buff, a binge-watcher, or just someone who appreciates quality, this model delivers on all fronts.
| Features | Specifications |
| --- | --- |
| Display Size | 40 inches |
| Resolution | 1920 x 1080 pixels |
| Display Type | LED |
| Refresh Rate | 60Hz |
| Smart TV | Yes |
| Dimensions (W x H x D) | 36.3 x 20.6 x 2.3 inches |
| Weight | 16.3 lbs |
| HDMI Ports | 2 |
| USB Ports | 2 |
| Audio Output | 20W |
Pros
Full HD 1080p resolution
Built-in Wi-Fi and Smart TV technology
Motion Rate 60 for clear moving pictures
Wide Color Enhancer for enriched colors
Eco Sensor for efficient energy use
Cons
Browser navigation can be slow
Screen mirroring occasionally problematic
6. Vizio M437-G0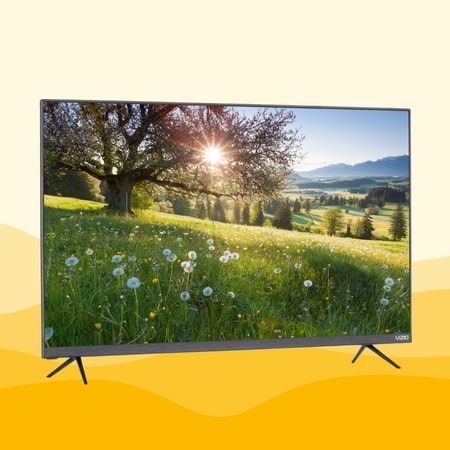 Check on Amazon
Check on PlanetsHoup
Check on Vizio
I've recently tried out the 2019 M437-G0 Quantum Vizio M7 Series firsthand, and it is safe to say that it delivers solid performance across various content types. Its 43-inch VA panel boasts a remarkable contrast ratio, producing profound blacks, especially in dim settings. This makes night-time viewing an absolute treat.
For those concerned about daylight interference, the TV's peak brightness efficiently tackles glare in well-lit rooms. However, when it comes to HDR content, the brightness could've been a tad higher to enhance those specular highlights. A noteworthy feature is its commendable color accuracy straight out of the box, making your visuals pop without the need for adjustments.
Sports and action movie enthusiasts will appreciate the TV's rapid response time. Scenes with swift motions are displayed with clarity, and there's even an optional black frame insertion to further diminish motion blur. Gamers will find the ultra-low input lag an absolute delight, although the 60Hz limitation and lack of variable refresh rate technology may be minor setbacks for some.
One area where this model could improve is the viewing angles, typical of many VA panels. For cozier setups, it's perfect, but for spacious rooms with wider seating, some viewers might find the visuals lacking from certain angles.
All in all, the 2019 M437-G0 Quantum Vizio M7 Series is an impressive 43-inch smart TV that delivers more than what you'd expect from its size and price range.
| Features | Vizio M437-G0 |
| --- | --- |
| Screen Size | 43 inches |
| Resolution | 4K Ultra HD (3840×2160) |
| High Dynamic Range (HDR) | Yes, Dolby Vision, HDR10, HLG |
| Refresh Rate | 120Hz |
| Smart TV | Yes, VIZIO SmartCast with built-in Chromecast |
| Inputs | 4 HDMI, 1 Component, 1 Composite, 1 Ethernet, 1 USB |
| Speaker System | 2 x 10W |
| Dimensions (W x H x D) | 38.39″ x 24.21″ x 8.27″ (with stand) |
| Weight | 20.94 lbs (with stand) |
Pros
4K Ultra HD resolution
Supports AirPlay and Chromecast
Dolby Vision HDR enhancement
Voice control with Apple HomeKit
2.1 input for gaming
Cons
Limited built-in app selection
Requires external speakers for best audio
If you want to use it as a large screen, this TV can display chroma 4:4:4 properly and its SmartCast interface is easy to use, though it can sometimes be rather laggy.
7. LG 43UM7300PUA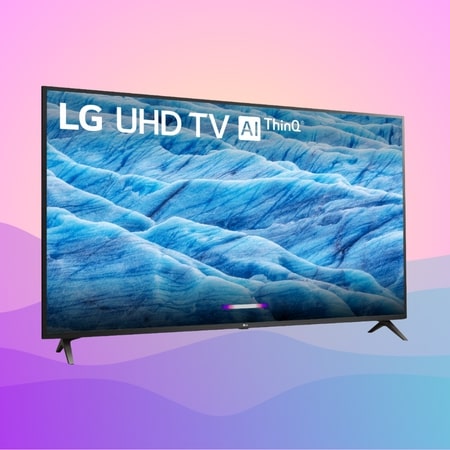 Check on Amazon
Check on DvaSata
The LG 55UM7300PUA is a TV unit that showed solid performance and feature-packed offering throughout my testing. The 4K resolution is crisp, presenting images with stunning clarity and detail. The 4K ACTIVE HDR is impressive, making scenes more lifelike with an evident improvement in color and contrast.
One of the standout features is the IPS 4K display. The wide viewing angle is a game-changer; colors stay true and vibrant even when viewed from a 60-degree angle. This means that almost every spot in your living room becomes the best seat to watch.
The Quad Core Processor is evidently at work here, making images sharper and colors more accurate. Motion blur and video noise, common nuisances in some TVs, are nearly non-existent, making it ideal for fast-paced action movies and sports.
The integration of LG THINQ, Google Assistant, and Alexa brings a level of convenience that's hard to match. Voice commands are responsive, and the AI-driven features add a layer of interactivity that's genuinely futuristic. With the award-winning WEBOS, navigating through content becomes a delightful experience. As an Apple user, I also appreciate the inclusion of Airplay 2, allowing for seamless casting from my devices.
Connectivity options are abundant with Wireless, Bluetooth, USB, Ethernet, and HDMI. The TV set-up was straightforward, aided by the included Quick Start Guide, and the remote control is intuitive to use.
The LG 55UM7300PUA offers a blend of remarkable picture quality, smart features, and wide viewing angles. It's an excellent choice for anyone looking to elevate their TV-watching experience.
| Features | Specifications |
| --- | --- |
| Brand | LG |
| Model | 43UM7300PUA |
| Display Type | LED |
| Display Size | 43 inches |
| Resolution | 3840 x 2160 pixels |
| Refresh Rate | 60Hz |
| Smart TV | Yes |
| Operating System | WebOS |
| Processor | Quad-Core Processor |
| Audio | DTS Virtual:X |
| Connectivity | Wi-Fi, Bluetooth, Ethernet, HDMI, USB |
| Dimensions (with stand) | 38.5″ x 24.8″ x 8.5″ |
| Weight (with stand) | 18.5 lbs |
| Price | $349.99 |
Pros
Integrated Alexa and Google Assistant
4K Active HDR for realistic images
Quad Core Processor for sharp visuals
Wide viewing angle with IPS 4K
Ai-based entertainment with WebOS
Cons
Remote control could be better
Plastic stand might feel unstable
Buyer's Guide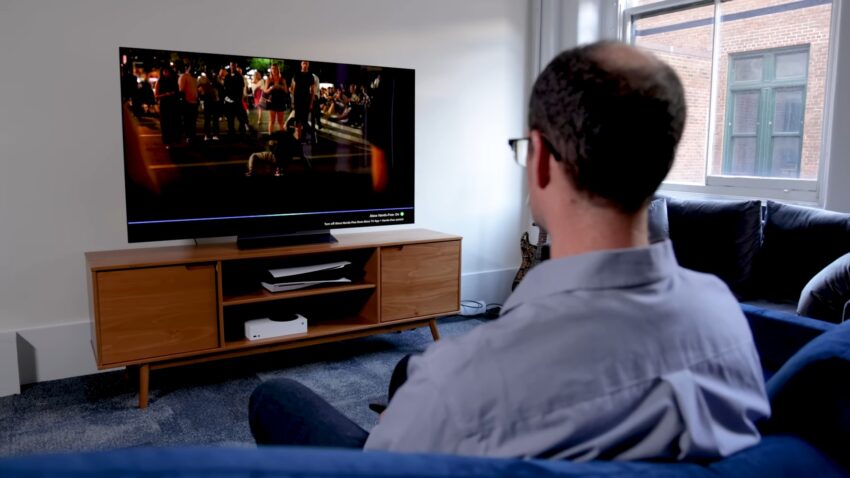 When considering the purchase of a Smart TV, there are several factors to take into account to ensure you get the best value and performance for your needs.
Here are some key considerations:
Resolution:
Full HD (1080p): Suitable for regular TV watching and some streaming.
4K UHD (2160p): Offers four times the resolution of Full HD, ideal for streaming high-quality content and gaming.
HDR (High Dynamic Range): Enhances the contrast and color of the picture. Look for TVs that support HDR10, Dolby Vision, or both.
Refresh Rate:
60Hz: Standard for most content.
120Hz or higher: Better for fast-action scenes, like sports or action movies, and gaming.
Smart Platform: Different TVs come with different operating systems like Roku, Android TV, Tizen (Samsung), or webOS (LG).
Connectivity:
HDMI Ports: Ensure there are enough ports for your devices, like gaming consoles, Blu-ray players, and soundbars.
Wi-Fi & Ethernet: For stable internet connections.
USB Ports: Useful for playing media from flash drives.
Audio: Consider the TV's built-in speakers and whether they'll suffice or if you'll need an external sound system or soundbar.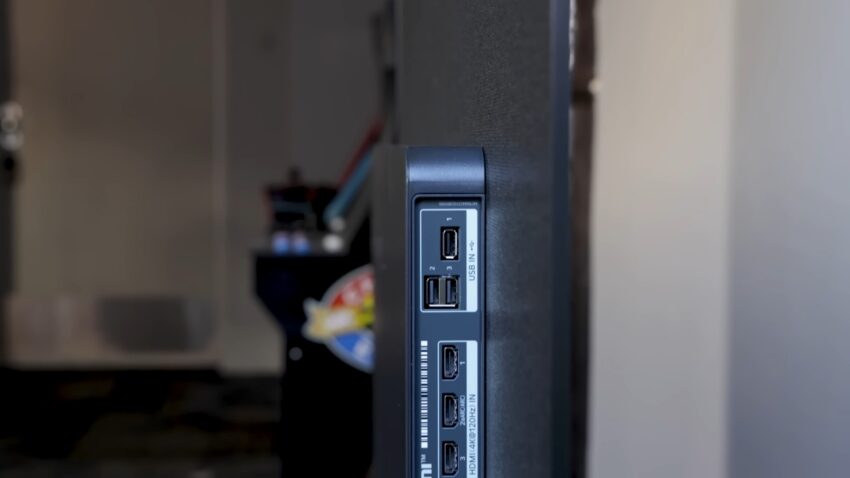 Design & Placement:
Bezels: Slimmer bezels offer a more modern look.
Stand: Ensure it fits on your TV unit, or consider wall-mounting.
VESA Mount Compatibility: If you plan to wall-mount, check for VESA specifications.
Voice Control & Assistants: Some TVs come with built-in voice assistants like Google Assistant, Alexa, or Bixby.
Additional Features:
Gaming Mode: Reduces input lag for a better gaming experience.
Ambient Mode: Displays art or information when the TV is not in use.
Built-in Chromecast or AirPlay: For easy content casting from mobile devices.
TV Viewing Distance Size Chart
When it comes to setting up your TV, size isn't the only thing that matters. The distance between you and your screen plays a crucial role in the quality of your viewing experience. Why, you ask? Well, it all boils down to one word: immersion.Imagine being at the cinema.
The screen fills your field of view, drawing you into the action, making you feel like you're a part of the story unfolding before your eyes. That's immersion. And it's this immersive experience that we all crave when we sit down to watch our favorite shows or movies.But how do you achieve this at home?
By ensuring your viewing distance is just right. This isn't about hardware or software, but about maximizing the potential of your TV to deliver the best possible experience.So, if you're in the market for a 43-inch smart TV, you'll want to position your couch or chair around 6.5 feet (or nearly 2 meters) away from your screen.
| | |
| --- | --- |
| TV Size | Viewing Distance |
| 32″ | ~5.0 feet / 1.5 m |
| 40″ | ~5.5 feet / 1.6 m |
| 43″ | ~6.5 feet / 1.9 m |
| 50″ | ~7.0 feet / 2.3 m |
| 55″ | ~8.0 feet / 2.4 m |
| 60″ | ~8.5 feet / 2.5 m |
| 65″ | ~9.0 feet / 2.7 m |
| 70″ | ~9.5 feet / 2.9 m |
| 75″ | ~12.0 feet / 3.6 m |
What Do TVs Cost in 2023?
Navigating the world of TV pricing in 2023 can feel a bit like a game of Goldilocks and the Three Bears. Some TVs might seem too cheap, others too expensive, and then there are those that are just right.
To help you make sense of it all, we've broken down the pricing spectrum into three categories, each represented by a different color on our handy graph.
Yellow represents those deals that seem too good to be true – and often, they are. These TVs are typically priced at the lower end of the scale, and while they might be kind on your wallet, they often lack the features or performance of their more expensive counterparts.
Green is the sweet spot. These TVs are priced reasonably for the features they offer, striking a balance between cost and quality. If you find a 43-inch TV within this price range, you're likely getting a good deal.
Red, on the other hand, signifies overpriced TVs. These models don't offer significantly better features to justify their higher price tags, and often, you're paying a premium for the brand name, like Sony or Samsung.
It's important to remember that the dynamics of TV pricing change as you move from smaller to larger screen sizes. Smaller TVs, like the 43-inch models we're focusing on, don't offer as wide a range of features, and their manufacturing costs are lower.
This results in less competition and lower prices overall. So, if you're in the market for a TV under 50 inches, expect it to be a mid-range model in terms of both price and features.
FAQ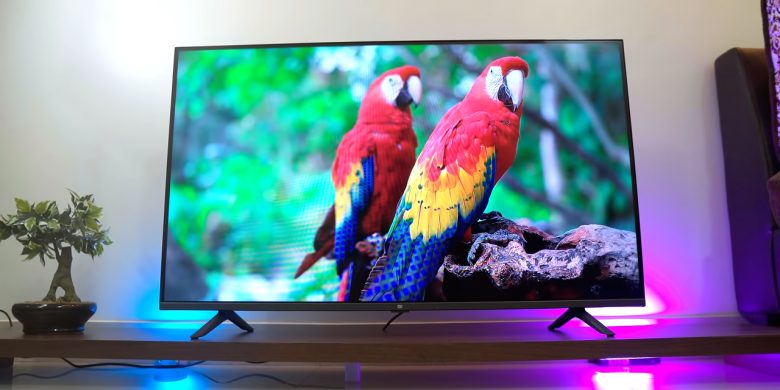 Do all 43-inch smart TVs support HDMI 2.1?
Not all 43-inch smart TVs support HDMI 2.1. While this feature is becoming more common, especially in higher-end models, it's not a standard feature across all TVs. Always check the specifications before purchasing.
Which streaming apps are typically available on 43-inch smart TVs?
Most 43-inch smart TVs come with a variety of pre-installed streaming apps. These typically include popular services like Netflix, Amazon Prime Video, Hulu, Disney+, and YouTube. The exact selection can vary depending on the TV's operating system.
Can you table mount a 43-inch TV?
Yes, most 43-inch TVs can be table-mounted. They usually come with a stand included, but you can also purchase a separate table mount if you prefer. Always check the TV's specifications for compatibility with different types of mounts.
What is the refresh rate on a TV?
The refresh rate of a TV refers to the number of times the screen updates its image per second. It's measured in hertz (Hz). A higher refresh rate (like 120Hz or 240Hz) can result in smoother motion, which is particularly beneficial for fast-paced content like sports or action movies.
What are HDR and HDR10+?
HDR stands for High Dynamic Range. It's a technology that allows TVs to display a wider range of colors and contrast, resulting in more realistic and vibrant images.
HDR10+ is a version of HDR that includes dynamic metadata, allowing the TV to adjust brightness levels on a scene-by-scene or even frame-by-frame basis for even better picture quality.
Are 43-inch smart TVs good for gaming?
The suitability of a 43-inch smart TV for gaming depends on its specific features. Look for a TV with a high refresh rate, low input lag, and gaming modes for the best experience. Some newer models also support HDMI 2.1, which can enhance gaming on compatible consoles.
Final thoughts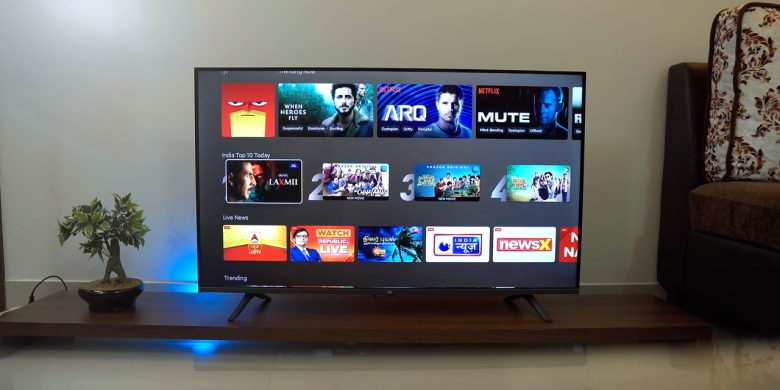 After extensive research and analysis of the market offerings, it is evident that the choices for 43-inch Smart TVs are vast and varied. Each brand brings its own unique strengths, technological advancements, and user experiences.
In the realm of 43-inch Smart TVs, factors like display quality, sound output, smart features, and overall performance become pivotal for an informed decision.
From a first-person perspective, I believe that the best 43-inch Smart TV will be the one that seamlessly blends high-definition visuals with impeccable audio, and integrates effortlessly with smart home ecosystems. It should provide a user experience that's intuitive and natural, ensuring that viewers can enjoy their favorite content without hassle.
As technology continues to evolve, it will be intriguing to see how the dynamics of the 43-inch category change. For now, it's essential to prioritize individual needs and preferences to arrive at the optimal choice.