Curved TVs claim to add a more interactive IMAX-like experience to your living room, but are they really up to the hype? While there is a lot of debate about them on whether or not there are any benefits to a curved TV and how they equate to their flat versions, most people will conclude that they're good and stylish.
If you want the best-curved TV, Samsung is the only major manufacturer still actively making them.
We have done some extensive work to decide which ones are still eligible for purchase and are worth buying. Below are the best-curved TVs to buy in 2023. See also our recommendations on best Roku smart TV, Best Budget TV, Best QLED smart TV, and Best OLED TV.
Best Picks to Buy in 2023
1. Best Curved TV – Samsung Q7CN Curved QLED TV (55-inch)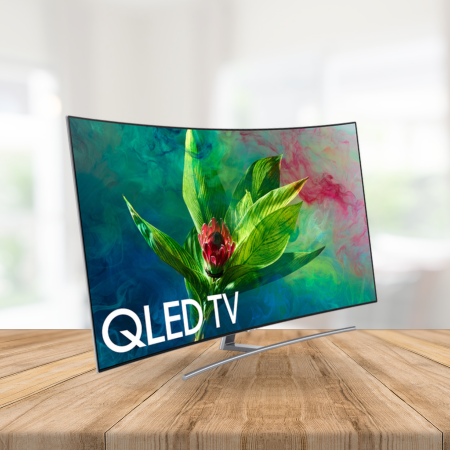 The curved TV panel of a Samsung Q7CN 4 K TV uses quantum dots for bright colors and outstanding contrast, and it's a perfect gamer's TV because of its excellent motion handling. This is the best-curved TV and has outstanding color efficiency and good HDR delivery, but there was a lack of contrast and local dimming capabilities.
The Q7CN operates Samsung's Smart Hub software, which provides a rich range of features, including the most popular video and audio streaming services. Sleek remote control and invisible connection cable round up the key features of the Q7CN series. This TV is available in 55-and 65-inch versions.
Samsung Q7CN is the best 4k QLED TV. It has decent picture quality and a wide range of color gamuts. The Samsung Q7CN has an attractive design and excellent build quality. It has a low input lag and comes with excellent gaming features which feel great for gamers. And is the best choice for gaming.
Unfortunately, when viewed at an angle, the image degrades, and only those directly sitting in the front will enjoy the best quality of the image.
Pros
Great gaming features including variable refresh rate support
Very wide color gamut
It can get very bright and easily overcome glare.
Cons
Image deteriorates when viewed at an angle
2. Samsung Class RU7300 Curved Smart 4K UHD TV (55-Inch)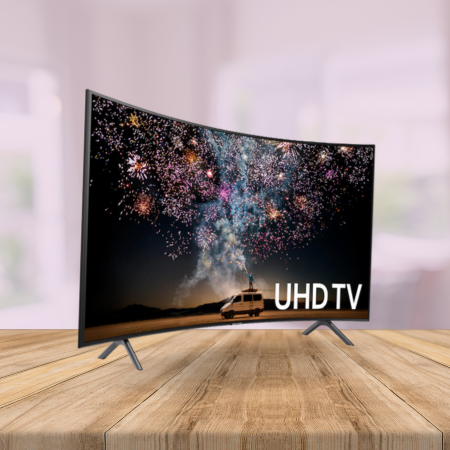 Samsung's RU7300 series shows that you don't need to destroy your savings credit to buy a 4 K TV. The RU7300 has decent picture quality, UHD upscaling, and connections to popular streaming platforms such as Netflix, Amazon Prime, and Hulu, among others. In any scenario, the RU7300 is the cheapest entry-level to own a 4 K curved Screen.
Samsung RU7300 is a decent Screen for most of its applications. It produces dark, uniform blacks, but it lacks a local dimming feature. In the SDR, it is light enough for most moderately-lit rooms and has good transparent handling.
It has an outstanding low input lag but does not help advanced game functionality, such as FreeSync. Unfortunately, it can't get bright enough for HDR to stand out the way it should, and can't display a wide color gamut.
Pros
Produces deep, uniform blacks.
Excellent low input lag.
Cons
Disappointing viewing angles.
Limited HDR performance.
3. Best 4k Curved TV: Samsung 7 Series 65-inch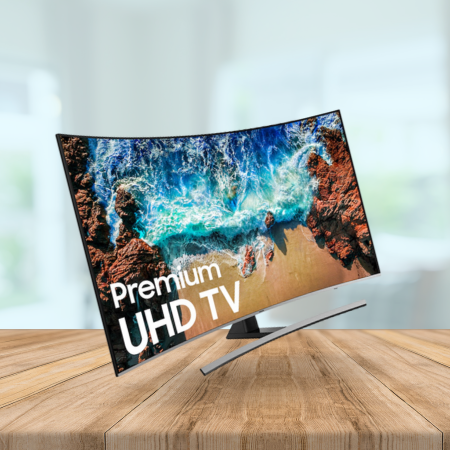 Everyone who wishes to have a more realistic watching experience will find the Samsung 7 Series of 4 K curved TVs. Check out the 65-inch model featuring a powerful 4K processor, HDR, and PurColor technology for the best level of display quality.
Although there are several high-performance TVs on the market in terms of picture quality, not all of them can equal the stylish impression given by the curved nature of this product. The stylish effect of the curved design is not just a display, because it helps the audience to make full use of the beautiful nature of the Screen.
Get yourself immersed in vibrant and lifelike scenes displayed in 4K quality. This unit features SmartThings for easy integration in a smart home and Alexa voice control compatibility.
4. Samsung 55NU8500 Curved 55″ 4K UHD 8 Series Smart LED TV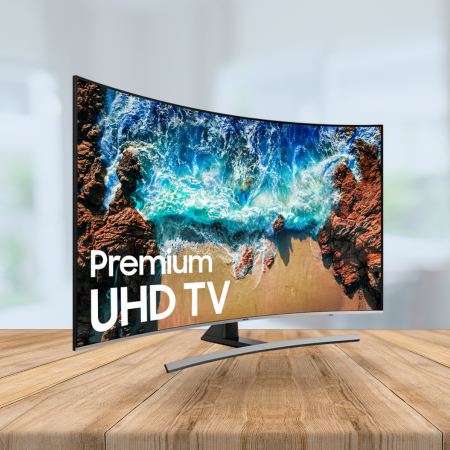 A 55-inch display that suits perfectly in almost any space due to its outstanding 4 K technology. As it lets you see better when you're sitting closer to the television, this is a TV that's good enough for almost any room. Not only can you get better efficiency, but you do get more flexibility, making this layout a really attractive choice.
The expanded array of colors displayed in this model is greatly improved with the 8 Samsung TV series. With this revolutionary color show technology, you'll feel deeper and more vivid colors and more tones and tints than you've ever seen.
The ultra-slim collection provides a more harmonic contrast between dark and bright spots. It keeps the bright spots more vibrant and the dark areas darker and deeper. The effect is a picture that is more realistic and lifelike than ever before.
Offering the highest refresh rate on the market, you'll enjoy watching your favorite sports team in action with a glass-clear image. No matter how things run on the screen, the 240Hz refresh rate helps the image stay super-smooth and crisp.
Pros
Great at handling motion
Supports FreeSync VRR for use with a PC or Xbox
Great brightness
Cons
Image degrades when viewed at an
5. Spectre Curved 55-Inch 4K Ultra HD TV – Best Buy curved TV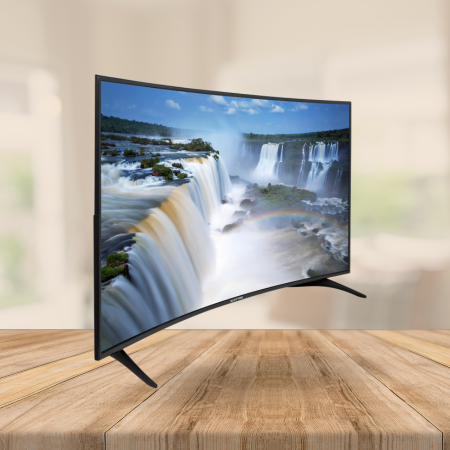 The technology is built to help you enjoy a drastically wide array of colors, much wider than any regular TV. With millions and millions of colors with different shades, you get an astonishing vibrant picture that makes watching TV more entertaining than ever. If you're looking for a curved TV that provides decent quality and a great bang for the buck, this is a model that's definitely worth considering.
The wide 55-inch design helps you see more details in every scene and every picture. Thanks to its ultra HD technology, you get 4 times more pixels than the regular standard HD. With such high pixel density, even the tiniest of details will be highly visible for you to see. You won't have to work about the display looking pixelated.
As this curved TV comes with 4 HDMI ports, you'll have the ability to connect up to 4 devices at once. The other 2 HDMI 2.0 port that is specifically designed for 4K quality on this model allow you to effortlessly stream 4K content and get the mesmerizing and capturing experience that you want.
Connect your mobile smartphone to the TV using the MHL port so you can easily access the media on your phone and much more. The limits of this TV are virtually limitless and the value for money is just too great to pass on.
Product Highlights:
120Hz refresh rate
65-inch display
Vibrant and breathtaking colors
6. Samsung Electronics QN65Q60AAFXZA 4K Ultra HD Smart LED TV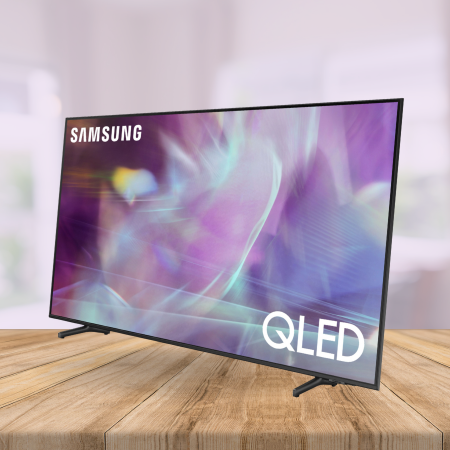 With this model's 4k color drive technology, you will experience colors in a whole new way. Through this model, you'll be able to see light shades and colors that you've never seen before. If you're one of the people who enjoy having an eye-popping color Screen, this is a setup you're going to notice.
Add a big 65-inch screen to that, and you've got a whole new viewing experience that brings you right into the scene. Thanks to its 4 K color drive, this curved screen provides a mind-blowing viewing experience.
Equipped with high dynamic range technology (HDR), it delivers more colors and offers more contrast than the regular 4K TVs. In addition to that, it is much brighter than similar curved TVs. The HDR technology is a key feature that adds more colors to your screen and distinguishes it from the regular 4K ultra HD ones.
The essential black pro offers much more details to the dark scenes, you get to experience the dim-lighted moments with a whole different sense of details that's truly immersive.
While the 120Hz refresh rate is not as strong as the 240, it is very nice to show nearly all action and moving scenes without any issues. However, if you are aiming for the fastest refresh pace, you will probably go for 240.
Pros
Screen Reflection is not severe
Low input lag in game mode
Black Uniformity is solid
Price/Value
Gaming Mode input lag (good TV for Gaming)
HDR Premium with Active Crystal Color for future proofing
Cons
60Hz TV, judder can be apparent with Automotion turned off, especially with lower-end resolutions
Automotion Plus "Telenovela" effect
Side Angle Viewing contrast and color saturation degrades
Local Dimming feature not effective
7. Samsung NU7100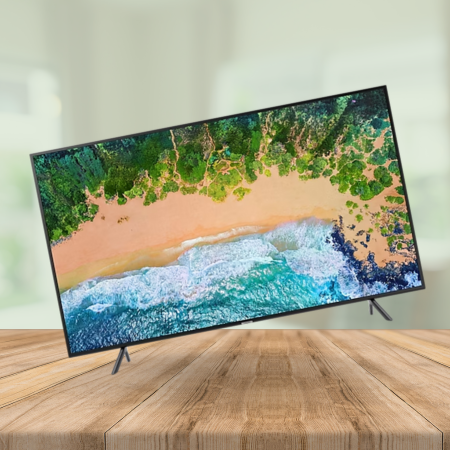 Samsung NU7100 is the best 4k TV that can be affordable for a good price. The Samsung NU7100 is a decent 4k TV with deep and uniform dark scenes. But when viewed from angles the image that appears on the screen degrades.
It has a decent picture quality, but it lacks the Smart features. Many advanced features come with higher-end models. The local dimming and wide color gamut is of low quality. The contrast ratio in this model is excellent, so if people watch the TV in dark rooms the images appear darker.
It has low input lag, so people who like to play games experience great picture quality. The motion handling and response time are very good.
The Samsung NU7100 is a decent 4k TV with a resolution of 1080p. It has an excellent sound quality model. The HD display is also very nice, but not as good as my previous model. The screen size is also pretty good, and I haven't seen any issues with it. The HDMI cable is great, but it's not as fast or reliable.
Its low input lag, good gray and black uniformity along with fast response time and the handling of popular inputs, make this TV good for most usages. It will, however, please more those who value low input lag and quick response time.
Pros
Can produce deep and uniform dark scenes
Feels very responsive
Aggressive price
Good smart platform
Pictures look good
Attractive curved design
Cons
Bad viewing angles
HDR performance is mediocre
Not very bright
The curved screen seems pointless
Some backlight distractions.
8. Best Buy Curved TV – Samsung electronics QN65Q8C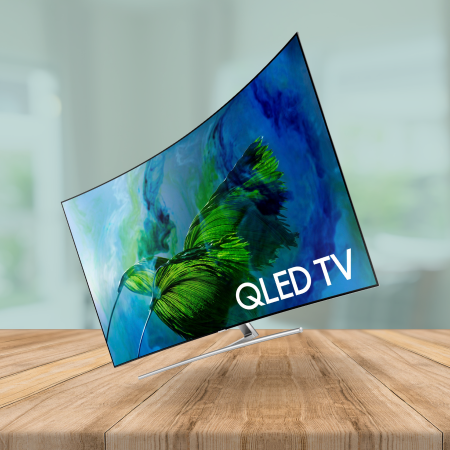 The innovative QLED technology of this curved TV model provides more colors, particularly in dark scenes. This display can show information that could not be seen with other technologies. The result is outstanding image quality even in very dark scenes. Extra colors and lighting means higher immersion and a stronger user experience.
With an exceptionally wide 65-inch frame, this curved TV is ideally suited for families. Movie nights and game sessions are special things for this setup. With such a large screen and 4K technology, you're going to experience info on a whole new and impressive level.
The impressive refresh rate of 240Hz ensures that the picture is provided with the best quality even in the quickest scenes. With this huge refresh rate, no blur can take place. In short, the impressive HDR and 4k together with QLED and 120Hz are all carefully put together to ensure that this layout reaches the highest standard and best viewing experience.
To make using this curved TV even more convenient, the connection cable that comes with it is almost undetectable. Not only is this TV appealing to the eye, but it also reduces the amount of clutter that surrounds it
Pros
Very good color volume for HDR
Low input lag for gaming
Great handling of reflections
Cons
Picture quality degrades at an angle
| TV Model and Brand | Display Size | Resolution | HDR Support | Smart TV Platform | Refresh Rate | Audio Output | Price Range |
| --- | --- | --- | --- | --- | --- | --- | --- |
| Samsung Q7CN Curved QLED TV | 55-inch | 4K UHD | HDR10, HDR10+, HLG | Tizen OS | 120Hz | 40W, 4.1ch | $1,299 – $1,499 |
| Samsung Class RU7300 Curved Smart 4K UHD TV | 55-inch | 4K UHD | HDR10, HDR10+, HLG | Tizen OS | 60Hz | 20W, 2ch | $599 – $699 |
| Samsung 7 Series 65-inch | 65-inch | 4K UHD | HDR10, HDR10+, HLG | Tizen OS | 60Hz | 20W, 2ch | $1,199 – $1,399 |
| Samsung 55NU8500 Curved 55″ 4K UHD 8 Series Smart LED TV | 55-inch | 4K UHD | HDR10, HDR10+, HLG | Tizen OS | 120Hz | 40W, 2.1ch | $999 – $1,199 |
| Spectre Curved 55-Inch 4K Ultra HD TV | 55-inch | 4K UHD | HDR | SmartCast OS | 60Hz | 16W, 2ch | $449 – $499 |
| Samsung Electronics QN65Q60AAFXZA 4K Ultra HD Smart LED TV | 65-inch | 4K UHD | HDR10, HDR10+, HLG | Tizen OS | 60Hz | 20W, 2ch | $899 – $1,099 |
| Samsung NU7100 | 55-inch | 4K UHD | HDR10, HDR10+, HLG | Tizen OS | 60Hz | 20W, 2ch | $599 – $699 |
| Samsung electronics QN65Q8C | 65-inch | 4K UHD | HDR10, HDR10+, HLG | Tizen OS | 120Hz | 40W, 4.1ch | $1,999 – $2,299 |
FAQ
Are curved TVs worth buying?
Curved TVs were introduced a few years ago as a new innovation in TV design. The idea behind them was to provide a more immersive viewing experience, with the curvature of the screen supposedly giving a more natural and cinematic feel.
However, the question of whether curved TVs are worth buying really depends on personal preference and specific needs. Some people find the curved design to be aesthetically pleasing and enjoy the immersive viewing experience. Others may not find the curved design to be as comfortable or natural to watch, especially when viewing from angles other than straight ahead.
In terms of technical features, curved TVs may offer some benefits over traditional flat-screen TVs. The curved design can reduce reflections and glare, which can be helpful in rooms with lots of natural light or windows. Additionally, some curved TVs have wider viewing angles than flat-screen TVs, which can be helpful for larger rooms or when viewing with a group of people.
However, curved TVs can also have some drawbacks. They tend to be more expensive than flat-screen TVs, and the curved design can make them more difficult to mount on a wall or fit into certain entertainment centers. Additionally, the curved design can cause some distortion in the image, particularly when viewed from off-center angles.
Why Samsung stopped making curved TV?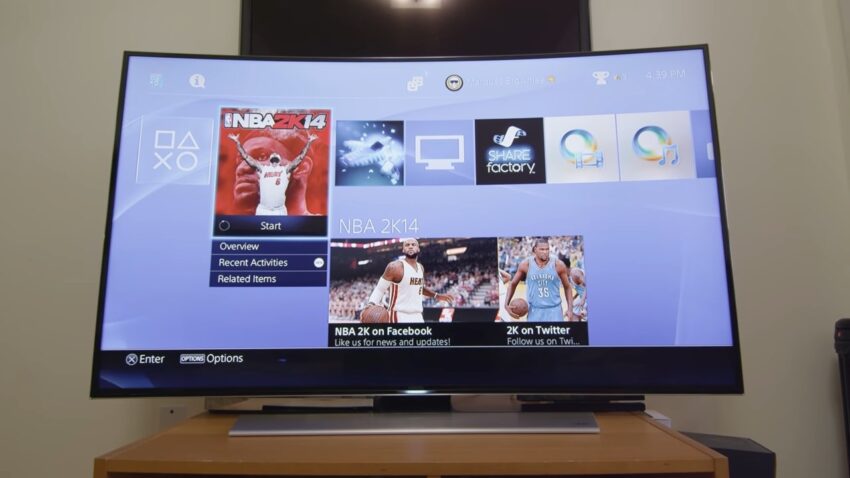 Samsung, one of the major manufacturers of curved TVs, has shifted its focus away from curved TVs in recent years. While they were once heavily promoting curved TVs as the next big thing in home entertainment, Samsung has since stopped producing them and has moved on to other TV technologies.
There are several reasons for this shift in focus. Firstly, curved TVs proved to be a relative niche product, with demand not meeting the expectations of the manufacturers. Secondly, the production of curved TVs is more complex and costly compared to flat-screen TVs. This resulted in curved TVs being priced higher, making them less competitive in the market. Additionally, mounting a curved TV can be more difficult and require specialized brackets, which can make it harder to integrate into some homes.
Another factor that may have contributed to Samsung's decision to stop producing curved TVs is the rise of newer technologies, such as OLED and QLED, which offer superior picture quality compared to curved TVs. These new technologies also come in flat-screen designs, making them easier to integrate into homes and more affordable.
Is there a curved OLED TV?
Yes, there are curved OLED TVs available on the market. OLED (organic light-emitting diode) technology is known for its excellent picture quality and black levels, and the curved design can provide an even more immersive viewing experience.
Several manufacturers produce curved OLED TVs, including LG, Sony, and Panasonic. LG, in particular, has been a leader in the curved OLED TV market, with models such as the LG OLED77G6P and LG OLED65C7P.
Curved OLED TVs can offer several advantages, including reduced reflections and glare, wider viewing angles, and a more natural and cinematic viewing experience. However, as with any technology, there are also some potential drawbacks to consider, such as the higher cost and the difficulty of mounting on a wall or fitting into certain entertainment centers.
Final Thoughts
Our suggestions above are what we think are the best-curved TVs available in the market. These are the best-curved TVs to buy in every price range for you. We have analyzed the features and functions of each product and reviewed our best for the buyers.
Take a look at these products from the same price range, that are available right now on Amazon: