LG UJ6300 LED TV is a popular TV with a viewing angle that is wider than usual. These LG UJ6300 are the best TV suitable for video games because of their low input lag. So the people who love to play more games get a better gaming performance. It has excellent motion handling capability. It is easy to navigate smart TV with the ability to cast content to screen from a tablet or smartphone.
Generally, the LG UJ6300's picture quality is not as good as the higher series but is good for its price range. One of the main advantages offered by the LG UJ6300 TV is that the wide viewing angle coverage that makes perfect when the viewers watch the TV from different viewing angles.
The only drawback in this model is the image does not appear bright and the black isn't uniform. It has passable picture quality and a decent viewing angle, but it doesn't get very bright in SDR.
LG UJ6300 LED Smart TV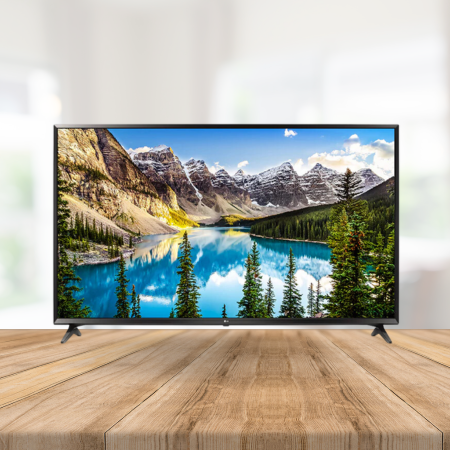 Available on Amazon
Pros
Very low input lag
Low motion blur
Easy to navigate Smart TV with the ability to cast content to screen from a tablet or smartphone.
Cons
A very average contrast ratio of light and dark images.
Average HDR (high dynamic range) color brightness.
Key Features:
Dimensions (W x H x D): TV without stand: 38.5″ x 22.6″ x 3.2″, TV with stand: 38.5″ x 24.2″ x 7.4″

Smart functionality gives you access to your favorite apps and content using webOS 3.5.

Pairs 4K Ultra HD picture clarity with the contrast, color, and detail of High Dynamic Range (HDR) for the most lifelike picture

Direct-lit LED produces great picture quality

TruMotion 120 (Refresh Rate 60Hz) allows fast-moving action scenes to be seen with minimal motion blur

Inputs: 3 HDMI, 2 USB, 1 RF, 1 Composite, Component Shared w/ Composite, 1 Ethernet, 1 Optical. Smart TV Operating System-webOS 3.5
TV Sizes Available
The LG UJ6300 TV range spans four different screen sizes: LG 43UJ6300, LG 49UJ6300, LG 55UJ6300, LG 65UJ6300. These are the TV sizes available in this model check out and buy the best TV size which suits your requirements.
Design
The design quality of the LG UJ6300 smart TV is simple and looks very basic, and every part is made up of plastic. There are no stylistic components like the LG UJ7700's higher-end model. If mounted near a wall, some of the rear-facing inputs can be difficult to access.
The stand is almost as broad and feels like the 2016 LG UH6100. It's made of plastic, but it very well supports TV. The TV's rear is simple, and the design is similar but slightly less reflective than the LG UJ7700 Model.
Some of the inputs facing the back of the tv may be difficult to access if the tv is placed near the wall or mounted by VESA.
LG UJ6300's model build quality is good. Everything is made of plastic, but under normal use, these parts will certainly not break.
Picture quality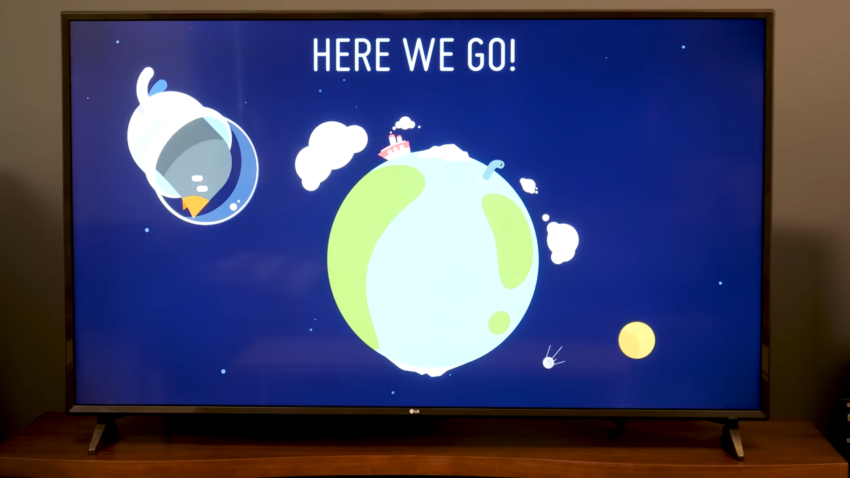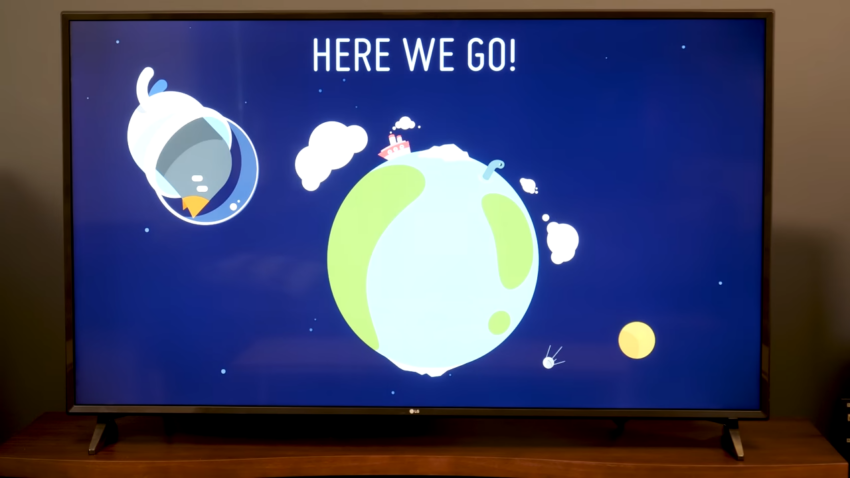 The LG UJ6300 LED smart TV has an average picture quality performance. When the TV is watched in the darkroom the image that appears is very disappointing, the black Images tend to look gray. And it has a very low contrast ratio so the picture won't get much brighter and also has low black uniformity.
These two aspects of the image quality are slightly less problematic if placed in a bright room, as the ambient light can reduce the effect of the low contrast ratio.
Even then, if the light is still too bright, the lower-average brightness may not be enough to fight glare. The gray uniformity might be better, but fortunately, the clean display effect is not too problematic and paired with the passable viewing angle quality, the LG UJ6300 could be used in a wide living room to watch sports with a wide group of people.
Finally, the quality of the HDR might be better This can't produce saturated colors, it has an acceptable HDR peak brightness, and it also needs local dimming so it doesn't stand out from HDR content.
Movies – This model is Subpar option for watching movies in a dark room. The LG UJ6300's blacks are not very deep and lack uniformity, causing black letterboxes and darker scenes to often look blotchy. It also lacks a local dimming feature to help control these problems.
TV shows – The TV shows performance is very decent. It isn't bright enough to be used in a bright setting, and the screen finish's handling of reflection isn't great either.
Sports – Decent sports-watching TV. Since picture quality is maintained from the side higher than normal, it renders the UJ6300 very good for game watching parties with a number of visitors. There is also decently fine uniformity in grays and shades. Unfortunately, it doesn't get really warm, which may be an issue in a sunny living room for afternoon sports.
Video Games – The UJ6300 delivers a satisfying video gaming experience. It has low motion blur, which renders rapid motion smooth and clear, and is one of the lowest possible input lags, and it looks quite responsive.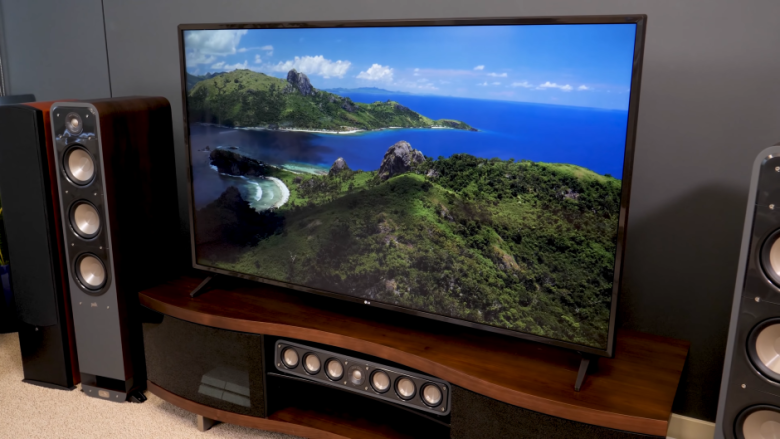 HDR Movies – Passable output on HDR. The visibility of the UJ6300 is a little higher in HDR than in SDR but it's not perfect yet. The lack of local dimming and a wide variety of colors also restricts its capabilities.
HDR Gaming – Great performance in gaming on HDR. Although the HDR impact isn't quite powerful, even in HDR the input lag and the overall gameplay performance remain good.
PC Monitor – Decent PC Monitor. The UJ6300 has really low input lag and motion blur, so it's sensitive and not disruptive to use desktop. The viewing range is wide enough to be seen from close up. It can't get very bright, however, so its RGBW pixel design will cause perfect on-screen objects to not look very clear.
Motion
The motion handling in this model is better, and also it has a very good fast response time.
The image appears on the screen doesn't take time for loading because of faster response time.
Videos from a Blu-ray player and DVDs are clear without any effect on the clarity of the image, but when watching videos from an HTPC or cable a slight controlling should be done. This is not known by most people so it's not a problem. The TV has a 60Hz screen which enables lower frame rate video to be interpolated.
Sound quality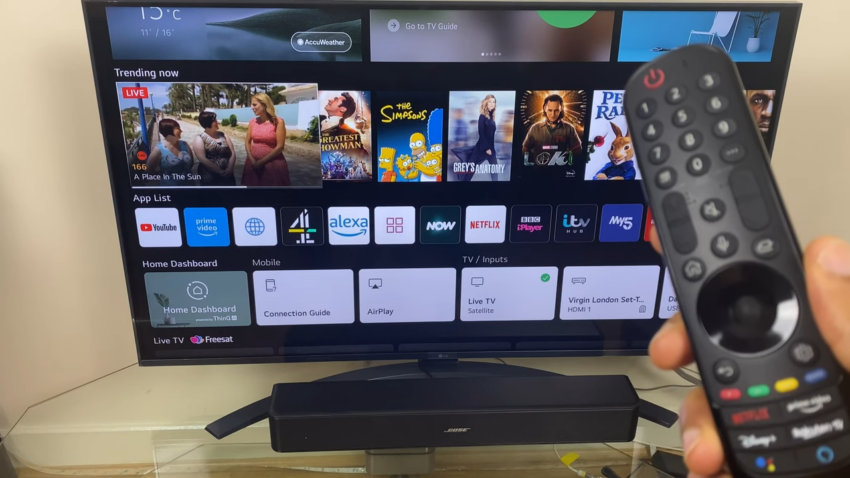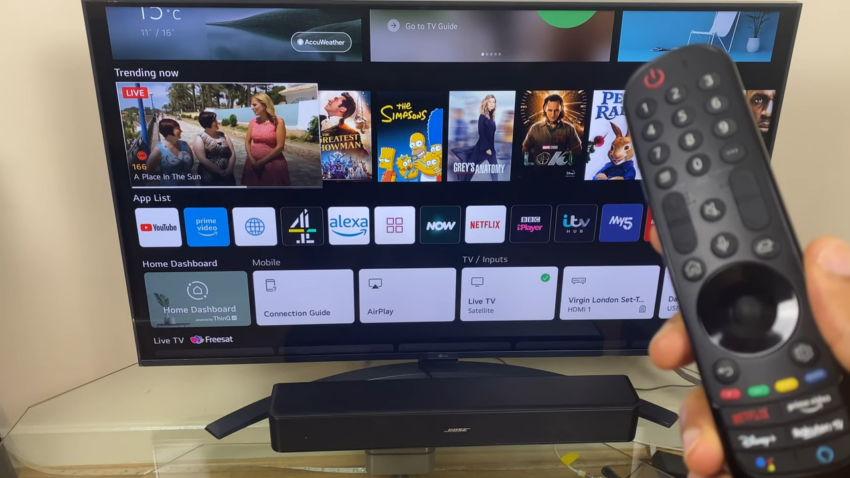 Unfortunately, the LG UJ6300 doesn't produce good sound. It is suggested to use a soundbar or any speakers to experience a better sound.
Smart Features
The LG UJ6300 model runs the web operating system 3.5, which has many advanced features and easy to navigate. The remote has several buttons that access simple menus to adjust common settings easily, but going deeper into the software reveals a lot of low-level options. Unfortunately, the included remote is very simple and lacks the smart remote LG's microphone and pointer functionality.
FAQ
What is the warranty period for the LG UJ6300 LED Smart TV?
The LG UJ6300 comes with a one-year warranty on parts and labor from the date of purchase. This warranty covers defects in materials and workmanship, ensuring that the TV will be repaired or replaced as needed during this period. It is important to note that the warranty is only valid when the TV is purchased from an authorized retailer and used in accordance with the provided instructions.
Does the LG UJ6300 support Bluetooth connectivity?
Unfortunately, the LG UJ6300 does not come with built-in Bluetooth support. However, you can still connect external audio devices, such as soundbars or speakers, using the available HDMI ARC, optical, or 3.5mm audio output ports. Additionally, you can purchase a separate Bluetooth adapter to add Bluetooth functionality to your TV if desired.
Can I control it with a smartphone or tablet?
Yes, you can control the LG UJ6300 using a smartphone or tablet with the LG TV Plus app, available for both Android and iOS devices. This app allows you to control various functions of the TV, such as changing channels, adjusting volume, and accessing smart features. The app also supports content casting from your mobile device to the TV, making it easy to share photos, videos, and music.
Is the LG UJ6300 compatible with voice assistants like Google Assistant or Amazon Alexa?
The LG UJ6300 does not have built-in support for voice assistants like Google Assistant or Amazon Alexa. However, you can still integrate your TV with a separate smart speaker or smart display that supports these voice assistants. By connecting the TV to a compatible device, you can control various TV functions using voice commands.
Can I upgrade the webOS 3.5 operating system to a newer version?
The LG UJ6300 comes with webOS 3.5, and LG typically provides updates and improvements to their smart TV operating systems. However, the availability of a major version upgrade, such as from webOS 3.5 to webOS 4.0, may vary depending on the model and the manufacturer's support policy. It is recommended to regularly check for software updates on your TV to ensure you have the latest features and improvements.
What wall mount options are available?
The LG UJ6300 is VESA compatible, which means it can be mounted on a wall using a VESA-compliant wall mount bracket. The specific VESA mounting pattern for the LG UJ6300 depends on the size of the TV, so be sure to check the TV's user manual or the manufacturer's website for the correct mounting dimensions. When selecting a wall mount, make sure it supports the TV's weight and size for a secure and safe installation.
Conclusion
The LG UJ6300 has a very decent picture quality. It has a very low input lag, so the people to like to play games experience better performance. It has excellent motion handling capability. The LG UJ6300 LED TV is a popular TV with a viewing angle that is wider than usual.
The gray and color uniformity is also decently good. Unfortunately, it doesn't get very bright which may be a problem in a bright living room for games. The LG UJ6300 has a satisfying video game experience. It has a low motion blur, which allows fast motion clear, and is one of the lowest available input lags, so it looks quite responsive.
Take a look at these products from the same price range, that are available right now on Amazon: