If you're pushing the limits of sheer size, the Sanus VLT5-B1 wall mount will be perfect for you. With a small degree of tilt, it'll offer an optimal viewing angle all while looking stylish.
I found it easy to use and install. Not to mention if you evermore the uninstall was very smooth as well. This is also priced very well considering the sheer size of TVs and weight it can hold.
SANUS VLT5 Wall Mount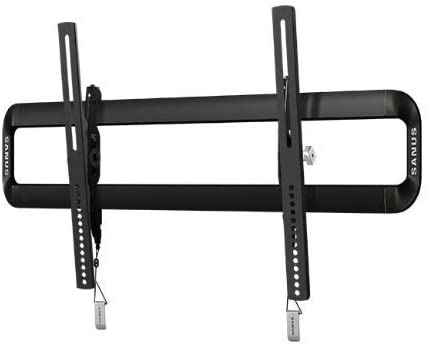 Details:
Product Brand: SANUS
Model Code: VLT5
Wall Mount Width: 30.88″ / 78.44cm
Wall Mount Height: 17.70″ / 44.96cm
Wall Mount Depth: 2.15″ / 5.46cm
Wall Mount Weight: 10.28lbs / 4.66kg
TV Size Range: 51″ – 80″ / 129.54cm – 203.20cm
Maximum TV Weight: 125lbs / 56.70kg
Degree of Tilt: 7° / -12°
Supported VESA Patterns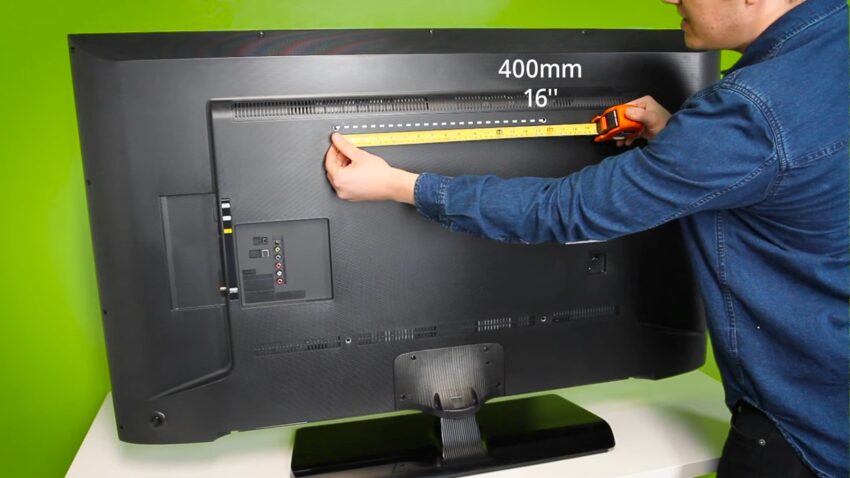 To the left, you'll find a VESA Pattern and on the right a corresponding TV so you can get a feel for how large the TV actually is this wall mount supports.
VESA 200 x 200 TCL S405
VESA 200 x 300 Sony X800D
VESA 200 x 400
VESA 300 x 200 Sony X700D
VESA 300 x 300
VESA 400 x 200
VESA 400 x 300
VESA 400 x 400 LG B6
VESA 500 x 200 Sony X850E
VESA 500 x 300
VESA 200 x 100
VESA 300 x 100 Sony A1E
VESA 400 x 100 Sony X940E
VESA 500 x 100 Samsung KS8000
VESA 600 x 100
VESA 600 x 200
VESA 600 x 300
VESA 600 x 400
VESA 300 x 400
VESA 500 x 400
Tools You Will Need For Installation
To make things as easy as possible you are going to need some tools. Below are the needed tools to properly set the wall mount up. Some will and won't be needed depending on the wall you're mounting the wall mount too. Such as concrete or drywall.
7/32″ Drill Bit drill-bit
3/8″ Masonry Bit (Concrete)
1/2″ Socket Wrench wrench
Hammer
Phillips Head Screwdriver
Pencil
Tape Measure
How To Install The Sanus VLT5
You first connect the wall mount bracket to the TV.
Then you mount the wall plate to the wall as the name suggests.
Then you attach the wall mount bracket to the wall plate.
It's as simple as that. Below are more details instructions if you get stuck along the way.
This model is almost identical to its smaller brother the VMT5B1, but this version will hold more weight and larger TVs.
Step 1 – Wall Bracket
1-1 Find the TV screws and insert them into the back of the TV.
1-2 Determine if the provided spacers are needed.
1-3 Measure your TV's VESA pattern
1-4 Using the correct bracket, attach to the VESA holes on your TV.
Step 2 – Wall Plate
2-1 If using the stud finder, find the studs in your wall
2-2 If you have concrete walls, measure and apply wall anchors.
2-3 Once holes are made or anchored, attach wall plate to the wall.
Step 3- Attach Bracket to Wall Plate
3-1 Final Step The locking tab needs to be in the unlocked position before attaching the TV to the wall plate. Once the TV is on the wall plate, the locking tab needs to be in a locked position.
HEAVY! YOU MAY NEED ASSISTANCE WITH THIS STEP.
SANUS VLT5-B1 51″-80″ Premium Series Tilting Flat Panel Mount with TV/LCD Screen Cleaning Kit,…
If you're a little unsure if you have all the needed tools or pieces, Sanus offers a package to help ensure the install goes smoothly.
Types of wall mounts available for TVs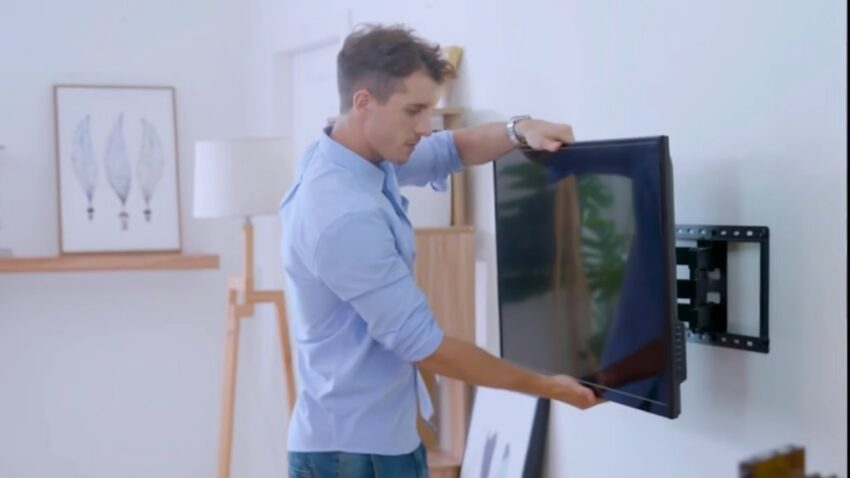 There are several types of wall mounts available for TVs, including:
Fixed wall mounts: These mounts hold the TV close to the wall and do not allow for any movement or adjustment. They are ideal for TVs that do not need to be adjusted once installed.
Tilting wall mounts: These mounts allow for vertical adjustment of the TV, typically up to 15 degrees up or down. They are ideal for TVs that need to be mounted higher on the wall.
Full-motion wall mounts: These mounts allow for maximum flexibility and adjustment, as they can tilt, swivel, and extend away from the wall. They are ideal for TVs that need to be adjusted frequently or viewed from multiple angles.
Ceiling mounts: These mounts attach the TV to the ceiling instead of the wall, which can be useful in spaces where wall mounting is not an option or where the TV needs to be suspended from above.
Corner mounts: These mounts are designed to hold the TV in the corner of a room, allowing for optimal viewing angles and space-saving solutions.
Benefits of using a wall mount for your TV
Using a wall mount for your TV has several benefits, including:
Space-saving: Wall mounting your TV frees up space in your living room, making it look less cluttered and more spacious.
Improved viewing experience: Wall mounting your TV allows you to adjust the viewing height and angle, providing you with a better viewing experience.
Enhanced safety: Wall mounting your TV helps keep it out of reach of children and pets, reducing the risk of accidents or damage.
Aesthetically pleasing: Wall mounting your TV can give your living room a sleek, modern look, and can help hide unsightly cords and cables.
Versatile placement: Wall mounts come in different styles and sizes, allowing you to place your TV in a variety of locations, including corners and high walls.
Better sound quality: Wall mounting your TV can help improve the sound quality by allowing the speakers to face towards you and reducing sound reflection off the wall behind the TV.
FAQ
What is the maximum weight a wall mount can hold?
The maximum weight a wall mount can hold varies depending on the model and brand. The Sanus VLT5 wall mount, for example, can hold a maximum weight of 125lbs or 56.7kg.
Can any TV be mounted on a wall?
Most modern flat-screen TVs can be wall-mounted, but it's important to make sure your TV is compatible with the wall mount you are using. This information can typically be found in the TV's user manual or on the manufacturer's website.
Can it damage my TV?
When installed properly, a wall mount should not damage your TV. However, it's important to follow the manufacturer's instructions carefully and use the proper tools and hardware to ensure a secure and safe installation.
Can I install a wall mount myself or do I need professional help?
It is possible to install a wall mount yourself, but it's important to have the right tools and knowledge to do so safely. If you're unsure or have any doubts about your ability to install a wall mount, it's always a good idea to seek professional help.
Can they be used for outdoor TVs?
Yes, there are wall mounts available that are specifically designed for outdoor use. These mounts are typically made of weather-resistant materials and can hold TVs that are suitable for outdoor use.
How do I clean my wall mount and TV after installation?
To clean your wall mount and TV after installation, use a soft, dry cloth to wipe away any dust or debris. Avoid using harsh chemicals or abrasive materials, as they can damage the surface of the mount or TV. If you need to clean the screen of your TV, use a microfiber cloth and a solution of mild soap and water.